Coming up this week on Fair City, Jim is pressured by Claire to get Miriam committed to an asylum. Miriam opens up to Eoghan about suffering from PTSD and he is worried about her and encourages her to go to the surgery with Jim.
Jim prescribes Miriam medication, but Eoghan becomes distrustful of Jim and tries to convince her to see another doctor. Jim prescribes sedatives for an anxious Miriam and Eoghan is worried when he finds a sedated Miriam asleep in McCoy's. Later in the week, Jim is compounded with guilt when Miriam has a panic attack.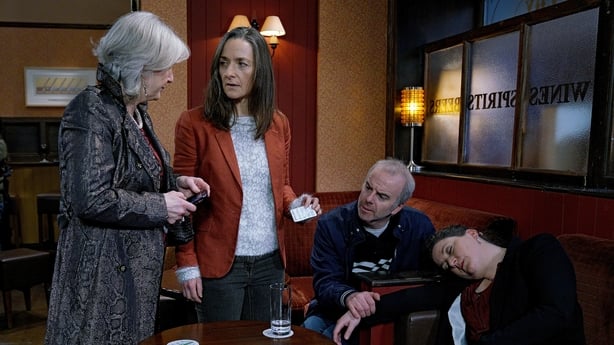 Kerri-Ann agrees to throw Charlotte a surprise birthday party to distract herself from her own problems. Mondo impatiently waits on the paternity test results. Kerri-Ann later gives Mondo the test results, who is the baby's father? Sash is stunned when she discovers the paternity test...
Meanwhile, Oisin pursues Karen, but Karen is still hung up on Sean and is upset when she sees him with another girl. Oisin decides to undermine Sean by buying Karen a drink but is put in his place when she pours it out. Sean and Oisin both compete to take Karen out to dinner. Later, Karen kisses Sean, but Oisin doesn't give up on his advances. She feels threatened when Oisin backs her into a corner trying to kiss her, which sends Robbie into a rage.
Elsewhere, Hayley is thrown when her dad Anto arrives in Carrigstown. She senses he is hiding something when he deflects questions about her mum. Hayley is determined to discover the truth as Anto makes himself at home.