Coming up this week on Emmerdale, Laurel arrives at the cafe and is terrified that Brenda might know about her and Bob's affair.
She's relieved to find Brenda acting normally and chatting about her and Bob's plans to tie the knot as soon as possible. But is Brenda really still unaware of their secret liaison? Or is she just choosing to stay quiet...for now?
Elsewhere, Jai's fears mount after bruises are found on his daughter Eliza. Later, Jai and Megan wait for news on Eliza's health. They are told the family will need to be interviewed by the police and social services. Jai's doubts towards Priya grow and he bans her from looking after Eliza.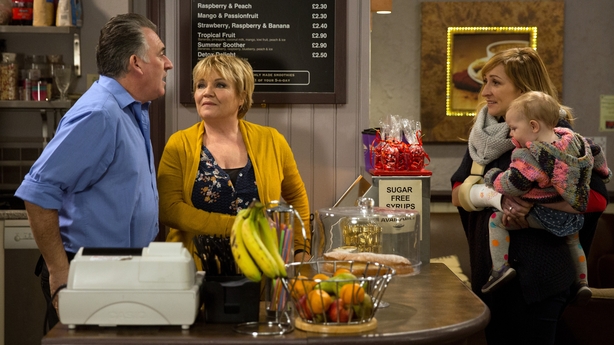 Meanwhile, Pete and Debbie try and offer Ross advice but his anger boils over and he throws them out of his home. Cain is furious when he hears that Ross lashed out at Debbie and decides to pay Ross a visit at home. When Ross doesn't answer, Cain kicks down the front door. What's he planning to do?
The rift between Tracy and David grows as Phil's trial kicks off, will they be able to get their marriage back on track? Later in the week, Tracy realises that David is still ashamed about her past life, and fumes at him in public.
After the car crash that killed her sister and father, Rebecca has been making a slow recovery. It's clear all is not well when she lets herself into Home Farm, thinking she still lives there with her family. When new owner Joe walks in, a confused Rebecca attacks him with a golf club. The police come to arrest Rebecca for burglary and attempted assault. Will she be able to explain herself?