The lovable duo are back to face a major tribulation in a funny and charming sequel which has plenty of laughs and even a certain wisdom
If Leonard Cohen heard rumours of a secret chord, then the no less philosophical Bill and Ted are searching for the song that will save the world in their hugely enjoyable return nearly thirty years after they charmed us with their slacker savant schtick.
We need your consent to load this YouTube contentWe use YouTube to manage extra content that can set cookies on your device and collect data about your activity. Please review their details and accept them to load the content.Manage Preferences
In the new time-hopping adventure from Galaxy Quest director Dean Parison, Alex Winter and Keanu Reeves reprise their roles as lovable rock `n' roll obsessed goofballs William "Bill" S. Preston and Theodore "Ted" Logan.
Excellent! How fans saved the new Bill & Ted movie
We meet the duo again as middle-aged family men in sunny California, where they are still trying to fulfill their destiny and write the song that will unite humanity. However, after years of false starts - and bagpipe solos - they're on the verge of giving up when they are visited by a figure from the future who warns them that they have the brilliantly specific time of 77 minutes and 25 seconds to pen the tune that will avert global catastrophe.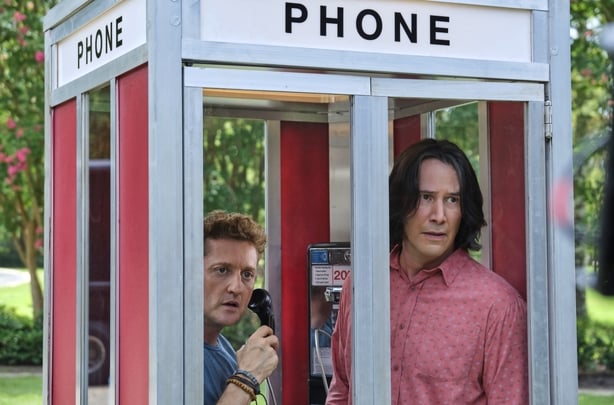 Not unlike mid-period Oasis in reverse, the two can't be arsed writing this epochal composition themselves so they decide to travel through time and nick it from their future selves. Meanwhile, their chip off the old block daughters, Thea (Samara Weaving) and Billie (Brigette Lundy-Paine), turn A&R posse and embark on a jaunt through history to recruit a supergroup featuring Louis Armstrong, Mozart and Jimi Hendrix.
The sight of Hendrix and Mozart jamming together in 18th century Vienna is a hoot and there's also laughs to be had with an insecure robot assassin named Dennis, who has more in common with Marvin from Hitch Hikers' Guide to the Galaxy than the Terminator, and a couple's therapist who ends up needing therapy herself after sessions with Bill and Ted and their 15th century medieval princess wives. William Sadler is also back as Death and when we meet him again, he's playing hopscotch with himself and cheating.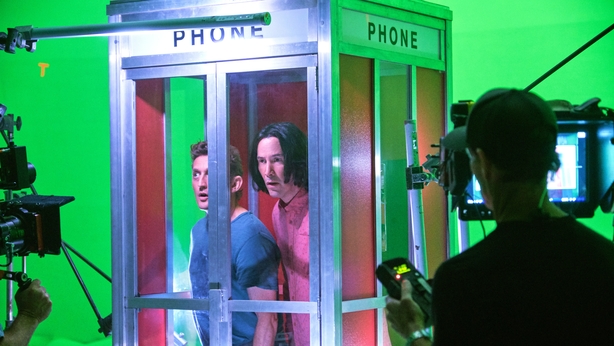 However, all eyes will be on Reeves as he makes his return to a career-defining role as Ted, the valley speak savant with the heart of gold. Reeves, whose stalled career was rebooted by the John Wick franchise, remains a performer who seems to put minimal effort into his roles but always delivers strangely compelling performances in some mighty clunky movies.
It's good to see him back having a wild old time. Good-natured and more than LOL-worthy, Bill & Ted Face the Music is a comfort blanket of a movie, and a very timely reminder to us all to be excellent to each other. Dudes, it is not bogus.
Alan Corr @CorrAlan2