Theatre director Brian Merriman has said that Dublin is the centre of gay theatre worldwide as he launched the 13th International Dublin Gay Theatre Festival.
Speaking to TEN, the founder of the festival opened up about the impact the festival has made since he launched it over a decade ago, saying: "It is a special year; we really have come a long way since starting as a voluntary entity in 2004."
"We've brought three-and-a-half thousand performances of new writing and new theatre here to Dublin. We've made Dublin the centre of gay theatre in the world - isn't that just hilarious?" he continued.
"I mean, we're under the statue here of Oscar Wilde [in Merrion Square Park] and we founded the festival to mark the 150th anniversary of his birth here in Dublin. I don't think even he would have imagined that some years later [people would] come here to Ireland from all over the world because we're the biggest in the world."
. @brianm179 tells us about this year's @GayTheatre festival & why Dublin is the centre of gay theatre in the world.https://t.co/jKiqpJCwAf

— RTÉ TEN (@RTE_TEN) April 6, 2016
This year's festival kicks off on Monday May 2 and runs until Sunday May 15, with 10 performances each night from theatre companies from all around the world.
Merriman spoke about some of the exciting productions that audiences can look forward to.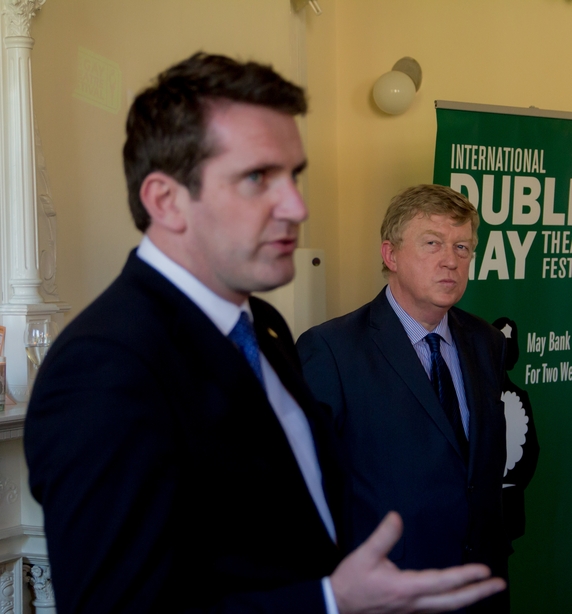 Minister Aodahán O'Riordáin and Brian Merriman at the launch
"I know we've had marriage equality this year and we've got two plays about the referendum, actually," he said. "But the other side of that is, there's the death penalty still in Iran, and there's very penal laws in Russia. We've got a performance from Russia called Beautiful Friends, and we've got a beautiful story from Iran - they're very moving.
"We're thrilled that Dublin audiences welcome theatre like that, and we'll get them home safely. There's also, of course, great fun. There's a lovely bit of history [this year]: we've got [the story of] Alan Turing - many of you might know The Imitation Game - we've got Oscar Wilde live on stage with our Olivier Award-nominee Gerard Logan, and we have the stories of 1916 and contemporary, modern stories too from right across Europe, the USA, Canada and all around the world."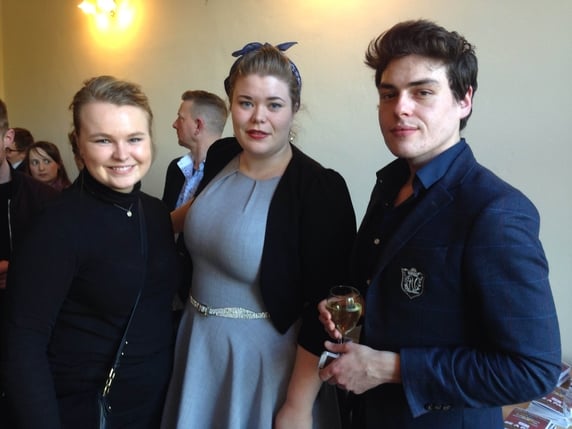 Ingrid Marie Svendsen, Charlotte Morkken and Conor Molloy at the launch
The 2016 festival commemorates the lesbian and gay heroes of 1916, with Merriman's play Eirebrushed asking the question: "Did they actually set up a Republic where they would be free?"
Merriman said the festival recently received a letter from New York City Council, which commended the festival "not only for our work here in Dublin, but for providing this space worldwide". "They too have acknowledged that Dublin is the place to be if you want to present gay theatre," he said.
Merriman added that the festival is "really pleased that so many people, straight and gay, come to it".
"This is not a festival for gay people; it's about us," he concluded. "Alan Turing is part of it this year, Julie Andrews is part of it this year and we're asking everybody, 'Are you a part of it?' Because you're very welcome."
For further information on the 2016 festival, visit gaytheatre.ie. Tickets are on sale now.