Tributes have been paid to Fergus O'Farrell, the singer with and powerhouse of acclaimed Cork band Interference, who has passed away at the age of 48.
A message on Interference's Facebook page read: "It is with profound sadness we announce the passing today [February 2] of Fergus."
It continued: "A full statement will follow and we'd ask that the family be allowed privacy at this incredibly difficult time.
"Thank you for all your messages... all will be passed on to his family in due course."
Formed while Fergus O'Farrell was a student at Clongowes Wood College, Interference are best known for the track Gold from the film Once and the musical love story's subsequent stage show. In its review of the soundtrack album from the Broadway production, the New York Times wrote: "Musically, the most breathtaking moment is an exquisite a cappella reprise of Gold, sung softly by 11 singers."
Interference also earned widespread praise for their performances on RTÉ2 music series Other Voices. They were the first act ever booked for the show in 2003 and were billed as "almost mythical, definitely legendary".
Fergus O'Farrell collaborated and shared stages with, among others, Glen Hansard, Gavin Friday, Maria Doyle Kennedy, Liam Ó Maonlaí, The Man Seezer and the late singer-songwriter Colin Vearncombe - aka Black - who passed away last week.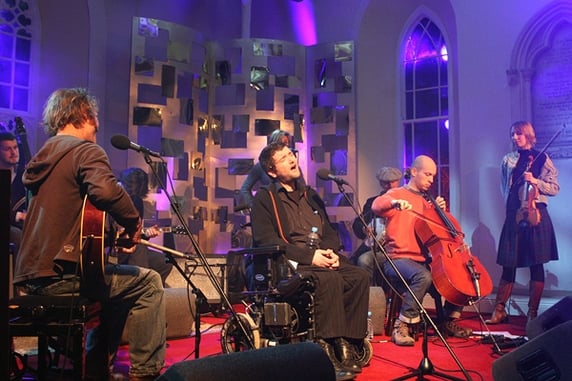 Interference on RTÉ2's Other Voices
He was also an acclaimed visual artist whose most recent exhibition, Frequencies, was staged at the Blue House Gallery in his hometown of Schull, Co Cork.
In 2012, RTÉ Radio 1's Documentary on One aired A Talent for Life - The Fergus O'Farrell Story in which he discussed his passion for music and the daily reality of living with muscular dystrophy.
In the programme, Fergus O'Farrell said of his love of live performance: "That hour-and-a-half almost doesn't exist - it's like a minute or 10 seconds."
So so sad to hear of the passing of Fergus O'Farrell - one of Ireland's BEST EVER singer/songwriters. RIP https://t.co/Xp4JHExvZ8

— KEITH BARRY (@Keithpbarry) February 2, 2016
Just heard about Fergus O'Farrell's passing. I'm rocked to the core. Heart stopped In its tracks. A finer man and artist you couldn't meet.

— Joe Chester (@JoeChester_) February 2, 2016
The Great Fergus O'Farrell , gone . One word , devastation . Sail on champion . https://t.co/MCPnQsneBz

— Hedge Schools Music (@Hedge_Schools) February 2, 2016
I'm sorry to hear of the death of Fergus O'Farrell. A spine tingling singer of songs. RIPhttps://t.co/BxOsIcXHuQ

— Cathal Murray (@murraycathal) February 2, 2016
Oh man, Fergus O'Farrell - rest in peace you beautiful soul https://t.co/GeVNXzTC4C

— Richie Egan (@richiejape) February 2, 2016