As expected, there was a scramble this morning to buy tickets for U2's Irish concerts, with 40,000 tickets for the Dublin dates selling out in 35 minutes and 17,000 tickets for the Belfast dates snapped up within hours of going on sale.
The band will play four gigs in Dublin and two in Belfast in November, and tickets were only available from the venue box offices, Dublin's 3Arena and Belfast's SSE Arena, and Ticketmaster online. Tickets were limited to two per person and were priced from €30 to €185 for Dublin and from £30 to £165 for Belfast.
People started queuing outside Dublin's 3Arena on Sunday afternoon. Fans were later allowed to wait inside overnight. It is estimated that there were a couple of hundred fans queuing at the venue this morning.
U2's shows at the Dublin venue will take place on November 23, 24, 27 and 28, with the Belfast shows on November 18 and 19.
Eamonn Meek was first in queue to get tickets for #U2ieTour @3arenadublin: http://t.co/tsZP8Zu4PE @U2 @rtenews pic.twitter.com/Vlxq1IESO8

— RTÉ TEN (@RTE_TEN) September 14, 2015
Finally through to a ticket screen for 11/24 and 11/23. With 25 min waits. This can't be good. #U2ieTour

— Rebecca Eckhart (@sunskits) September 14, 2015
Gone are the days of queuing for 8hrs for U2, tickets bought from comfort of home. roll on Nov with @markieol77 #U2DublinConcerts #U2ieTour

— Kieran Daly (@kdsmiley78) September 14, 2015
3rd time lucky?!?! #U2ieTour pic.twitter.com/qbTislJ64v

— Helen C McBrearty (@helencmcb) September 14, 2015
After the controversy surrounding the release of new album Songs of Innocence on iTunes and the cycling injury Bono sustained in New York last year - which saw him break his arm in six places - the iNNOCENCE + eXPERIENCE tour has been hailed a triumph, which more than lives up to its title.
In keeping with the narrative of the new album, the tour setlists bring the band back to their early days on Dublin's Northside and see them dusting off surprises from the back catalogue.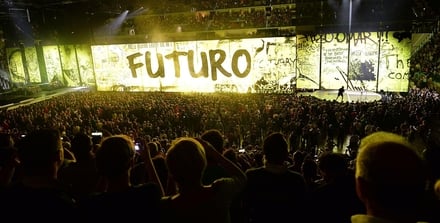 U2 in Turin Photo: Alessandro Di Marco
On the opening night of the European tour in Turin, they played the song October, the first time it had been performed live in Europe since 1987.
The stage set-up is split into three sections: one for the Innocence part of the show, another for the Experience section, and a walkway that spans each venue with a huge, double-sided video screen above it.
The tour has seen arguably the greatest interaction between band and audience to date, with fans and members of tribute acts joining U2 on stage at various points since the shows began in Canada in May.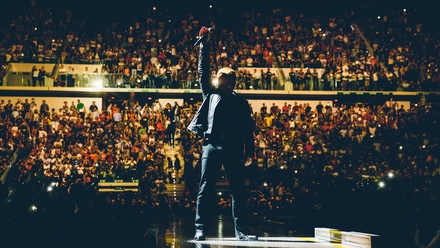 Bono onstage in Turin Photo: Danny North
The band played Amsterdam's Ziggo Dome on Sunday night, September 13. Check out the setlist below:
The Miracle (Of Joey Ramone)
Out of Control
Vertigo (with Do You Remember Rock 'n' Roll Radio? and God Save the Queen snippets)
I Will Follow
Iris (Hold Me Close)
Cedarwood Road
Song for Someone
Sunday Bloody Sunday (acoustic, without final verse)
Raised by Wolves (with Psalm 23 snippet)
Until the End of the World (with Love and Peace or Else and Words snippets)
The Fly (Remix)
Invisible
Even Better Than the Real Thing (Fish Out of Water Remix)
Mysterious Ways (with Burning Down the House snippet)
Magnificent (Tour debut; abbreviated; with Port of Amsterdam snippet)
Sweetest Thing (acoustic)
Every Breaking Wave (acoustic)
October
Bullet the Blue Sky (with Ode to Joy and 19 snippets)
Zooropa (second part of song, with synthesisers)
Where the Streets Have No Name (with California (There Is No End to Love) snippet)
Pride (In the Name of Love)
With or Without You (with Shine Like Stars coda)
Encore:
City of Blinding Lights (with Stephen Hawking speech intro)
Beautiful Day (with I Remember You snippet)
Bad (with Mother and Child Reunion intro and 40 snippet)
40
At U2's Innocence and Experience Tour last night in Amsterdam. Fab! And lovely mentions of #dublin #U2ieTour #u2 pic.twitter.com/xm0lNh4IYC

— Sarah Kenny (@SarahKenny2) September 14, 2015