An acclaimed documentary about a typecasting machine which Thomas Edison dubbed "The Eight Wonder of The World" will screen in Dublin next week.
Doug Wilson's 2012 film Linotype: The Film is a feature-length documentary centred around the Linotype typecasting machine which revolutionized printing and society.
At a time of massive changes in the publishing and printing industries and the migration online, the film tells the surprisingly emotional story of the people connected to the Linotype and how it impacted the world.

Following the screening, Jamie Murphy of The Salvage Press will interview members of the National Print Museum's chapel of retired printers and author, retired printer & storyteller Vincent Caprani will talk about his days working in the print industry.
The film was last screened by in Dublin by Typography Ireland at the National Print museum two years ago.
Linotype The Film will be screened at Dublin's Sugar Club on Wednesday April 23 2014. Doors are at 7.00pm and admission is €10.00. Tickets €10 from discotekkenlinotype.eventbrite.ie.
www.linotypefilm.com.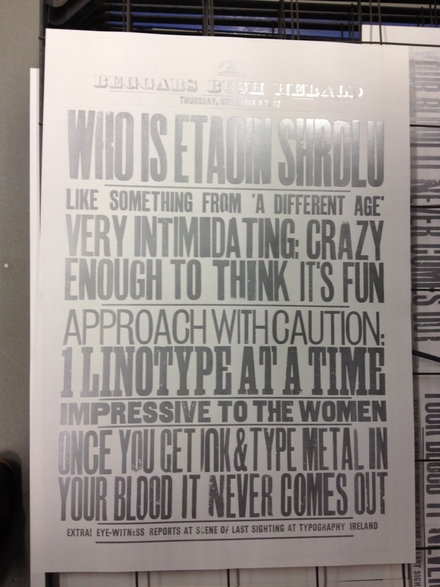 Poster by Clare Bell and Mary Plunkett of Typography Ireland