A new exhibition, Within a Stone's Throw, featuring some of Dublin's famous landmarks, opens in the Coombe Hospital tonight.
Opened by artist Dr Robert Ballagh, the exhibition will celebrate landmarks associated with the likes of Phil Lynott, Molly Malone, Robert Emmet, Leopold Bloom, Constance Markevicz to George Bernard Shaw.

One of the photographers exhibiting, Dr Chris Fitzpatrick, former Master of the Coombe, explained the origin of the collection: "The photograph that started it all was the birthplace of George Bernard Shaw, who was born in 1856 at what is now 33 Synge Street.
"His delivery was attended by a former Master of the hospital Dr John Ringland and it struck me that within a stone's throw of our doorstep was a rich and vibrant heritage with fragments of the past still evident in the present."
"For example, the portico of the old Coombe Hospital in the Liberties was retained and restored by [the then] Dublin Corporation and still stands today as a memorial to the many mothers who gave birth in the Coombe to the future citizens of Ireland."
Travers Photography's Jim, whose work will also be on display along with his son Seamus' work, added: "As photographers, we try and capture what can be missed in the blink of an eye and preserve it forever.
"An area like the Coombe possesses such a strong cultural history and the opportunity to capture that on camera was impossible to resist.
"It's very special for us to do this for the hospital as my granddaughter, and Seamus's niece was born here only two years ago".
Within a Stone's Throw will go on permanent display throughout the Coombe Women and Infants University Hospital.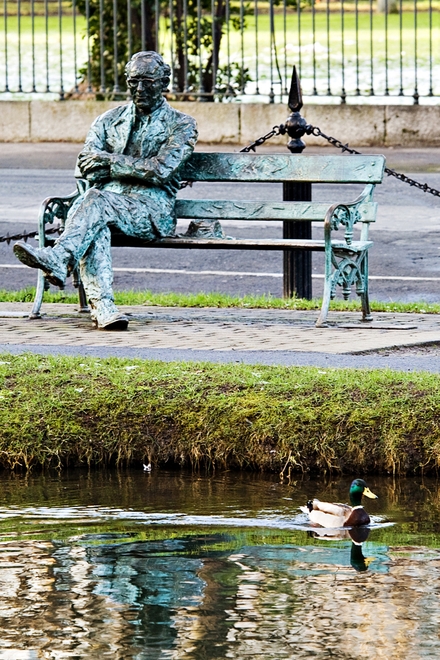 Patrick Kavanagh statue on Grand Canal Dublin