Soul boy Sam Smith steps out from behind Disclosure and Naughty Boy with his debut album, In The Lonely Hour. Alan Corr talks to him about love and telling his secrets with music
He's been garlanded with bouquets from the critics and he's about to release a debut album which is a sure shot for No 1 in his native UK. But there is one thing cherubic soul boy Sam Smith really wants - someone to love.
His album, In The Lonely Hour, certainly comes from the heart because, as 22-year-old Smith says, most of the songs are about unrequited love. However, without being overly cynical, that could all change now that success and fame have come calling.
"Emmm I don't think it will but I hope it does," he says. "Well . . . . it has to change because if it doesn't change I'm not writing another album. I am being serious - I am never going to write another album about unrequited love! My intention is to meet someone and fall in love quickly."
Smith, who's a cousin of Lily Allen, hails from green and pleasant Cambridgeshire and has already scored hits as the featured vocalist on Disclosure's song Latch and a No 1 with Naughty Boy on La La La. Now he's ready to step out on his own with In The Lonely Hour.
He is well-spoken and given to giggles and it belies the emotional whack of his songs. And just where the hell did he get that voice? "Hahaha. I have no idea. No one else in my family sings," Smith says. "Maybe it was just hard work. I was eight years old when I had my first singing lesson. I was never really great at anything at school so as soon as someone said I was great at something I kinda ran with it and that's what I've done."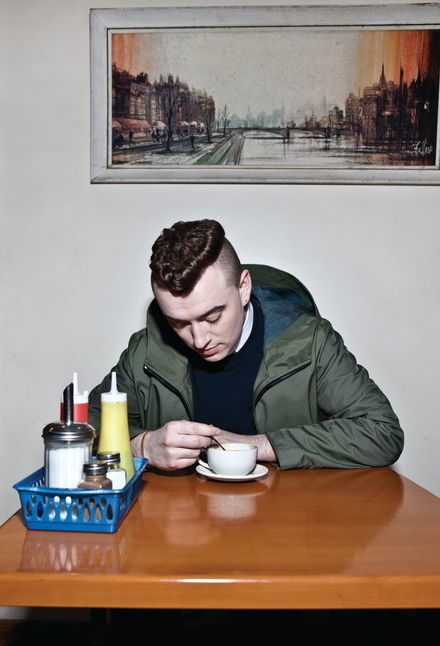 "I am never going to write another album about unrequited love!"
His ultimate epiphany about music came when he had his first intoxicating experience of applause when he sang at school. "It's all about feeding off that applause, the reaction of people, getting compliments," he says. "All those things really changed everything. It made me really want to do it again so I could get the reaction again. That's what it's all about man! Making people smile."
However, In The Lonely Hour may not be an album to make people smile. He worked with Fraser T Smith, Two Inch Punch, Eg White, Disclosure, Zane Lowe, Tourist and long-term writing partner Jimmy Napes to create songs of oceanic melancholia and wee small hours contemplation.
Full of party bangers it is not. "Very true, very true but I'm happy about that man," Smith says. "I've grown as a singer and a songwriter and I personally believe that when artists are honest that's when they provoke emotion and that's when they're being themselves. Telling the world their secrets to their music – that's the music that connects. That's what I've tried to do with this album. I'm trying to connect.
"It's not a sad album - it's just a guy being emotional and I think that's why it sounds like it could be sad. It's not. For me I found power and solace in being able to speak about my issues and get them off my chest. Men hide their emotions too much – way too much."
But do women like overly emotional men? "I don't know because some of my friends are attracted to that but you know what? Who gives a shit? It's not about that – it's about how you feel as a person and I personally think being emotional is intelligent. If you stop being emotional you are not fully knowing yourself and you can do really stupid things as a human being if you don't know yourself."
Even before the release of his impressive debut, Smith's list of accomplishments were much more than just PR spin. Besides last year's No 1 hit, he's played live with Disclosure at Glastonbury and Coachella and made further in-roads into the US with sell-out shows at The Troubadour in LA, an acclaimed turn at SXSW, and an appearance on Saturday Night Live.
Then there was the jamming session in LA with Disclosure and Nile Rodgers which resulted in a new song called Together.
But it all started for Smith with the final, and possibly the best song, on his debut album - Lay Me Down. "It's the song that Disclosure heard and why I did Latch and the version that we did, the demo, it's timeless but it was also a picture of a moment," he says.
"My voice sounds different now and I wanted to really go for it and make something that was really epic and I think the song deserved a massive orchestra so that's what we did and it was very emotional for me to watch the orchestra put that together. I was all over the place after recording that song. I'm still recovering now. It sounds like a film at the end."
The Lonely Hour may be a cinematic experience but it's a short film. At a mere 32 minutes, this is one debut that doesn't outstay its welcome. "I know, I know! do you know why? Because you can say what you want to say in a half hour," Smith says.
"It doesn't have to be too long. Also for me, I love short albums and I wanted a ten-track album. I don't want to give too much away. I'm quite OCD and I like things to be symmetrical and very simple. I wanted to be very to the point."
In The Lonely Hour is out on May 23.