Metronomy's new album Love Letters could be a firm but polite rejection of fame, fickle fame. Front man Joseph Mount talks to Alan Corr about going analogue and atonal, the deep existential importance of Tasmin Archer's Sleeping Satellite, and why Metronomy dig Coldplay
Joseph Mount knew he was going to die when he heard Tasmin Archer's 1992 No 1 hit single Sleeping Satellite.
He was ten years old at the time and while Tasmin's overwrought allegory about a near-orbit object wasn't going to do for him then and there, young Joe knew that one day he would go the way of all mortal flesh. And space junk.
"It's a song I distinctly remembered being on TV at the same time that I started becoming a conscious being . . . hahahaha!" he laughs nervously. "I was about ten years old when it came out and I just remember it being on the television, almost the glory days of Top of The Pops . . . it suddenly occurred to me that I would not be around forever . . . "
Archer's song gets name checked on Upsetter, the opening track on Metronomy's new album, Love Letters. So do Deacon Blue, which would be unforgivable in the hands of a lesser act, but Mount and his band mates, Oscar Cash, Anna Prior, and Gbenga Adelekan, have always had a unique talent for keeping their distance but still capturing fleeting feelings and moods brilliantly.
Two years ago they released The English Rivera, a left-field slice of spooked synth pop that was a surprise hit, selling 250,000 copies, receiving a Mercury Music nomination, and landing them a support tour with Coldplay in America.
Mount, a well-spoken native of Totnes in Cornwall, is in that special breed of English pop star – quirky, painfully-shy and very watchful. He's also an in-demand producer who has worked with Gorillaz, Roots Manuva, Franz Ferdinand, Klaxons, Goldfrapp, Lykke Li and Nicola Roberts.
On Love Letters, Metronomy still sound like Kraftwerk going English pastoral down in the rolling dales but the new songs reveal their pleasures slowly over several listens. In fact, it all sounds like a withdrawal from success after the stealthy breakthrough of The English Rivera.
Mount umms and aws over that one. "Well I'm not trying to be difficult or anything like that. I want people to enjoy the album but I guess it sounds quite minimalistic in places." he allows.
"But I'm not really interested in being predictable. I enjoy learning about making music but we're not changing direction to be confusing - I do it because there are things I'm interested in trying out."
Metronomy's music is shot through with strangely-strange Moogs and Wurlitzers and Mount's deadpan, anti-singing delivery is still in fine fettle. "I've been listening recently to a lot of records from the 1970s, the ones where you can tell it's the first time the artist has had a synthesiser in the studio," Mount says.
"My sister got me into Joni Mitchell. I love the fact that on her album The Hissing of Summer Lawns. The feel of the record came together as I was compiling the tracks so if I was forced to say something, I'd say it's a love letter to music itself."
He is being slightly tongue in cheek but Mount is more serious when I mention Toe Rag studios in London, a place famed for turning out garage rock records including the White Stripes' Elephant, and the location for the recording of Love Letters.
"I've always used computers to make music but you get to the point where you begin to wonder how much you're leaning on technology," says Mount, who still makes music in his home studio, using a bunch of old keyboards, many of which he picked up at his local Devon skip when he was a teen. "Working in that studio was a very pure recording experience, completely different from what I used to do as well and that was a big part of why I enjoyed it."
Success also brought that unlikely support slot with Coldplay on several dates of their North American tour in 2012. "We were supporting them so we were there at their gig and they were playing these huge, huge venues of 20,000 capacity hockey arenas. No one was there to see us. They were there to see Coldplay," Mount says politely and patiently.
"It was very eye-opening, very interesting. We had a lot of fun touring but we weren't playing to 20,000 people every night – Coldplay were playing to 20,000 people every night but it was great but kind of curious. Coldplay fans are a very tribal bunch but what we did on that tour was so far removed from Coldplay and I think we probably confused a lot of our fans to be honest but to given the opportunity was wonderful and for a band as big as Coldplay would think to take a band like us on tour. I'm sure we converted a few Coldplay fans."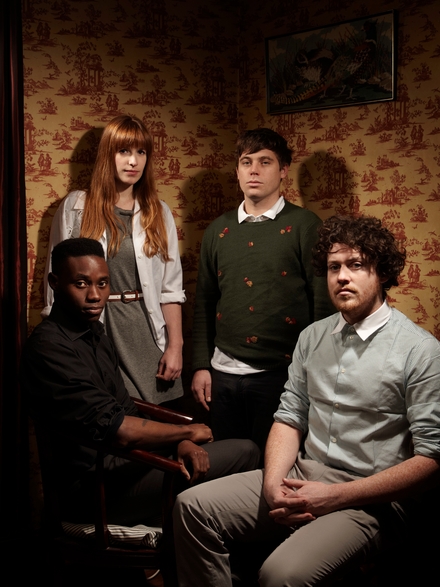 "I'm not really interested in being predicable." - Joseph Mount (right)
They may look your slightly scary cousins you haven't seen since you were a 12-year-old but Metronomy are sweethearts really. They kick off their new tour for Love Letters in Dublin's Olympia tonight (March 12) and as well as being a suitably ornate and olde worlde venue for their brand of spooked electro pop, it turns out they've chosen Dublin itself to debut these new songs for a reason.
"We wanted to play gigs in Ireland and Northern Ireland for ages," says Mount. "But when you do a festival like the Electric Picnic they have an exclusivity thing so we've had tour booked in Ireland and we've had to cancel them so the gig tomorrow is a small token to make up for all the lost tours."
S.W.A.L.K. indeed.
Love Letters is out now. Metronomy play The Olympia, Dublin on March 12.