Following its successful sell-out season in the West End, Singin' In The Rain is coming to Dublin and Sinead Brennan caught up the show's star Vicky Binns to find out all about it.
Vicky Binns rose to fame as Molly in Coronation Street but the world of Singin' In The Rain and her character Lena Lamont are a far cry from Wetherfield, "Corrie is such a joy to be a part of and to do, it allowed me so many opportunities so I'm still really grateful for it and I don't mind being called Molly on the street, it's something that will always be with me. I think once you've done something like Corrie there's no shaking that off, but something like Singin' In The Rain is so vastly different that I tended to just throw myself into what was required for this part which is so different and this massive character."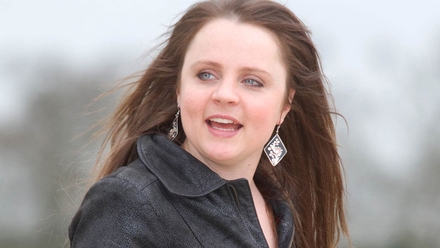 Vicky Binns as Molly in Coronation Street.
Lena Lamont is a silent movie star struggling to deal with the changing face of Hollywood as the talkies rise to prominence and Vicky is really looking forward to taking on the role, "She's an absolute treat of a character, she's the baddie really. The film is about the change from silent movies going into the talkies and when that happened they left quite a lot of silent movie stars behind because they didn't translate to the talkies, what worked for a silent movie star and people who were successful at that, as soon as they opened their mouth that didn't necessarily work.
"It wasn't what people were expecting. Like this Lena Lamont character, she opens her mouth and she's this Brooklyn girl, she has this idea that someone doesn't sound like they look so [puts on Brooklyn accent] 'Ya gotta talk like this' and she doesn't realise that that doesn't work so Monumental Pictures had to work out how they're going to work around Lena's voice and it's just a great fun part and these characters are huge, they're larger than life and it's such a joy to watch."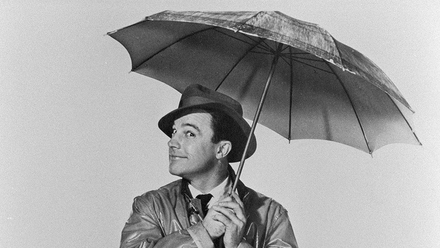 Gene Kelly in 1952 classic Singin' In The Rain.
The show is sure to delight the film's fans and Vicky is confident that the show will live up to the legacy of the timeless classic that holds a place in many hearts, "A girl was saying to me that she wants to come with her dad because they'd have watched it together, and there seems to be a lot of bonding over that film and I think now, at the moment its number 5 in the top 100 films of all time, not just musical films, all films, it means so much to people and it spans generations because it's funny, has heart and it's entertaining and it's great for a big group and it really genuinely feels like the production is a great transition from the film, people who loves the film or are precious about the film won't be disappointed because all the elements are there, all the iconic songs and the moments people love from the film are in it."
Having worked on Coronation Street for so long, and doing a stint on Emmerdale too, the theatre seems like a totally different discipline, "It feels like two different jobs, the adrenaline is completely different and the way you work is different, I'm filming something at the moment, a drama, you drop in very much as a freelancer and go in and do your bit, which is challenging in itself, it's just a different field, you go in and do your bit and then you leave and are only required for the days they're shooting your scene. But something like Singin' In The Rain, we're all on tour for 6 months together, we'll go on stage every day, sometimes twice a day, together and it feels like there's a real chance to build a group and a camaraderie and the audience becomes a part of that to because they kind of dictate how the show goes and have their own personality as an audience."
The show comes to Dublin in May and Vicky is very excited to come to Ireland, "I think Ireland will be a highlight of the tour schedule, because it's UK and Ireland, and because the majority of us are from the UK, we get to travel to Ireland - Belfast and Dublin - and you guys have such a reputation for being such a great audience and it'll be a highlight from the tour and a lot of the cast have toured to Dublin before and they've called it their favourite." I'm sure you say that to everyone... "No I think there's a real like openness and a willingness to enjoy and have a good time and you want and audience that's vocal and part of it and up for it.
"We'll have shows every night but we'll have a chance to explore in the day time, I've been to Dublin a few times before and I'm really looking forward to that, and Belfast to, just having the chance to work in those cities and exploring the theatres, I've heard that the Dublin theatre is a wonderful building."
The all-singing-all-dancing musical extravaganza that is Singin' In The Rain will be at Dublin's Bord Gais Energy Theatre from May 20 – 31, 2014 and tickets are on sale now.