He was friends with Miles Davis, Clint Eastwood is his biggest fan, and he's had his work sampled by Jay-Z, John Legend and De La Soul. Now jazz great Ahmad Jamal is set to return for a date in Dublin. Alan Corr talks to the veteran 83-year-old pianist about Miles, Clint and why he's still learning
According to Ahmad Jamal, there are only two types of music – good and bad. Well, that was according to Duke Ellington and Richard Strauss too and, indeed, any number of other musicians you'd care to mention but when it comes to Ahmad Jamal it makes extra sense.
The 83-year-old jazz pianist from Pittsburgh has been making music since he was three years old and if there's one thing he's learned in a genre that can be known for its snobbery, it's that categorisation and pigeonholing take the joy and fun out of the whole damn thing.
Even at a stately 83, Mr Jamal (and he insists on being addressed as Mr Jamal) remains very busy. He opens his short European tour in Dublin's Vicar Street on January 24 and his most recent album, last year's Saturday Morning, is his 62nd release in a career that began when, at 14 years of age, he wowed the pros, including one Art Tatum, down in the jazz joints of Pittsburgh.
In total, he's been playing piano for 80 years, having first laid his hands on the keys after his uncle challenged him at three years old to copy what he had just played. The young Ahmad left the whole house in stunned silence when he succeeded. He is chilled out to the point of supine grace. The man is a cat.
I ask him is Dublin a jazz town and before I've even finished the question, I already know the answer. "Every town is a jazz town," he says. "Most artists are the same whether they're on Fifth Avenue, in their hometown, or in Dublin . . . music is universal. It defies all categories as far as I'm concerned. It is accepted all over the world."
Lithe and with a neat grey beard, he is a smiling presence at the piano, a relaxed vibe that comes across on Saturday Morning. It's quite a confection, cooked up by Jamal and his band - Weather Report veteran percussionist Manola Badrena, drummer Herlin Riley and bassist Reginald Veal. So what's Mr Jamal like in the studio – a first-take merchant or an exacting perfectionist?
"I'm a little bit on the one take side, the first take is usually the one," he says. "If you keep doing things over and over you get diminishing returns. I discussed this with my drummer who was doing a session recently with a very, very famous singer in New Orleans and they took track after track after track and they became very tired. You lose your focus! You can't be too accepting and you can't be too conservative either – you got to hit the middle ground and get what you want."
Riley hails from New Orleans, making him the fourth drummer Mr Jamal has worked with from the Big Easy. "That's just the way it happened, it is what it is. Not design, not accident. It was meant to be. There are some phenomenal areas in the world for music – New Orleans is one of them.
"It's like Pittsburgh musicians – Duke Ellington and Billy Strayhorn. I used to deliver newspapers to Billy's family when I was a kid but Duke Ellington had come and taken him away so I didn't see Billy until years later. We also had one of the great singers of all time, Billy Eckstine. We also had a little tap dancer from Pittsburgh named Gene Kelly – 'member him?"
And of course, Mr Jamal's biggest early influence, fellow pianist Erroll Garner, also hailed from Pittsburgh. Garner's best known song, Misty, famously featured in Clint Eastwood's directorial debut Play Misty for Me in 1971 and years later, jazz fan Eastwood was to feature Jamal's 1962 hit Poinciana in his 1995 movie The Bridges of Madison County. (Bringing it bang up to date, four compositions by The Ahmad Jamal Trio feature on the soundtrack to The Wolf of Wall Street).
"Clint Eastwood is the only director who has done two movies on two famous musicians – he did a movie on Charlie Parker and he did a documentary on Thelonious Monk," says Mr Jamal. "Which other director in Hollywood has done that? None of them and that shows you the character of the man. That's why the man is so successful. It's because he has some insight to what it is."
Back in his early twenties, Jamal lived a block and a half away from Miles Davis but while they were mutually appreciative of each other's work, they rarely hung out together. "We lived a block and half away from each other but I went over to his house and one occasion only. He used to come down to the Village Gate to see me when he wasn't working, he stayed off the scene for about seven years and George Butler finally got him to come out of retirement so we never hung out. It's quality not quantity. We had a quality relationship but not one of quantity."
Was he a difficult man? "Not for me! Not at all! Hahahahaha."
Miles still sells about 5000 albums a month but does Mr Jamal take a keen interest in the business side of his own music? "Well I sort of fell into the business, it's just the way my life has been. I had a sesame seed business in Somalia years ago, I had a record business on 57th Street years ago and I had a restaurant in Chicago as well but right now all I'm interested in is the business of music. Hahahahaha."
One side of the music business does still exercise him these days and that is the number of hip hop and rap artists, including Jay-Z, John Legend, De La Soul and Nas, who have sampled his work. However, royalties are rarely forthcoming.
"You can say that again! Hahahahaha. What am I doing about that? Being careful! Making sure it doesn't happen again. I don't really listen to the songs in question that much. I expect there will be a lot of sampling from Saturday Morning and I'm ready for them."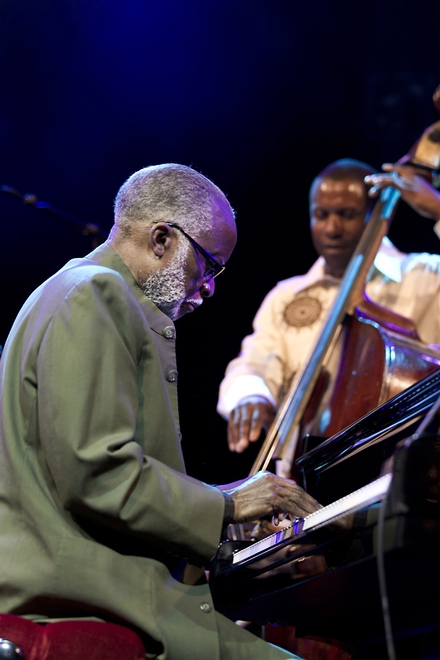 Jamal's past reads like a roll call of jazz greats, many of whom he has outlived in a genre noted for its casualties. Over the years he's been called many things – the Zen master of the piano, an educator, and second only to Charlie Parker in the development of jazz . . .
"I let other people say what I am. When you say you're this or you say you're that that's when you're in trouble. I want to get away from the man who says I'm a scholar. You're supposed to see that and not hear that – a tree is known by the fruit it bears."
So what fruit will he bear when he hits Dublin next week: how far back into his catalogue will he delve? Mr Jamal laughs again and says: "That's an interesting question but the real question is, how far back am I gonna go or how far ahead am I gonna go? I've been eighty years at the piano and I gotta tell you, a lot of things are still being discovered . . . "
Ahmad Jamal plays Vicar Street, Dublin on January 24. The show is presented by Teddy D Promotions in association with RTÉ Lyric FM and tickets priced €59.95 are available from Ticketmaster