Robbie Williams is back swinging with a new collection of duets with the likes of Michael Bublé, Lily Allen and Rufus Wainwright. Alan Corr talks to Robbie about hair, his upcoming chart battle with Gary Barlow, fatherhood, and why without Take That he would have become a drug dealer
High up in a suite in London's Savoy Hotel, Robbie Williams is holding forth on One Direction and Dora The Explorer. "I think One Direction do a great job, they're great pop stars," he says and he would know. "They get a lot of flak from grown-ups who go `ooooooh One Direction, they shouldn't exist' but I don't know why people get so upset by it. It's like saying Dora The Explorer shouldn't be exploring anymore! `What the f*** is she exploring for?'
"One Direction are not trying to sell records to us, to people in their twenties or their thirties or with a penis. They're doing a great job in their role as pop stars. They're singing well, they're being charismatic, they're doing great videos, a great tour, people leave their show happy. Everybody wins."
This is the new Robbie Williams or at least the one who unveiled himself earlier this year with a comeback album that sought to reclaim his spot as The Great Entertainer. At 39, Robbie is philosophical, realistic and pragmatic. He is also still pretty funny.
He has just released a new swing album. It's called Swings Both Ways and it is another sign that Robbie wants back in and this time out he looks ready for it. Dressed in black trousers, a figure-hugging t-shirt, chunky black brogues, and luridly pink socks, he is fit and tanned in the November gloom. His new tee-total, non-smoking, gym bunny routine regime has left him looking like a buffed and cleaned up cross between Ollie Reed and Norman Wisdom.
A tattoo creeps like ivy up from his collarbone onto his neck and these days he has a peroxide blonde quiff that offsets his increasingly steely grey hair. "Do you like it?" he asks. "My wife suggested I do a bit of blonde at the front of my hair. It has been quite boring, my hair, since I've started to go grey and I thought I can't dye it anymore because people would start saying `ahhh, he's dyin' his hair because he's getting' old.
Isn't it a bit Miley Cyrus? "What? Has she got one of these?" he says flicking the quip. "I shall now undress and twerk all over you."
Williams is that rare thing – a totally unguarded star playing the game brilliantly because he knows exactly what side his contract is buttered on. Of course, one consequence of such forthrightness is that some people just do not take anything he says remotely seriously. Does he care? Hell, no.
Robbie is "on" as soon as he enters the room. He hears my accent and starts whistling The Fields of Athenry because he says he wants to teach it to his 14-month-old daughter Theodora Rose; no doubt, if I was French, he'd be whistling La Marseillaise. This could all be part of the act. Maybe he was doing breathing exercises and yoga for a half an hour before the interview, finding the zone, getting in character once again.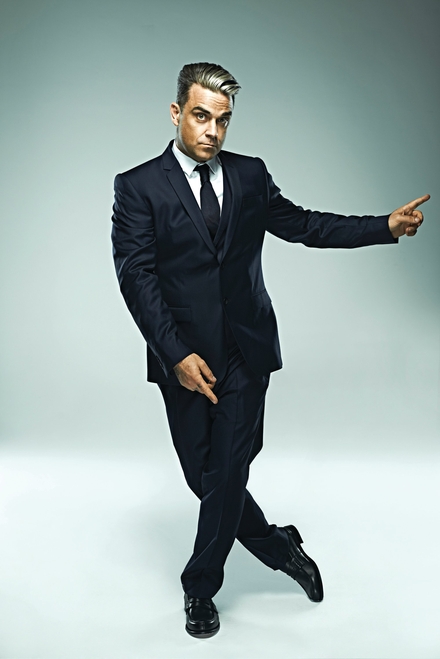 "I shall now undress and twerk all over you."
It's no wonder that's he's released another swing album. His last one was the biggest-selling of his prolific career. More of all of which later because there is only one thing Robbie seems to want to talk about and that is Theodora Rose, his daughter with wife actress Ayda Field.
"I don't know if I'm in any position to give advice about fatherhood," he says. "I'm terrified that I won't be able to live up to my own standards because I did an awful of pointing back to my mother and father, that wasn't good enough and I should had this and I should have had that! And now I've got a little girl and f*** me that's a lot of responsibility. I'm terrified."
So what happens if Theodora comes home with a guy like you one day? "Depends on what age. If she comes back with a guy like me at 32 she's alright. If she comes back with a guy like me at 22 he's gonna have his kneecaps taken out."
Robbie is besotted so it is no wonder he has written a song for her. It is called Be Gentle and it is the first single from Swings Both Ways. It shares the same loving but rueful mood as David Bowie's father/son skit Kooks. "It's just verses of a whole list of advice that one would give and it's just a particular aspect of life, it's not the be all and end all version of what I could and will pass down to her. She's gonna make better decisions than I made, she's gonna make better decisions than her mum made.
"That's if we stay the course. Me and Ayda are really good together, we're good mummy and daddy, we're good husband and wife and touch wood and with a following wind and perseverance if we carry on the way we're carrying on, Theodora is going to make great decisions. If not I'll have to start breaking legs."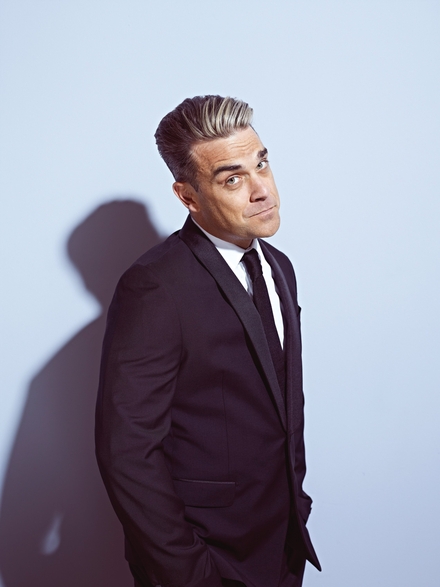 "I don't know if I'm in any position to give advice about fatherhood."
New found happiness means that Robbie not trying to take on the world anymore. Swings Both Ways is Robbie easing back into his comfort zone with covers of Dream a Little Dream with Lily Allen, I Wanna be Like You with Olly Murs and a possibly uncalled version of Puttin' on The Ritz.
He's even back with Guy Chambers, the producer who co-wrote and produced his biggest hits. Robbie is used to rebuilding bridges that he has perhaps wilfully burned. His stint with the reformed Take That also given him a new perspective too. "I think Take That showed me a different colour to the music industry," he says. "It was fun collaborating with the guys. We went on tour and we made a hugely successful album – commercially and critically acclaimed which is the first time that's ever happened for us. What it showed me was that there is many ways to skin a cat.
"I'd like to front U2 for an album if Bono would take a bit of time off, I'd like to be in a rat pack with Michael Buble, Harry Connick Jr, Seal or Bruno Mars. Before I skid into the grave there are many projects on the horizon, things I have to tick off, bucket lists."
He describes Rufus Wainwright (a man who was once as decadent as him) as one of the best songwriters of the last 15 years; Lily Allen is a "very smart pop star"; Olly Murs is his "showbiz brother"; and Kelly Clarkson is "refreshing". As for the one they call Bublé, well he's "a pro's pro".
"I'm a fan boy as far as he's concerned. He's my link to the past, I'm in his lane for this album," Robbie enthuses. "I'm honoured that he's on it. We think very similar about the industry and about ourselves. I like him. A lot. I wanted Hugh Jackson on the record but he couldn't make it but maybe that's another time."
Coming from anybody else, this kind of praise would sound luvvie but Robbie delivers it all with a child-like sincerity. He's not yet 40 but has been doing this for twenty years, from Take That, to the vertigo of solo success, to the UFO-spotting desert burn-out in California, and now his fond re-embrace of fame. He raves about singers like John Newman and John Grant but he knows he will never have their acclaim and he's happy to accept that.
"I'm incredibly grateful right now, more than ever, to have been that code-breaker because it's not like I'm a massive artistic talent. I'm not Mick Jagger or David Bowie of Elton John," Robbie says. I've stretched very, very little a very, very long way. The equivalent of taking an elastic band to Mars – I intend to take that elastic band to Saturn.
"More than ever I love showbiz. I've got to travel the world and I've got to be creative and I've got to show off and I've got to make money from showing off."
It makes you wonder what Robbie Williams would be doing if he hadn't become the Great Entertainer. "I don't know, I don't know . . . " he says and for the first time he has to pause for thought. "I might have been a drug dealer, not class A unless if went really f***ing wrong. I probably would have sold a bit of weed. I probably would have auditioned for Big Brother. There wasn't many ways out of Stoke on Trent for me. I was very, very lucky to learn about an audition for a boy band when I was still at school and my mother sent my CV in and off I went to the audition and the stars aligned and I was in the right place at the right time and I broke some kind of code."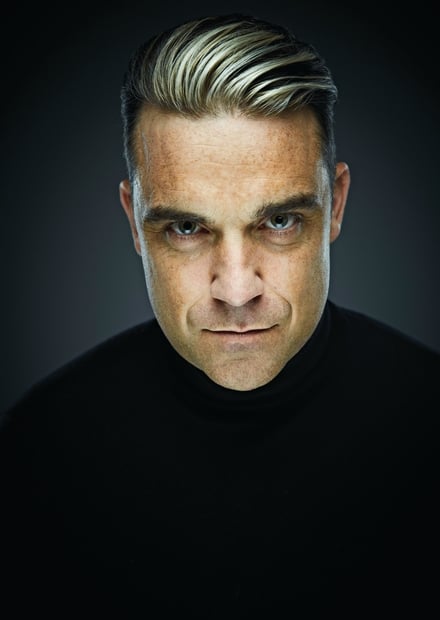 Ready for a chart show down with Gary Barlow
Swings Both Ways arrives just a few days before the release of Gary Barlow's forthcoming solo album, Since I Saw You Last. It presents the tantalising prospect of a chart showdown. Did Robbie time the release of his album to coincide with the release of Barlow's? "Originally, I thought this is f***ing great but Gary said, no it f***ing isn't! And I said come on! It will get people in the shops, it will get people talking. Oasis/Blur. It ain't gonna be that level of course but he said I don't wanna do that.
"I said that's such a shame. Gary's a national treasure, he's resurrected his career and he's got a huge audience with X Factor so I said to him there is every chance you will blow me out of the water. I'm just a bit more reckless than Gazz is. He plays his cards close to his chest and he's a master at what he does."
In the end it all comes back to Theodora Rose for Robbie. What's the favourite game you play with her? "My favourite game is making her listen to my new album. We blow raspberries and so kisses. We went to a music lesson this morning, it was an Irish music lesson, it was great. She went to a French class last week. She's a year and three weeks old. We're very snobby, we've got aspirations above our station."
Becoming a father has made him "less reckless". "She deserves better than the person I can be," Robbie says. "I've stopped smoking. I did this whole tour this summer sober because of her and I was better for it. My audience had a great time, I had a great time and my band had a great time. I have purpose; I have meaning to my life. Sometime when you're floating around and nothing is keeping you tethered to the planet you think what's the point. Now I have a point."
Swings Both Ways is out now. Robbie plays The Odyssey Arena, Belfast on June 13 2014