Fugitive Pieces is the track to which your reviewer refers, curiously placed at mid-point on the 11-track album. So it's a kind of summit of performance or a pinnacle of the achievement, with the other tracks falling away, either in subdued tunefulness, or odd bits of discordant scree each side of the highest peak. Strønen himself makes a brief but effective appearance towards the close of the track with some light but effective cymbal brushing.
That is how your reviewer hears Fugitive Pieces anyway, a deeply affecting piece which looks somehow to Arvo Part and further back to the elegant mournfulness of Marin-Marais in the French eighteenth century. What is conjured is a kind of courtly desolation on fraying, wispy string parts, supplied by Håkon Aase on violin,Lucy Railton on cello and Ole Morten Vågan on double bass.
Ayumi Tanaka adds the warmly tactile piano flourishes and her presence on the album is noteworthy. The pianist has declared that she sought associative connections between her native Japan and Norway in the course of her improvisatory playing on what is an occasionally challenging album.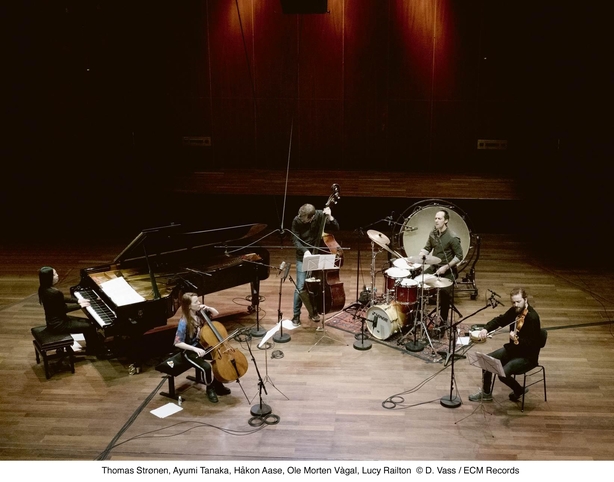 Tension begins with a North African motif, as though someone had been listening to the oud-player Anouar Brahim (also an ECM artist). Okay, that someone had to be the remarkable Strønen and you keep having to remind yourself that the man making the atmospheric percussive sounds also wrote the tunes.
Strønen, Aaseand vagan are cited as composers of the opening track, all the rest are credited to Strønen. That being the case, there does seem to be a degree of collective improvising.
In the middle of some of that stuff, I longed for the plangency of Fugitive Pieces. Then again, what perhaps makes the latter track stand out is it's cathedral of saintly worship in the middle of the experimental, mildly anarchic sonorities.