The music of Johann Sebastian Bach (1685-1750) works on many different levels on the original instrumentation, but the introduction of the guitar brings those who deal with it to another sound-world, an entirely different dimension. When transcribing Bach from violin or cello one needs to be careful not to overpower the great composer's original melodic lines, the Dublin-based guitarist has noted.
"Transcriptions then need to be carefully adopted so as to not take away from what was originally written yet as the same time, take full advantage of what the guitar can offer over the cello or violin," writes the musician.
As music for the dance of that name, the 'Sarabande' is almost certainly of Mexican origin, having evolved from a Spanish dance with Arab influences. Listen to Farrell's wonderful treatment of two Bach Sarabandes which have an Hispanic tinge you would not assume in anything composed by Bach. There is a sense of barely-compressed emotion seeping out perforce from under the super-structure in an all the pieces. These elegantly wistful constructions from the Cantor of Leipzig are handled by Farrell with perfect emotional pitch in confident, assured readings that suggest he has been playing Bach all his life. Guitars, in any case, brings us to the South, the South of Spain, and this listener heard something Hispanic too in the Sonata No in 1 A minor, one of the most beautiful pieces your reviewer has heard on disc this year.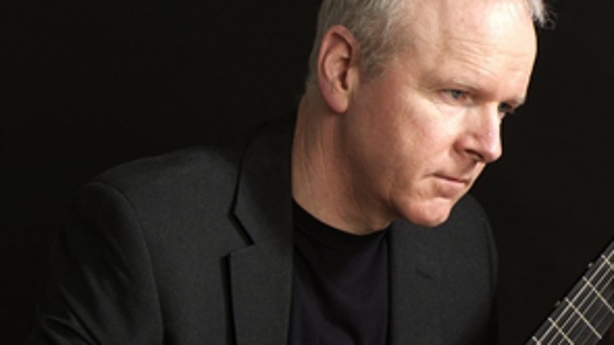 Farrell has worked hard at this challenging project and his performance of some of the greatest music ever written is utterly masterful, as he deftly steers the craft of his instrument between the twin peaks of brio and plaintiveness.
If you want too the real Spanish deal at the hands of the guitarist, check out other recent recordings from the renowned music teacher and prolific scholar of recording. The Black Decameron CD features his splendid interpretations of Joaquín Rodrigo's Concierto de Aranjuez, along with Leo Brouwer's Nuevos Estudios Sencillos, 10 musical hommages to ten different composers, including Stravinsky, Prokofiev, Debussy and Sor.
Another Farrell release, The Dew Drop includes the musician's own beguiling compositions while By Candlelight celebrates the music of the renowned American composer Andrew York.
These are important Christmas recommendations from the ever-increasing oeuvre of Brian Farrell, music that will not disappoint. Read our review of his previous album, Luminoso, here.
Paddy Kehoe
Brian has recorded many pop favourites through his long career, collected on a previous album available from his website. Here he tackles Van Morrison's Have I Told You Lately (That I Love You) www.brianfarrell.eu