Blue Note All-Stars brings the avid listener two slices of CD that are packed full of slick, smoothly intelligent sounds, with an urbane, painterly vibe tending to the blissed-out.
Let's name them, they deserve it surely the long-tailed jazz centipede that is The Blue Note All-Stars ensemble. So you get visionary trumpeter Ambrose Akinmusire, guitarist Lionel Loueke, Marcus Strickland, tenor sax, drummer Kendrick Scott, Fender Rhodes specialist Robert Glasper and bassist Derrick Hodge. a hugely talented ensemble, make no mistake. Melodic agility and a willingness to improvise with instinctive precision are the hallmarks.
Disc one is almost quite enough to be going on with. It pulses with energy and vitality on tracks like Kendrick Scott's Cycling Through Reality – dig that pitch bendy keyboard thing - or Marcus Strickland's composition Meanings.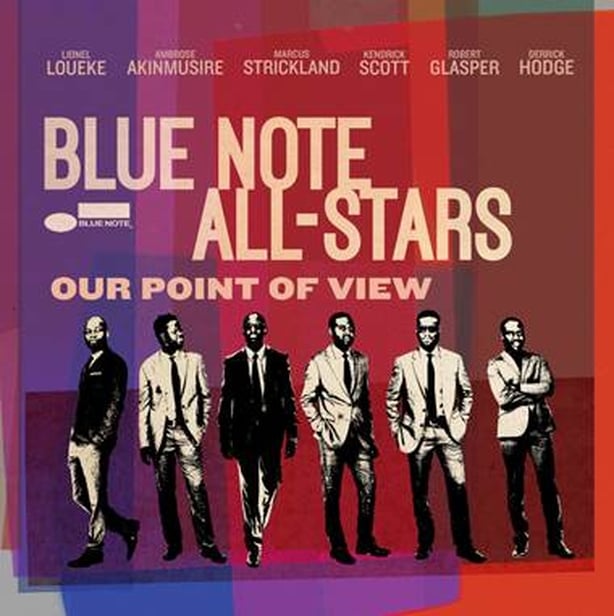 Akinmusire dusts down his own vehicle Henya, which originally featured on his 2012 album, The Heart Emerges Glistening. Derrick Hodge's Second Sight races along busily, with deft use of African chants underscoring the wave of consummate musicianship.
Wayne Shorter's Witch Hunt gets a zippy, muscular reading that stretches the confines of the tune with verve and imagination - at 17 minutes, 43 seconds, it is the longest track on the two-CD set. Shorter himself, no less, along with Herbie Hancock on piano are special guests on track one of the second disc,another Shorter standard, Masquelero. That chanting returns on the majestic Message of Hope, another track, executed with collective brio and written by All-Star bassist, the aforementiond Derrick Hodge
Though vocal-free, bar the few bouts of chanting, this is in a kind of a way Steely Dan circa Aja taken to its logical conclusion in the sophisticated jazz treatment plant. Yes, that bloody good.
Paddy Kehoe