Sssssh . . . can you hear that? That's the sound of Beyoncé's jaw dropping and Gaga's teeth grinding at the return of Janelle Monáe. She's the woman who fell to earth as rebel cyborg Cindi Mayweather in 2010 with her stunning debut album The ArchAndroid.
Now like Fritz Lang's Maschinenmensch, Monáe arises again on this hour-long melange of mind-blowing pop, rock and soul. Electric Lady embraces everything from Hendrix style pyrotechnics, to exotic cinematic string sections, to sweet, smooth jams.It's certainly as sprawling and hyperactive as her debut as it cartwheels through a dizzying array of styles and moods, but thematically Monáe is a bit more earthbound.
Her dainty alter ego Cindi crops up here and there in an narrative about the droid underground battling human oppression in Metropolis but Monáe has said this new album is an "emotion picture" – a voyage into her own past in Kansas to re-discover her neighbourhood and the women who played a major role in her life.
Well, let's just say she's not in Kansas anymore - she's in a musical Oz of her own imagination. Monáe's shape-shifting may leave you unconvinced and she does perhaps try to hard to cram the whole history of black American music into one album, inviting comparisons with Prince's Sign O The Times, Outkast, Stevie Wonder, Funkadelic and Parliament.
However, this kaleidoscopic, celestial and occasionally bonkers trip is always entertaining with romantic, perfumed arias clashing with urban chaos, and guitar jams. The whole time, Monáe is giggling in the maelstrom just like a demented Dorothy.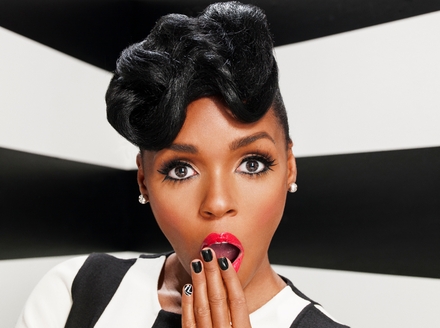 She's created her own musical Oz
One part righteous fembot manifesto in which Cindi is still the ghost in the machine and three parts musical history lesson, the guest-list is pretty exciting too. On Give Em What They Love, Monáe's mentor Prince steps up with killer vocals and a soaring guitar part and on Dorothy Dandridge Eyes (well if Kim Carnes can have Bette Davis and Half Man Half Biscuit can have Dickie . . . ), Monáe is joined by Ezperanzo Spalding who provides some cosmic scat singing, while neo-soul loverman duets on the gorgeous Primetime,
Monáe truly goes nuclear on Dance Apocalyptic, an infectious pop cut featuring an unstoppable backbeat and sprightly ukulele, and then she's straight into Look Into My Eyes, a shimmering come-on featuring vintage sounding strings, timpani, languid bossa nova with Monáe's playing the wily seductress tempting you into her own private Shangri La.
The whole thing is nothing less than a head-on collision between psychedelic afro futurism, classic soul, kooky daisy age hippyism, and musicals like Hair and Godspell. And as it should be with a daughter of Kansas, everything else seems like it's in black and white until Janelle Monáe flicks the switch and turns it to vivid and lurid Technicolor.
Alan Corr