Don't be fooled by the title, this is not a film about Diego Maradona.
Director Paolo Sorrentino may make that film someday, he idolises the legendary footballer and even thanked him in his Oscar acceptance speech for The Great Beauty in 2014.
No, Maradona's infamous goal is where the film has found its title and he is referenced and revered several times throughout but unlike previous outings, Sorrentino is focusing on a much more down to earth group of people - his own family or a group of people who strongly resemble them.
We need your consent to load this YouTube contentWe use YouTube to manage extra content that can set cookies on your device and collect data about your activity. Please review their details and accept them to load the content.Manage Preferences
Set in Naples, Italy in the mid-80s, young Fabietto (Filippo Scotti) has a lot going on in his life, the world's greatest footballer is about to sign for SSC Napoli, Federico Fellini is shooting a film in town and he's falling in love (or lust) with his troubled aunt (by marriage) Patrizia (Luisa Ranieri). All the while young Fabietto is trying to work out if this urge to become a filmmaker is worth following through on.
It's hard to pick a stand out character in this entertaining and warm cast. Every interaction is filled with observed moments of absurd comedy. You can tell great care was made in portraying the eccentricities and humour of the director's own family and that's where much of the film's strength lies.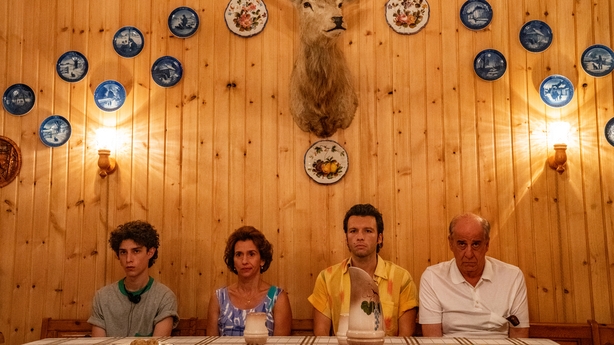 This close-knit family take digs at each other, his father, Saverio (Toni Servillo) always jumping at the opportunity to get deride his loved ones while his mother, Maria (Teresa Saponangelo) loves a good prank.
The ridicule and clowning make being in the company of this family a pleasure but also serves to heighten the impact of the tragedy that waits around the corner. It truly is an emotional gut-punch and faithful to Sorrentino's real-life story.
The world of Naples in 1986 is painted beautifully, full of fascinating, absurd and very funny characters with nights of random adventures with smugglers. The city looks truly beautiful and fun. You'll never want to leave, but if you want to be a filmmaker one day, leaving might be the only answer.
In cinemas from December 3 and streaming Netflix from December 15.