Adapted from Christine Leunens' best-selling 2004 book Caging Skies, director Taika Waititi's self-described 'anti-hate satire' bounces along with bold ambition.
Set in the fictional German city of Falkenheim towards the end of WWII, Waititi's (Thor: Ragnarok, What We Do in the Shadows, Hunt for the Wilderpeople) daring mockery is an examination of the absurdity of war as seen through the eyes of a child, and a biting exploration of how hate spreads.
The controversial comedy rests on the shoulders of lonely German boy Jojo (newbie Roman Griffin Davis), a Hitler Youth member whose ideology is challenged when he finds out that his mother (Scarlett Johansson) is hiding a Jewish girl (Thomasin McKenzie) in their home. As he starts to question the beliefs of his buffoonish imaginary best friend, Adolf Hitler, Jojo comes face-to-face with the true horror of racism and war.
The target for the outré WWII outing isn't the extreme nationalism of Nazi Party members but fanaticism at its core, with Waititi eager to showcase what it takes to undo the ideologies pushed on young, impressionable minds.
The New Zealand filmmaker uses his sharp wit as a powerful tool to carry the multi-tiered film through what could be thorny and intensely sensitive territory. As Jojo waves goodbye to his blind enthusiasm for the Third Reich and its leader, his humanity and empathy turn Hitler into a bumbling caricature.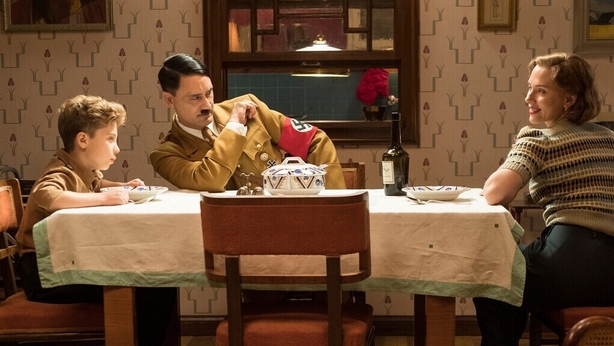 Davis is outstanding in his big screen debut and effectively brings both heart and darkness to the risky composition, while forcing viewers to think critically about what it is that informs our perspective on life.
Rising star McKenzie makes an indelible impression in a demanding role and manages to sustain poignancy across the varying tonal shifts.
Johansson sparkles in her finely tuned performance as Jojo's mother, and she is a key source of the film's emotionally rousing moments. "Life is a gift. We must celebrate it. We must dance," she tells her 10-year-old son, alluding to the film's underlying message of the strength of the human spirit in the face of tragedy.
At times Jojo Rabbit keeps the audience at arm's length, and the script occasionally misses the mark, but it hops along with enough tenderness to engage the mind and take viewers on a satirical ride.
We need your consent to load this YouTube contentWe use YouTube to manage extra content that can set cookies on your device and collect data about your activity. Please review their details and accept them to load the content.Manage Preferences