The Latin phrase 'Ad Astra', translates in English, as 'to the stars' - and after watching this space opera, viewers will be left with more than a twinkle in their eye.
The 122-minute cinematic odyssey chronicles a journey through the vastness of the cosmic unknown, while decoding the darkness that comes with the conflicting voyage of self-acceptance.
Leading astronaut Roy McBride (Brad Pitt) is cool, calm and collected - his pulse has never gone above 80 bpm - but his unresolved daddy issues beat loud and clear.
When US intelligence informs our unflinching hero that his long-lost father, a legendary space explorer, (Tommy Lee Jones), who vanished decades ago on a pioneering mission to find alien life, is still alive, McBride finds himself drifting into a black hole of emotion.
Set in the near future, director and co-writer James Gray draws up all the right coordinates to create mind-blowing visual effects and glorious, meticulously crafted space vistas.
Just minutes in, a majestic, and technically brilliant, fall from an international space antenna launches the movie into a realm of its own. A later scene, involving a buggy chase between the US government and space pirates across the dark side of the moon, including a delightfully bonkers outing from a man-eating baboon, adds to the movie's gravitational pull.
With the moon now colonised as a tourist haven, Gray has an absolute blast playing with the idea of a commercialised solar system and interplanetary travel.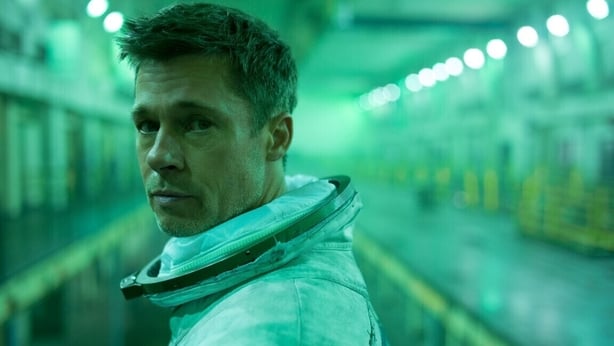 There is no shortage of product placement here as Virgin Atlantic flights and its expensive add-ons (Pitt gets charged $125 for a blanket and pillow) soar off to the moon, while intergalactic sandwich chain Subway, serves up Footlongs to peckish moonwalkers.
The ambitious script reaches far beyond most Hollywood sci-fi movies, striking a balance between a harrowing otherworldly discovery, and a beautifully complex narrative weighing up how much our parents shape our destiny.
Gray looks through the telescope at human limitations and explores uncharted worlds that affect the interiority of a man's soul. Pitt gives a career best performance without isolating the viewer or overplaying his nuanced role.
The support cast has little to do but Donald Sutherland makes the most of his outing as an old colleague of Pitt's on-screen dad, while Ruth Negga's small role as a member of a colony on Mars, packs a punch.
Hoyte Van Hoytema's sweeping cinematography radiates in the darkest of places, while Kevin Thompson's stellar production design, and Max Richter's striking score all come together to form the perfect constellation.
Ad Astra shoots for the stars and should expect a smooth landing come awards season.
Laura Delaney
We need your consent to load this YouTube contentWe use YouTube to manage extra content that can set cookies on your device and collect data about your activity. Please review their details and accept them to load the content.Manage Preferences