Ben Stiller inhabits the role of a hard-pressed, somewhat neurotic dad with brilliant fidelity in the engrossing Brad's Status.
Brad is 47 and works as a consultant for a non-profit organization, the last dregs of his youthful idealism seeping rapidly away as he worries about his status and how much his only son is going to cost him in college. He lies awake at night beside his infinitely tolerant wife Melanie (Jenna Fischer), fretting about how little he has achieved. 
Mid-lifey Brad sees a bunch of his school and college friends apparently succeeding well in the areas of high finance, political journalism, architecture. One is so wealthy he is already retired and is living a slothful existence of sex and surf in Maui. Meanwhile, Brad wants to make money before it is too late, but he hasn't got a clue how to do so as he tries to keep up appearances. There is a sense that it is getting too late to change. So what we get is a mid-life crisis movie, as though Anomalisa had all the stop motion models taken out, and its angst tempered with acerbic, wry humour.
So Brad envies his pals their lives, the true facts of whose existences are completely unknown to him as the movie gets underway. We have all been there, admit it - at least for five minutes of our lives - that particular sordid corner where fantasy and envy meet.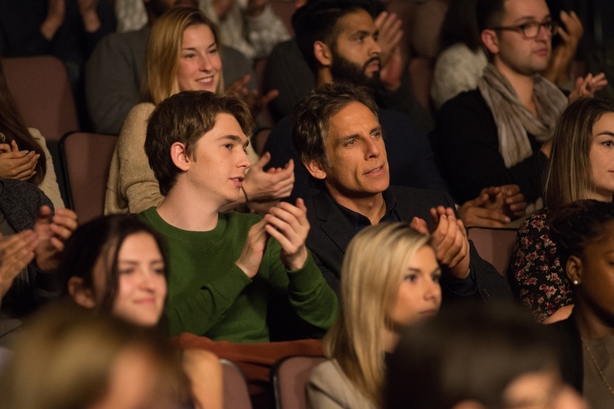 Thus, through Brad 's stream-of-consciousness voice-over, we follow the crazed notions inside Brad's poor over-tasked brain, notions which come a cropper under the hooves of horse sense as reality dawns. Meanwhile, the camera does the rest, capturing the Woody Allen-like fantasy cameos that show Brad imagining how his friends are doing. There's the high financier and his family in a private jet, the wealthy young retiree on a beach in Maui in the company of two beautiful young women, Michael Sheen's canny political pundit constantly sashaying in and out of TV studios. The cameos seem suspect and it turns out they are not the full story.
But this is only half of what is a potent, pithy story, the rest is the father-son relationship through which The Education of Brad - that could be another title for the movie - is frantically pursued. Brad and his only son Troy - played with marvellous slacker aplomb by Austin Abram - leave their Sacramento home to fly to Boston where Troy is scheduled to attend his enrollment interview for Harvard. Yes, Brad has big ideas for the son.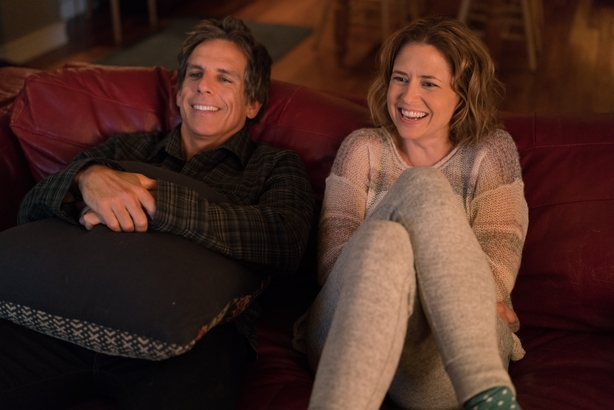 Father and son meet up with two female students, acquaintances of Troy, and Brad suddenly falls in thrall to one of them, a girl of Indian extraction. She reminds him of his idealistic young self when he too studied Government at college and they converse late into the night in a bar. Brad learns a few home truths about the extent of his vanity and self pity from the earnest, bright girl who is over half his age.
It's a familiar theme, Brad is clearly transferring desires for fulfillment on to his young lad's timorous shoulders, before beginning to wonder about the value of it all. Is Harvard, with all its vaunted prestige, all it's cracked up to be? Is overweening ambition not rather tawdry and not a great thing for your son anyway?
We are made to reflect on these basic questions as director Michael White peers behind the American dream, with its garish stage props of competitiveness and greed. Witty and perceptive, Brad's Status is an indie gem, one of whose producers incidentally is Brad Pitt.
File under `light-hearted existentialism.'
Paddy Kehoe
We need your consent to load this YouTube contentWe use YouTube to manage extra content that can set cookies on your device and collect data about your activity. Please review their details and accept them to load the content.Manage Preferences