Young Garda Ruth (Caoilfhionn Dunne) is drinking hard, and being reckless about it. Driving home from the pub, she is fortunate that the squad car that tails her and eventually stops her has colleague Denis (Ciaran McMenamin) among its crew. Denis is something of a martyr to the cause of Ruth and is constantly looking out for her - he takes the keys and she returns home in one piece.
Ruth hangs about the old-fashioned Garda station, doing very little as she is not allowed to be on the beat, given her general untrustworthiness and erratic, sometimes violent behaviour. To say more is to spoil, but Ruth is haunted by a reckless moment of drunken infidelity which occurred six years previously. Under leaden winter skies, she wanders around a soulless, almost catatonic Dublin in a kind of bitter, jangly nightmare of her own making. Tired of life and haunted by tragic events, she lies on the grave that is the evidence of that very tragedy. In a scene worthy of Luis Buñuel, she visits the undertaker to try out a coffin for size.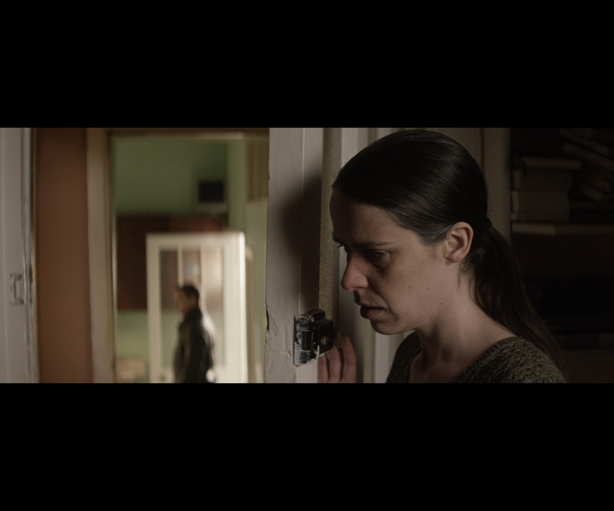 Caoilfhionn Dunne puts in a powerful performance as Ruth, veering between the hard chaw that she is when we first meet her and the vulnerable, fragile woman that she is in more revealing scenes - it's like the moon going in and out of clouds.
Her parents-in-law come to visit her and she cannot entertain them in any fashion. Tea is poured in the silence by the mother-in-law Monica (Maria McDermottroe) and Gerard MacSorley as her father-in-law Séamus is reduced to making an entirely redundant remark about the weather.
At heart, Ruth is a decent woman who has been cursed by an unfortunate slip in behaviour which led to seriously traumatic events. "I think you have a kind heart", says the forgiving woman who has received short shrift from Ruth when she comes to the Garda station get her passport renewed. "Don't lose that," she says, referring to Ruth's obscured kind-heartedness. The truth is the woman has every reason to make a complaint about the manner in which she has just been treated. Yet perhaps she knows enough about Ruth to make a more magnanimous judgment than the situation would seem to call for.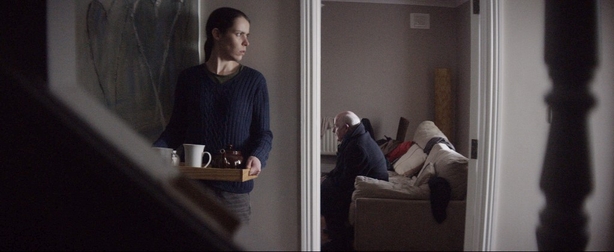 In View is unrelentingly saturnine in its portrait of a woman in meltdown. It may not have been possible to introduce humour - black, grey, off-white or otherwise - but the film would benefit from a more tilted, variegated portrayal of, yes, what we know is an alcoholic mess of a life.
It doesn't have to be all dark, with such specific focus on pain and trauma, and more layering and shade in the script could improve this already strong film (and perhaps a stronger title than In View?)
Whatever the case, writer and director Ciarán Creagh is certainly a director to watch in the future and the cinematography is admirably cool and restrained.
Paddy Kehoe