This extraordinary true story of heroism during World War II is far too pretty but, as usual, Jessica Chastain is luminous and brilliantly understated in the lead role.
If there is one scene that sums up this overly sanitised true story of how two zoo owners smuggled hundreds of Jews out of the Warsaw Ghetto during WWII, it is when Daniel Brühl as Nazi commandant Lutz Heck shoots an eagle off a rooftop as his Nazi battalion overrun Warsaw Zoo.
Is this Lutz (played by Brühl as a more reserved version of his swivel-eyed Nazi in Inglorious Basterds) just another dastardly Hun who caps rare birds of prey to show just how dispensable every living creature really is in the New World Order? Or is he really a good German in an era of very bad ones? I mean, he's just offed an eagle, one of the most potent symbols of Nazism!!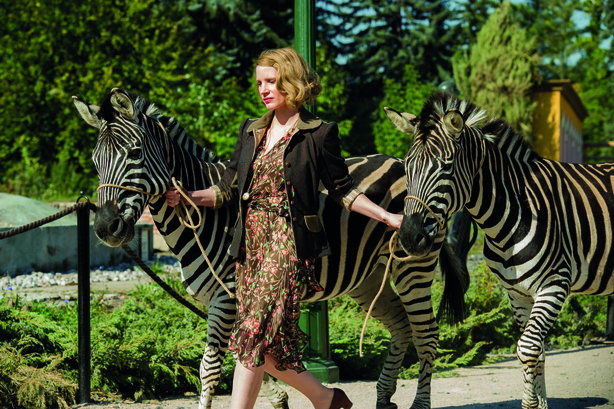 Such questions of good and evil are asked from the very start in The Zookeeper's Wife; in the opening minutes, we see the always superb Jessica Chastain as Antonina Żabiński cycling through the city zoo she runs with her husband, Dr. Jan Żabiński (Heldenbergh).
She has a kind word for every poor beast behind bars she encounters and ahhhhh, a lickle baby camel even trots behind her as she does her morning rounds. Later, she will calm a very large bull elephant as she brings his mate's baby into a world of concrete and iron.
However, something even more terrible is rumbling in the skies above Warsaw and September 1, 1939 is upon us. Diabolical forces are about to be unleashed that will change the world forever and for Antonina and Jan, life is about to take a horrifying turn.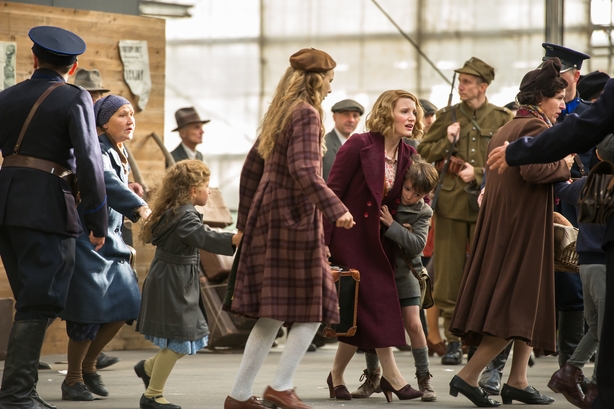 Their beloved zoo is commandeered and used as an arms dump and the couple are forced to report to Heck, the Reich's newly-appointed chief zoologist, who is revealed to be a cruel little man with a Hitlerian interest in eugenics. Incidentally, he now has that eagle stuffed and mounted in his office,
However, Antonina and Jan hatch an ingenious but incredibly risky plan to smuggle Jews from the recently erected Warsaw Ghetto and their underground railway of sorts gives the film a much-needed frisson of tension and a glimpse into the horrors of Nazi occupation as time runs out.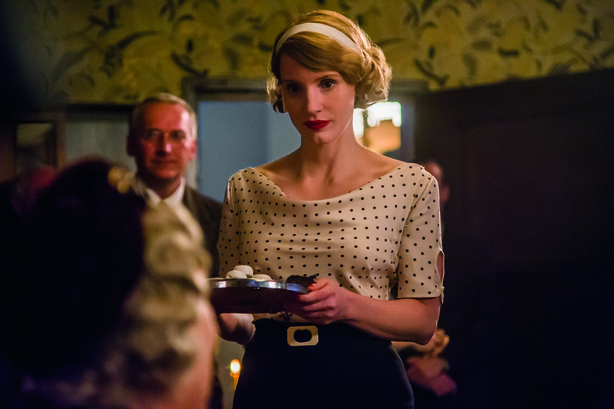 The Zookeeper's Wife lets the course of the war unfold over the full six-year time span and director Niki Caro and screenwriter Angela Workman offer up some tantalising questions about man's inhumanity to man.
The zoo analogy is employed subtly but perhaps the film holds back too often. However, it is never as truly objectionable as the Oscar-garlanded Life is Beautiful or, even worse, Robin Williams' rib-tickling Jakob The Liar.
We need your consent to load this YouTube contentWe use YouTube to manage extra content that can set cookies on your device and collect data about your activity. Please review their details and accept them to load the content.Manage Preferences
Still, despite all that serene cinematography and The Zookeeper's Wife's talent for hinting at unimaginable horror without actually portraying unimaginable horror, what will make you truly wonder is the fact that this movie would be wholly unbelievable if it wasn't based very much on a true story. The bravery of Antonina and Jan Żabińska is truly worth marvelling at.  
Alan Corr @corralan