Indie and proud in its sparseness - sparseness of characters, of location, of soundtrack (a bare guitar) - South is a compelling story from writer and director Gerard Walsh, who has been making films and various media content for the past six years. His film A Day Like Today premiered at the Galway Film Fleadh in 2014 and the young auteur won two Fingal Festival awards for short films.
In Walsh's latest feature South, Tom, who is played by Darragh O'Toole (Red Rock, Moone Boy) is a conflicted, gauche young man, isolated from his peers after much time spent with his father (Joe Rooney, Father Ted, Killinaskully) as a boy. Dependency has resulted from the fact that his mother (Andie McCaffrey Byrne, Love/Hate) has been absent since he was a boy.
Thrown upon each other's company, father and son spent Tom's teenage years watching videos and generally hanging out together. Father supports the aspiring singer-songwriter and guitarist at an Open Mic session where he is repeatedly crippled by stage fright. However, dad suffers a sudden heart attack in the dramatic opening to the movie, staged with a real sense of terror as Tom phones for an ambulance, in vain, as it happens.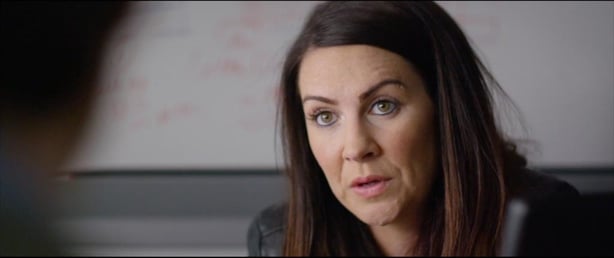 The reason for his mother's absence becomes, as it were, the mystery which the movie will attempt to solve, as there is no one around to satisfactorily answer the question as to why she fled. On his own now and a tad disoriented, Tom decides to track her down, with nothing more to go on than a Dublin address on the back of a photograph.
Thus begins a kind of modest road movie, in which Tom, played by O'Toole with equal parts naivete and chutzpah - is bedevilled by bad luck before he even boards the bus for Dublin. There is another potentially traumatic episode with a driver who gives him a lift.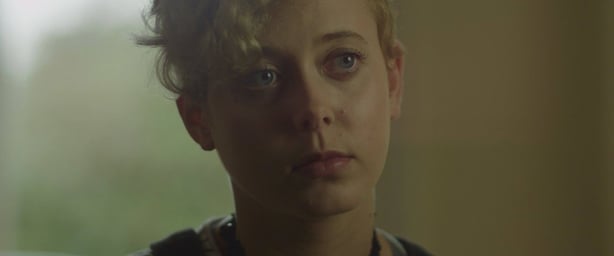 Fortunately, he is found sleeping in the garden by decent skin Jess (Emily Lamey, pictured above) who invites him in to her parents' house and feeds him. The two share their problems with honest, soulful talk before Jess impulsively offers to drive Tom to Dublin to help him with his quest to find his mother.
It is impossible not to be drawn into this touching, simple story which deserves a wide audience. It's gutsy, rootsy and real.
We need your consent to load this YouTube contentWe use YouTube to manage extra content that can set cookies on your device and collect data about your activity. Please review their details and accept them to load the content.Manage Preferences