Davis Guggenheim's inspiring documentary on Malala Yousafzai, who was shot in the head during a Taliban raid on a school bus in Pakistan's Swat Valley in 2012, is a must-see.
It sounds bossy to say that school-children should see it, but one hastens to add that such a recommendation is not to drum the youngsters about the head, saying how much education means to this girl and how we tend to take it for granted etc etc.
Rather, the aim would be to show how Malala's intelligence and the freedom to cultivate that intelligence because of access to education - which she now enjoys again - has enhanced her self-confidence no end. Okay, we may not all be as bright as the clever Malala, but she is a powerful example, nevertheless, of how invaluable education can be in anyone's life.
Education continues to loom large in her life. In Guggenheim's marvellous film, we see the Pakistani girl being introduced to a seated audience in a vast hall, with the proviso that there would be no question-and-answer session as she was studying for her GCSEs.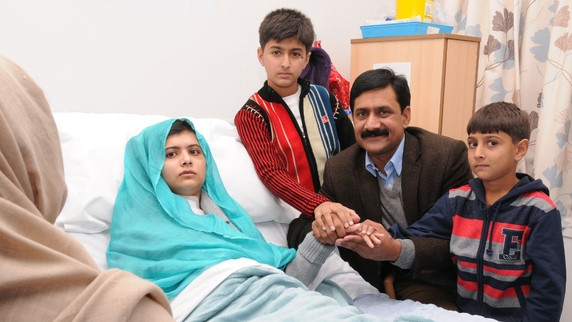 Arriving at this relatively calm juncture in her young life - she is now 18 - was achieved at significant cost, quite aside from the terrible trauma of being shot at, aged 15, along with two of her school-friends who also survived. The girl is, after all, living in exile, and would not have chosen exile. As the world now knows, Malala was shot because she had spoken publicly and eloquently against the Taliban who had pronounced that education for girls was unnecessary.
If she returns to Pakistan, the death threat Malala has been issued with may be carried out. Once she lived happily in the mountainous Swat Valley, 100 miles from the capital Islamabad. Now she lives in Birmingham, close to excellent medical care and the means to her rehabilitation, while availing freely of education along with her fellow school-girls. Her family left Pakistan after the shooting, her father Ziauddin, her mother Toor Pekai and her two younger brothers. If she suffers - and we can safely assumes she has pain still - she does not talk about it in the film.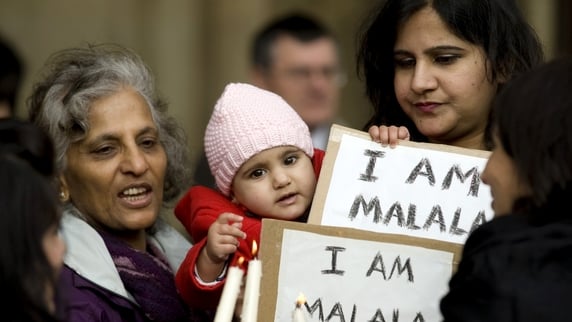 Malala is in a relatively safe place now, but she would love to return to Pakistan, just to have a look at the family's former dwelling house. Somehow when you see that tree in the garden - it could be an orange or lemon tree- you realise how the place might mean so much to her, the river in spate in the nearby countryside, where she once spent carefree days.
Her mother has little English and has been learning the language and dealing as best she can with life in urban England. Fluent in English, Malala's amiably passionate father, Zia, was the teacher who set up the school in which Malala once studied. As a young boy, he mastered a stammer, indeed mastered it with such conviction that he would later use his voice to demand education as a natural right for girls just like his eldest child. It is almost an understatement to say that Malala is very much her father's girl, but she insists that her urge to improve matters for girls around the world comes from herself.
Inevitably, her father's life was endangered because of his speaking out, and, back in Pakistan, Malala used to run around the homestead at night making sure that the doors and gates were locked before the family retired for the night. The constant question she asked when she came to consciousness after the brutal attack was how her father was doing - she was convinced that he too had been attacked.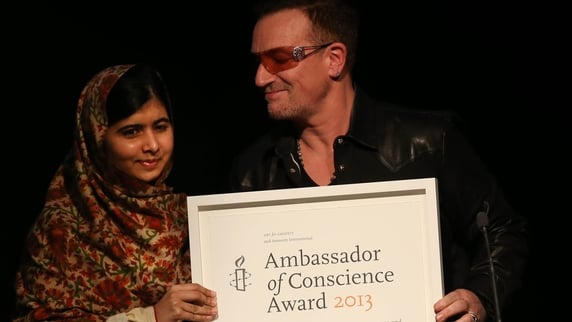 Malala has recovered sufficiently to travel the world, to countries like Nigeria and Kenya where she investigates first hand how school-girls are doing while she helps matters along with encouraging words and her charismatic presence. Her father travels with her, and they have both stood at the Syria-Jordan border too as refugees stream through. There is footage too of Malala addressing the UN Assembly, and meeting Bono and Hillary Clinton.
Aside from the stylish and highly effective use of animation to tell the story - which renders the story almost fable-like - the most heart-warming scenes are shot at the family home in Birmingham where Malala teases and arm wrestles her two brothers. The youngest boy is impish and mischievous, and both boys appear to have adapted well to life in England. Malala indeed is also a playful tease too with her siblings.
The film ends with the awarding of the Nobel Peace Prize, due recognition for the huge contribution this remarkable person has already made in her young life. A beautiful, thought-provoking piece of film-making which demands to be seen.
Paddy Kehoe