We caught up with Downton Abbey hunk Allen Leech to talk about his new psychological thriller, In Fear, the Downton Abbey Christmas special and his plans for the New Year.
Tell us a bit about the film?
The film is a psychological thriller that is set in Ireland. It's about a young couple who come over for a music concert. They don't know each other very well. The guy decides that he's going to put his new girlfriend up in a hotel and be all romantic. They suddenly start driving down the roads and get a little bit lost. As the petrol gage goes down and it gets darker, the story gets darker as well.
The script is a bit mental. What attracted you to it?
Yeah, it's a crazy story alright. What really attracted me to the film was the process in which the director [Jeremy Lovering] wanted to go about to make the film. He wanted the two leads to know very little and wanted me to play mind games with them. As an actor it's a real challenge because a lot of it was improvised. It was very exciting to have the opportunity to manipulate people's perceptions and trust.
Was the auditioning process as scary as the film?
It was quite nerve-racking. I didn't really know anything about the project going into it. Jeremy brought me in and said 'now I want you to improvise and I want you to tell this story.' It was the first time where I had the opportunity to think that working on the project could be a lot of fun. He gave me full freedom and range to do whatever I wanted.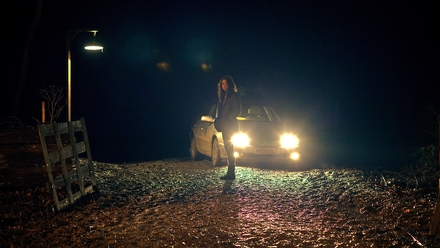 Your character knew so much more than the other two (Iain De Caestecker, Alice Englert). Was it hard to keep the secret from them?
Sometimes I felt a bit like a kid at Christmas when you bought something for someone and you want to tell them what it is. It gives you a real sense of power, genuine power, because knowledge is power. When you know what's happening these people are racking their brains. Even behind the scenes, they just can't figure out what the story is. It was great fun because you don't know how much to give. I got to play with them a bit.
The first time you met Alice and Ian was in the car scene? Was it not a bit awkward?
The first time I saw Alice was when I opened the door. I had seen her before because during rehearsals I used to follow them and sit and listen to their conversations, which again was quite exhilarating. The notion of playing mischief really helped me get into character.
It was very awkward though. It was fine when we shot the scene. She was in the moment and it was a surprise. But when they went 'cut' and it stopped that was when she got a bit freaked out. She didn't know whether to speak to me or not. I kept very silent and she tried to spark up conversation with the line 'So are you the stunt man?' which obviously didn't go down to well as I'd just given the performance of my life.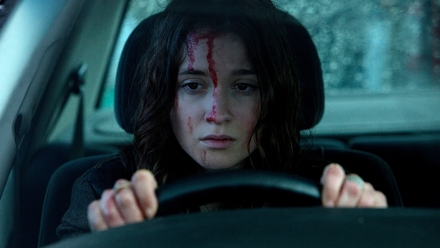 Do you think the improvisation scenes helped the film?
Yeah, it does. It gives us a certain, very real feeling. Every time you see a fright or a scare, that's a genuine reaction, because they did not know what was coming. In the takes subsequent to that, we refined it and took it down. It gives it a genuine feeling of tension because they didn't know what was happening or where it was coming from. Sometimes I didn't either.
Jeremy liked to play tricks on the cast. Did this ever mess with your head?
It caused a bit of paranoia on set for Ian more than anything. It didn't affect me because I knew what he was doing from the get-go. I think he did try to play mind-games with me. He would come over to the car and I'd just smile at him. Then he would say 'That didn't work on you.' Ian was constantly questioning himself. But that's what Jeremy wanted – people feeling unsettled.
What was it like doing all of those night shoots?
That was a psychological thriller in itself. Four weeks of solid night shoots is hard going. I was filming the Sweeney at the same time in London during the day. I was driving for four hours down to Cornwall. It was tough.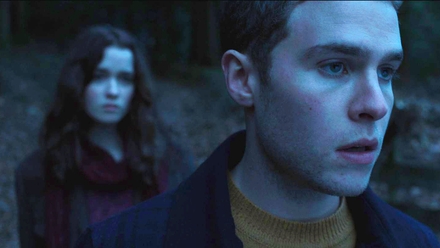 What was it like when you watched the film back? Did you find that you still jumped a little?
I found it quite unnerving. I think it's a movie that makes you feel quite tense. I found it very uncomfortable to watch. I've only watched it the full way through once since. I still jumped even though I knew what was coming up.
Moving on to Downton Abbey – Are we going to see Tom in a Christmas special?
Tom is definitely in the Downton Christmas special. It's going to be really exciting. There are some major, big, big, big set pieces. Julian Fellowes has gone all out with what he's written. There's a major centrepiece for one of the characters and a big event. Paul Giamatti also joins us which will be fun. There is also the start of a couple of love interests for people.
Where would you like to see Tom's character going?
I would like to see his political side come back. I think that kind of took a backseat because of all the terrible things that happened to him in his life. Now that he's kind of settled himself, I'd like to see that political element come back. I'd also like him to see more of Ireland.
What does the future have in store?
They've just confirmed series five of Downton. It's up to Julian if I'm in it. I imagine Tom might be in it. His story isn't quite finished yet. I've got another movie coming out called Grand Piano, which is another psychological thriller with Elijah Wood. Then I have another movie The Imitation Game alongside Keira Knightley and Benedict Cumberbatch. So I've loads to look forward to.
In Fear is in cinemas now