You're the new guy to join this fantastic cast for RED 2, what made you come on board for the film?
Anthony Hopkins: "Well, I wanted to work with all these fine actors, I have been a fan of all the guys and I love the first film. My agent phoned and said would you like to, and I said yeah sure, what's the part, he said I don't know, I said well I'll do it, and I read it. I got in touch with Dean and I said `Well what do you want me to do', so here we are and I had more fun on this than I have in a long time because I always get cast in stuffy roles."
People always talk about actors that look like they are having fun sometimes in movies; did you see that when you saw the first movie?
"Yeah they looked like they were having a ball. I like films, you know, full of action-packed stuff and adventure and blowing up things and all that."
Edward Bailey is a raving lunatic, what was it like playing such a character?
"Oh, I enjoyed playing the raving lunatic who's not really a raving lunatic. It's the madness within madness within madness, which makes you mad."
You were fun to watch!
"Thank you, all the guys were fun to watch, it's hard not to have a good time."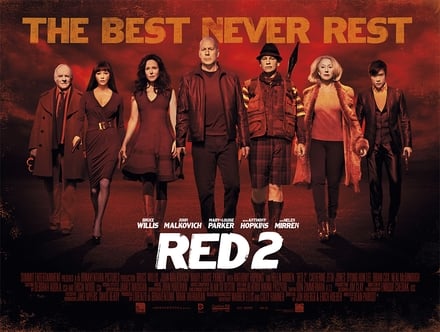 What's your biggest passion other than acting?
"Staying alive."
Was there a moment for you, when working on the film that you felt out of your comfort zone, particularly with other roles you have done in the past?
"Sometimes you have an idea and you act as you have always worked on previous stuff, and you think - can I try this, because once you have the freedom to go in and say 'can I try this?" and 'yes try it, go for it', it's like having a cocktail in the morning!"
How do you prepare for a role?
"I read the script over and over, I do go a bit overboard in reading the text . . . at least a couple of hundred times, but I do it so that I have a framework for improvising, because you can open your brain up and not worry about the text because you know it cold. That's when acting gets fun!"
RED 2 is in cinemas on Friday August 2.