Vince Vaughn isn't just a Hollywood star. He's also a documentarian, and along with his sister Valeri he made Art of Conflict: The Murals of Northern Ireland. John Byrne spoke to him about the documentary as it's about to be released on Netflix.
I've met and interviewed many stars over the years - but it's not every day that a Hollywood big-hitter such as Vince Vaughn rings me at home. Normally, such interviews either take place in a hotel room anywhere between London and Los Angeles, or on the blower in work, but today it's in the kitchen of my gaff. What's seldom is wonderful; although I do have to make my own coffee.
The phone rings. "Hi John. Vince here." And so it begins . . .
Normally, it's near-to-impossible to get hold of someone of Vince Vaughn's stature, unless it's in the extremely controlled environment of a Hollywood junket, where you're surrounded by a legion of PR people desperately filling their lives by making yours feel as empty as possible. It's all about talking to the talent, because everything else associated with the interview tends to be one long load of nonsense.
This time around, it's different. Thankfully, Vince Vaughn is also a little different. Despite his tremendously successful career – since Swingers in 1996 he's been involved in a string of hit movies as a writer and producer as well as star, from The Wedding Crasher to The Break Up, and upcoming comedy The Internship – he's a pretty normal kind-of guy. He famously loves his sport (which is always a positive sign), while his dedication to film-making is pretty much all-consuming. Over the phone, he sounds as regular as one of the lads at Rovers. Well, okay . . some of the lads at Rovers.
And it's not all about making Hollywood hits, either. A few years ago he was involved in a documentary about stand-up comedians, but a recent project that really means a lot to him will be available on Netflix from June 1, and it shows another side to Vince Vaughn. It's called Art of Conflict: The Murals of Northern Ireland, a documentary produced and narrated by the man himself, and directed by his sister Valeri.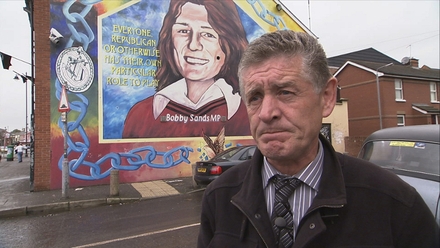 As the title indicates, this is a study of the impact, purpose, and future of the Republican and Loyalist murals, through interviews with local muralists, political figures, noted mural historians, members of the art community, as well as with people who live and work in the region.
Although he has an Irish lineage (as well as English, German, Lebanese and Italian), Vaughn was unfamiliar with the murals until he was on holiday in Ireland a few years ago. They made a huge impression on him.
"I have relatives on both sides of my family that are Irish, he recalls, "so it was really, for me, very much a very special trip." At one stage he was in the back of a Belfast black taxi, getting the tour of the Troubles. "I was on holiday in Ireland and when I went up to Belfast I was brought around in a black cab and got to see all these murals that I didn't even know existed. It was fascinating. I had never seen the murals or heard of the murals," Vaughn admits." I was aware of the conflict, but not all that educated about the goings-on with it.
"I went to see the murals and what really struck me was that these murals were in these neighbourhoods. They were not, you know, pieces of art that were separate with an artistic point of view solely. They really were either points of view about the neighbourhood, a remembering of events that they found to be important, or put up to sort of intimidate people that wouldn't be welcome . . . Standing in the neighbourhood, you were overcome by the amount of murals that were there existing in the neighbourhood. And so, I really found the murals to be quite powerful."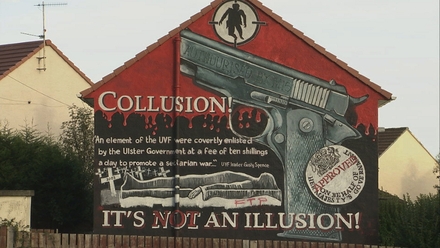 Vaughn's documentary-making sister Valeri was equally enthused when she investigated the murals, and the siblings decided to work together on a film about these works of art and their environment. It took a few years to put it together, but it's set to reach a huge audience through Netflix, almost a full year since Art of Conflict – or a version of it, at least – was shown at last summer's Galway Film Fleadh.
"The movie's really been really well-received," notes Vaughn, before recounting its trip out west. "It wasn't finished yet, but it was important for us to go even with kind of a working print to Galway. But it was great to have it shown in Ireland and the reaction was very positive. We've also shown it at various film festivals over here in the US and it's been very well received, which is obviously something we found very satisfying.
"It took about seven years of filming to getting it complete, so we're just happy to be getting it out there," he adds. "It just takes a long time to get things like this edited."
As well as artists and locals, well-known political figures such as Gerry Adams and the late David Ervine (in his last interview) feature in a documentary that the Vaughns were determined to represent both sides of the divide.
"It was important that we showed balance in the film; that both sides were represented fairly, "says the 43-year-old. "I come from an Irish background so it was important to me from that perspective as well."
Art of Conflict: The Murals of Northern Ireland is available on Netflix from June 1.