Aloysius Tempo is a freelance killer for hire, who advertises his services on the Dark Web. He arranges fatal accidents and convenient deaths and becomes in effect the Irish government's first secret assassin as 2016 approaches. Paddy Kehoe talks to Jason Johnson about his angry anti-hero.
In the opening pages, the redoubtable Aloysius prepares to drown his victim, a loan shark, by effectively tiring him out as he is forced to stand for hours on end in his own particularly cold swimming pool. "Where else should a loan shark meet his end but in a swimming pool? " Jason asks rhetorically. The author is waiting for the day someone tells him that he saw this very premise enacted in some movie scene. Original or not, it is brilliantly paced and told with all of Tempo's hard-bitten, wry humour.
While such a swimming pool scene does not happen in Sexy Beast there are definitely shades of that movie in the Aloysius Tempo story, although it does not take place in the extreme heat of the Costa del Crime in Southern Spain. Rather it takes place in November, in, well, Ashford, Co Wicklow.
In the second chapter we get a flashback to the young Aloysius, aged 11, the victim of assault by a priest. He spent much of his boyhood in two care homes in Louth and Armagh and the 52-year old cleric knows how to hurt without leaving a mark. "He always knew the best ways to hurt someone with nothing but his own body, " as the narrative deftly puts it. Later there comes a bitter reflection. "You get to thinking that the only thing you can fight a man like that with is time, because you know one day you will be gone, out of there, away from him. And he knew I used to think about that." Ultimately, the priest is Aloysius's first victim- he kills him with the belt of a statue, as you do.
"No cars, no suits, no Martinis" goes the line in the publicity accompanying the novel, suggesting a kind of anti-hero, an anti- James Bond who is clearly damaged. Moreover, he has much more personal anger to find an escape valve for than Bond ever had. Nevertheless, Johnson always loved the Ian Fleming books, and he mentions a few nods in the book to the Bond character. "But I think you'd need to be a real nerd to spot them."
The 46-year author - an Enniskillen man who now lives in Belfast - tells a pacy story with a keen eye for off-beat detail. Irvine Welsh, the author of Trainspotting was a key influence, particularly on Johnson's first novel, Woundlicker, published in 2005. "I really liked the idea of writing in the vernacular - writing as people would sound - and I thought that would be an interesting one to do in Belfast. It was trickier than I thought it would be, but it sort of half worked."
He admits that he wasn't as committed in Woundlicker to reproducing the Belfast dialect as Irvine was in getting his Glaswegian milieu down faithfully. "And also I can't write anything like Irvine Welsh does, the man is just a genius. Trainspotting was one of those books that really gives you a knock and I think the best stories lurk in the underbelly of society."
His attempt to write differently, to perfect an original voice is admirable. The story is narrated by Aloysius himself in an elliptical, edgy style. It's Philip Marlowe on speed, updated radically. "The thing about writing is there are no rules of engagement, " says the author, who works as a journalist for the Northern edition of The Sun. "You give it a go as you see fit, I really like to push myself and push the boundaries, I try to do it in a creative way, not just for the sake of it. I try and create situations that are kind of maybe just on the edge, kind of believable, just push them that little bit more without pushing them over the cliff."
When he is seduced by the sexually rapacious, sixty something Imelda Feather – Helen Mirren for the movie, definitely – who is trying to persuade him to kill notorious criminals you do a kind of mental double take. Could this actually happen? Such is Johnson's gift with the scene that you just enjoy its lurid fantasy anyway, plausible or not. Aloysius is loosely based in Amsterdam, and aside from the hired assassin gig, he travels around Europe, with what his author calls "an excuse of a job," photographing random humiliating scenarios for a Danish website called People are Clowns. The Twelfth of July's descent into alcohol-soaked mayhem has offered specimens too for Aloysius's intrepid camerawork.
Johnson now realises that Enniskillen was probably the least sectarian town in Northern Ireland when he was growing up there. "There were troubles but the communities mingled very well," he says. The kind of hostilities he is used to seeing in his adoptive city of Belfast "didn't really play a part of life" in Enniskillen. As for sectarian affiliation, it's quite simple - he has been what he calls a 'devout atheist' his whole life. "I've never been inclined towards church at all." Both his parents were born in England, his mother into an Irish Catholic family, his father into a Scottish Protestant home.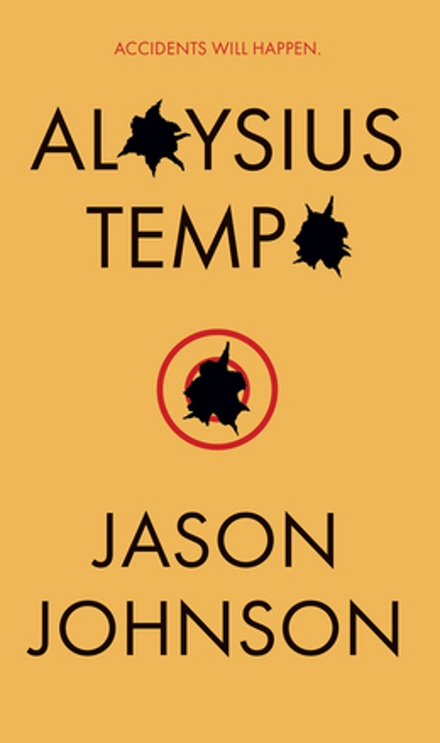 I remark that his protagonist is surely a bit of psychopath himself, quite aside from the psychos who are his targets. Johnson laughs in agreement, while hoping that something of Aloysius's nobility also shines through. "The idea of returning to his home country and doing some work for Ireland starts to appeal to him and he starts to see a grander objective than he actually has."
Although Aloysius is hired to do it and it is not his idea, the 'grand objective' in question is to 'lift the mood of the nation' as the anniversary of 1916 approaches by obliterating a few real bad eggs who have hit the headlines in recent years. There's a would-be female bomber, a high finance crook, a paeodophile, public hate figures, in other words. Their deaths, of course, are made to look like unfortunate accidents. Aloysius's job is a sort of counter-intuitive PR job, masterminded by the aforementioned Imelda Feather on behalf of the Irish government.
What does he expect from the book, I ask, mentioning that it is hard out there with so many books appearing each week. "Aw yeah, " he replies. "I mean, I'm realistic about that, I write because I love to write, I'm just blown away that Liberties Press have published two of my books now. I have no expectations that are gonna let me down. Ideally what I would like to do is to get enough support behind it so that I can do another one, maybe two, maybe three 'Aloysius' novels. I have a couple of more ideas for him."
Aloysius Tempo is published in paperback by Liberties Press.