Northern Irish rockers Dutch Schultz have released their new single, Levil9. We asked them the BIG questions . . .
Their debut single, It Bends in the Middle, featured in Kerrang's 'Top 10 songs you should hear now' list, they have supported Therapy, played the Edinburgh Fringe festival and Kilkenny rock god Cormac Battle of Kerbdog sing on their single Big Dime.
We need your consent to load this YouTube contentWe use YouTube to manage extra content that can set cookies on your device and collect data about your activity. Please review their details and accept them to load the content.Manage Preferences
Dan Austin (Pixies, Doves, You Me At Six) was drafted in to mix Levil9.
Front man Willy says of the song, "Levil9 started as a joke, equating to the Spinal Tap guitar amp that goes to 11 as a song, Levil9 is the thing that you're best at and how good you think or know you are at it, and it's a feeling. When everything is s****y around you, you can turn to whatever your thing is and forget your frets.''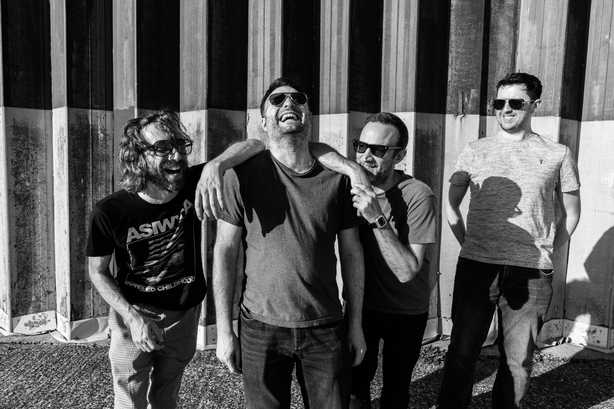 The rest of the band add, "Following the release of our last album, we found a real joy in writing music, and sharing ideas or songs we like with each other.
"With Levil9 we wanted to create a song that captured that uplifting energy, one of those songs where if the listener is having a bad day and they put it on, it brings them around a little, and psyches them up to rise to whatever challenge they are facing."
Tell us three things about yourself . . .
Willy's kids answered this one: Awesome. Like to annoy our sisters. Get grumpy when we're hungry.
How would you describe your music?
Catchy alt-rock bangers.
Who are your musical inspirations?
The Beatles and Pixies are favourites, along with loads of metal, rock, punk and pop bands.
What was the first gig you ever went to?
Willy: Therapy? at the Ulster Hall, Belfast
John: Wilt at the Empire, Belfast
Kev: U2 Popmart at Botanic Gardens, Belfast
Ryan: Meatloaf at the King's Hall, Belfast
What was the first record you ever bought?
Willy: Musical Youth - Pass the Dutchie.
John: Nirvana - Unplugged in New York.
Kev: The Offspring - Pretty Fly.
Ryan: Coolio - Gangsta's Paradise.
What's your favourite song right now?
John: My Bloody Valentine - (When You Wake) You're Still In A Dream.
Kev: Blur - Charmless Man.
Ryan: Coolio - Gangsta's Paradise.
Favourite lyric of all time?
Willy: "Love has a nasty habit of disappearing overnight". The Beatles - I'm Looking Through You.
John: "Well the rich are getting' richer, and the poor are gettin' drunk". The Replacements - Asking Me Lies.
Ryan: "Power and the money, money and the power, minute after minute, hour after hour" Coolio - Gangsta's Paradise.
If you could only listen to one song for the rest of your life, what would it be?
Willy: I think I'd rather not have a song to listen to forever, you'd hate it after a day or two! But I do really like the Snoopy/Peanuts piano theme.
John: Unsane - Last Man Standing.
Kev: Focus - Hocus Pocus.
Ryan: Yep, Coolio - Gangsta's Paradise. (Noooo way??! - Ed)
Where can people find your music/more information?
Facebook, Twitter, Insta, Bandcamp, Spotify, Apple Music.