Irish neo soul/pop artist DeCarteret has released her new track, Trip Me. We asked her the BIG questions . . .
The song follows her last track Luvseat and is taken from her forthcoming debut EP, which is released at the end of May.
We need your consent to load this YouTube contentWe use YouTube to manage extra content that can set cookies on your device and collect data about your activity. Please review their details and accept them to load the content.Manage Preferences
Speaking about Trip Me, DeCarteret says, "For this song I wanted to experiment with the use of more instruments, specifically taking influences of traditional Irish music.
"I asked my close friend Tadhg Griffin to write some fiddle lines over the song, and I also asked him to create a bridge for me.
"This really completed the track, it's a mixture of neo-soul, pop, trad and classical music, it's hard to label but I think it creates such an interesting texture and elevates a very pop-driven chorus hook and song.
"Sticking with that Irish theme - I was staying in Sligo with my family at Christmas, the aul fella who ran our B&B fell in love with our dog Billy, a border collie, and wanted to take him out to his sheep to see how he would react.
"We stood there for 30 minutes and talked about his farm and his childhood, I thought his accent was so interesting, so I took out my phone and recorded what he was saying. That's the man's voice you can hear dabbled in the song."
Tell us three things about yourself?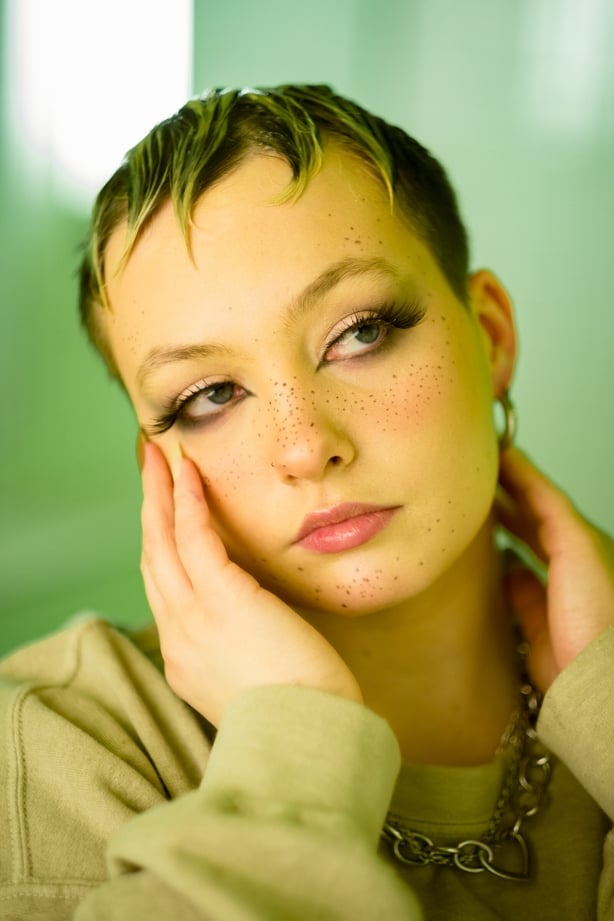 Dogs are in the top three most important things in my life.
I have double jointed shoulders.
I can't eat mushrooms but force myself to try them because I really want to like them but then I just feel sick and it's a viscous cycle.
How would you describe your music?
A mix of neo-soul, indie pop and a million different other things that just swim around in my brain, it's all made from a very deep and creative spot in me and all the instruments you hear are written and tracked by my close friends.
Who are your musical inspirations?
Mac Miller, Nai Palm, and Ben Howard.
What was the first gig you ever went to and the first record you ever bought/downloaded?
The first proper gig I ever went to was Ben Howard playing the 3Arena, I cried a lot! And I'm gonna go with these CDs that my mum would make for me, she would burn a bunch of CDs for me with artists like Pink, Leona Lewis, and anything pretty mainstream when I was a kid. I would play them on my little CD player, and Walkman I had.
What's your favourite song right now?
Pool by Remi Wolf and Still Woozy.
Favourite lyric of all time?
"Home is in your body", by Nai Palm
If you could only listen to one song for the rest of your life, what would it be?
HomeBody, by Nai Palm.
Where can people find your music/more information?
Check my Spotify for new releases.
And Instagram for all my announcements.