Original people's poet John Cooper Clarke has recalled his first-ever show in Ireland back in 1979 when he met an aspiring young Limerick-born poet who would go on to be the President of Ireland.
73-year-old Salford lad Clarke has long been established as the alternative poet laureate of Britain and over the years his barbed bon mots and rapid-fire delivery have won fans such as The Clash, Duran Duran and Sex Pistols and later Steve Coogan and Arctic Monkeys.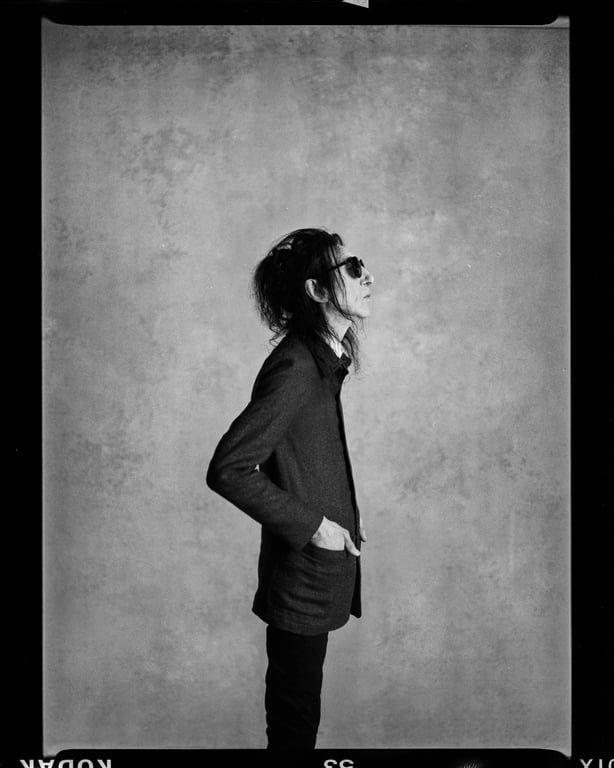 But he was a cult figure performing on the fringes of the English music scene when he took to the stage of the Project Arts Theatre in Dublin's still bohemian Temple Bar back in the late seventies.
Speaking to RTÉ Entertainment, Clarke, who performs in Dublin, Galway, Limerick and Cork this May, says: "I met your future President Michael D at my first ever gig in Ireland.
"I was giving a recital of my work in the late seventies and the support act was a young local aspirant poet by the name of Michael D Higgins."
Their paths were to cross many years later in 2012 when Clarke was an in-demand stage performer and President Higgins had ascended to the highest office in Ireland.
And it was the President himself who reminded Clarke of their very first meeting.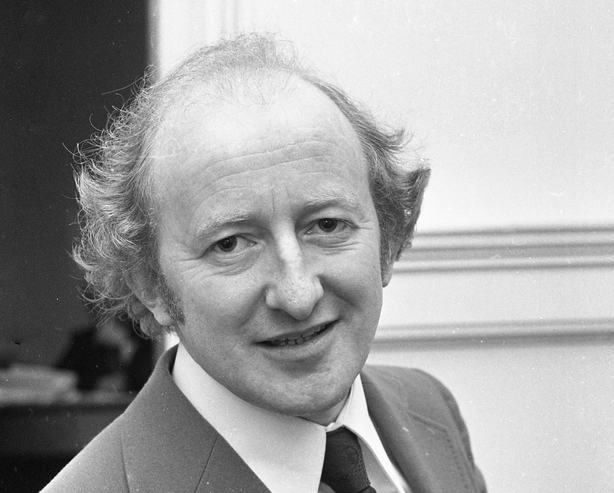 "They did a BBC Four film about me called Evidently John Cooper Clarke and it's first showing was at a film festival in Ireland, I can't remember the town, but it was a big event," Clarke recalls.
"It was being opened up by Michael D and his motorcade comes down the road and this young lady comes up with a clipboard and asks me would I mind having my photograph taken with him.
We need your consent to load this YouTube contentWe use YouTube to manage extra content that can set cookies on your device and collect data about your activity. Please review their details and accept them to load the content.Manage Preferences
"She said, `He (President Higgins) wonders if you remember when you supported him at the Project Arts Centre in Dublin?' I had forgotten all about it, I have to admit that I haven't quite got my finger on the pulse of Irish politics, but I was knock me down with a feather. A charming guy, a charming guy."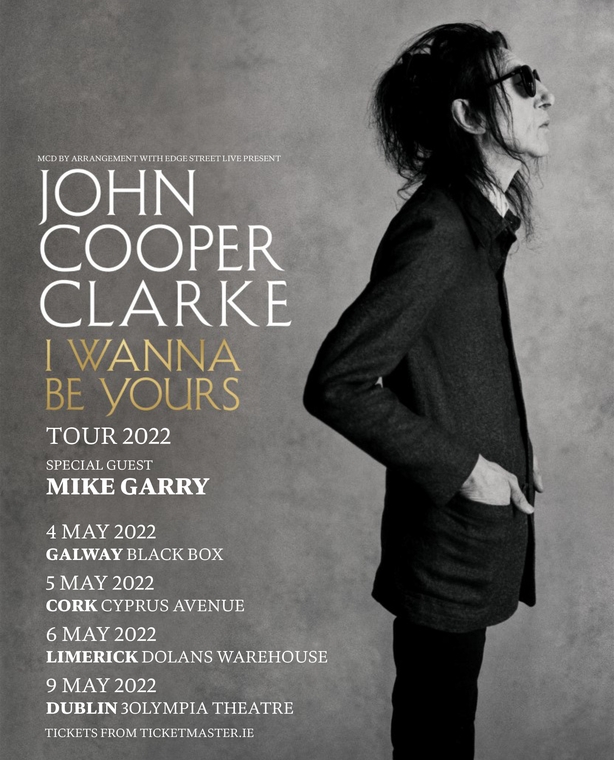 Clarke, who has made many visits to Ireland since that maiden gig in Dublin, is speaking from his home in Essex, where he lives with his wife, Evie, and he is in fighting and mischievous form about a range of topics, including the rise of Donald Trump, British Prime Minister Boris Johnson, and cancel culture.
Clarke has long written pithily and abrasively about domestic squalor and the many quirks of human behaviour on pieces like Beasley St and Evidently Chickentown but asked if he had ever written a poem about Johnson, he says: "To be honest, when people start piling on about someone or something, up to a point, I start to feel sorry for them. I felt the same about Donald Trump.
"When the Republicans announced him as their candidate, I was in the car with my man Johnny Green and I said, there's the next President of the United States. Everyone I knew thought I was having a laugh, but I was sure he was going to get it.
"I also knew Brexit would happen because the difference between me and the BBC is that I meet people who don't live in London," he adds.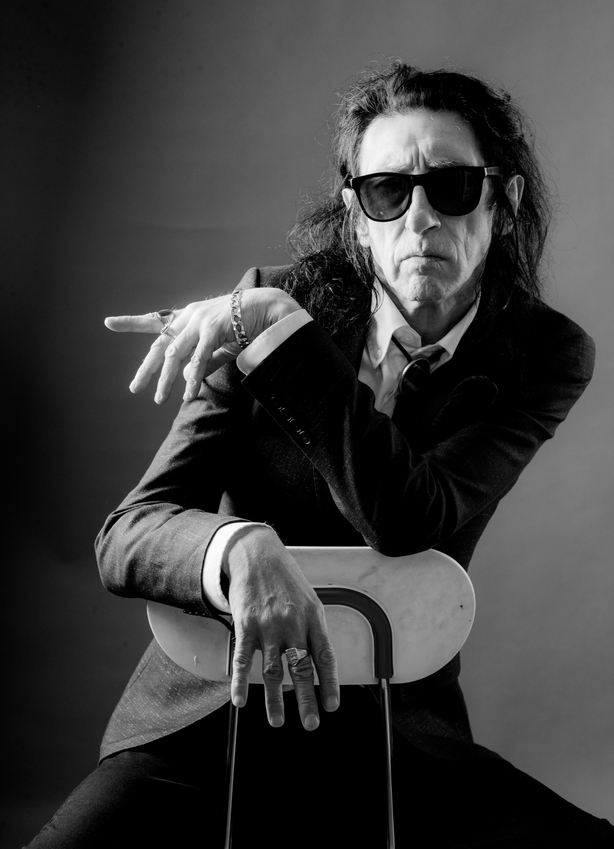 "The views the BBC believe to be incontestable or views they believe to be controversial are quite mainstream, but they never meet anyone who doesn't think exactly the same as them about everything. We're encouraged to look at the world through a very minority prism."
With poems entitled I've Fallen In Love With My Wife and Get Back on Drugs you Fat F*** (a work inspired by the lost years he spent on heroin in Brixton), Clarke has always been a refreshing voice in the sometimes stuffy world of verse and his approach to stand-up comedy is equally punk.
He is quick to defend comedian Jimmy Carr after he was slammed for a controversial joke he made about the Holocaust during his recently released Netflix special.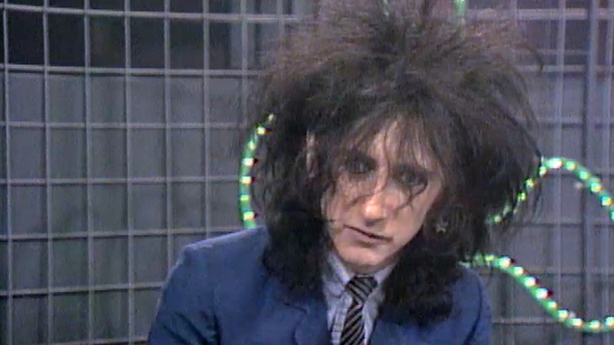 Clarke, who began his career in the leery and beery atmosphere of England's Northern working men's clubs in 1970s looking like the mad-haired Bob Dylan of 1966, says he isn't overly concerned with the current age of wokeness and political correctness.
"For me, it would be a badge of honour to be cancelled," he says. "I have self-censored, everybody has, but I don't sit down and go through it and think this is going to upset them. I think everything is up for grabs.
"If you're funny you can get away with it. Anyone can be nasty. The most current example now is Jimmy Carr. If anything, Jimmy's gag was a casual reminder of the beastliness of the Nazis if you want to get all important about it but mainly it's a gag."
We need your consent to load this YouTube contentWe use YouTube to manage extra content that can set cookies on your device and collect data about your activity. Please review their details and accept them to load the content.Manage Preferences
He also had a lot to say about a fellow northern poet who often deals in similar themes in an equally waspish and humorous way - Morrissey, a man who has also been cancelled on and off for years.
"From way back, controversy is the air that Mozzer breathes. He's always courted controversy," Clarke says. "I'm sure he'll thank me for this as he's a big fan of Oscar Wilde, it's that Wildean idea that the only thing worse than being talked about is not being talked about.
"I'm sure there's a lot of that at play when Mozzer comes out with his controversial pronouncements. I don't think we've ever met on a professional level. He used to DJ at a club in Manchester called Rafters, I remember him them.
He continues: "The older I get, the more I think you have to separate artists from their qualities as human beings. You can't un-love The Ronettes because Phil Spector was a murderer. There's no reason why you should expect artists to be exemplary citizens and to have views that chime with your own."
As Yeats said, how can we tell the dancer from the dance?
"The singer not the song. That's a very important point," Clarke says.
We need your consent to load this YouTube contentWe use YouTube to manage extra content that can set cookies on your device and collect data about your activity. Please review their details and accept them to load the content.Manage Preferences
"If you're a poet or any kind of writer of fiction, in order to get the best and the most humour out of a subject sometimes you have to be an adopter of positions so what you actually come out with isn't necessarily how you feel about some things."
He has fallen in an out of fashion since the late seventies, but Clarke remains a cultural force long after punk has been repackaged, refined and resold.
He continues to feature on many TV shows, including 8 Out of 10 Cats, where he often outwits his fellow guests and host - one Jimmy Carr - and Have I Got News For You.
In 2013, Arctic Monkeys recorded one of his best-loved poems, I Wanna Be Yours, for their album A:M. and in the same year he was awarded an honorary doctorate of arts by the University of Salford, while his collaboration with Plan B on Ill Manors spawned a soundtrack album and a movie.
But like his scrambled oeuvre, Clarke has always had a pretty unromantic attitude to what he does. He freely admits that he'd rather do anything rather than write a poem and speaks about the "the horror of the blank white space" but he does enjoy the showbiz side of his live performances.
"Yeah, I love that," he says. "Right from the start I've intended to do this for a living. I'm not very good at anything. Poetry is my only skill, I have to say.
"So, in order to play to my strengths, I've played to the Confucian idea that if you find something you like to do, you'll never work a day in your life. That's what I aimed at - the life of the professional poet but I didn't get any encouragement for this.
"Poetry has never been regarded as a reliable engine of wealth, but I was pig-headed and bloody-minded and over forty years I've become the overnight success you've come to know and love and be maybe dredge up some grudging affection for."
Alan Corr @CorrAlan2