Self-styled debonair deviant Jaime Nanci has released his new song, Escalante Street, the first track from his forthcoming EP. We asked him the BIG questions . . .
The short film created for Escalante Street was co-written with directed by French filmmaker Jean-Marc Sanchez and captures the eerie atmosphere of pandemic in footage from a late-night guerrilla shoot around the barrio of Cabañal, in the Spanish city of Valencia, at the height of the fourth wave.
We need your consent to load this YouTube contentWe use YouTube to manage extra content that can set cookies on your device and collect data about your activity. Please review their details and accept them to load the content.Manage Preferences
Escalante Street is the first song taken from Nanci's forthcoming EP and the first single he has released as a solo artist.
Nanci began his career as the frontman of Cuckoo Savante an experimental, lounge punk band that became a fixture on Ireland's live scene. In 2014, he released the album Toy with The Blueboys.
After a decade on the live circuit in Ireland, Nanci stepped away from live performance due to health reasons (he is living with Multiple Sclerosis) and completed a Masters Degree in Vocal Jazz Performance at the University of Ulster.
Tell us three things about yourself?
I am from Dundalk, but I've lived away from the town longer than I ever lived there. I have been living with multiple sclerosis for 15 years. It's the main reason I live in Spain. I once accidentally gave Tori Amos a postcard with a picture of myself and my husband on it. It was a marriage equality postcard, and it was all I had to hand when I bumped into her and wanted an autograph. I just handed it to her, sort of unable to speak a coherent sentence, and she looked at it, said thanks and put it in her pocket. I like to think she has it framed on her bedside table.
How would you describe your music?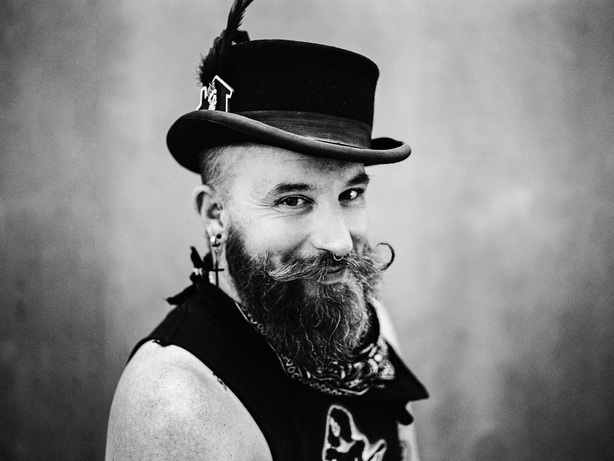 My songs are primarily rooted in confessional lyrics, with a splash of self-deprecating humour, and the music is southern gothic cowboy electro pop.
Who are your musical inspirations?
My musical inspirations are many and varied, but during this project I have been listening to a lot of Depeche Mode, Bowie and Jessie Ware. But I am really inspired daily by the ever-growing visibility of young queer artists, across all genres, who are pushing boundaries and changing the narrative.
What was the first gig you ever went to and the first record you ever bought/downloaded?
My dad brought us to the RDS to see Hothouse Flowers, Tracey Chapman, Deacon Blue, Aswad and The Black Velvet Band. Such a random grouping. I was 11. The first record I ever bought with my own money was Madonna's first album. I was eight.
What's your favourite song right now?
I'm really in love with Lido Pimienta at the minute and have had her on a loop for about a year. Her song Eso Que Tu Haces is up there. The night we came out of the 45-day house arrest here, after the first wave, me and my husband shared ear pods and danced to this song in the surf as thousands of shell-shocked Valencians wandered the beach around us in a daze.
Favourite lyric of all time?
"We are Stardust. We are Golden" - Woodstock by Joni Mitchell.
If you could only listen to one song for the rest of your life what would it be?
Oh, my gods. What kind of questions are these? One song for the rest of my life…. I don't think I could ever choose. But Borderline by Madonna.
Where can people find your music/more information?
Head to my website. Escalante Street is out now across all the usual platforms, and my entire back catalogue is streaming on Spotify.
We need your consent to load this Spotify contentWe use Spotify to manage extra content that can set cookies on your device and collect data about your activity. Please review their details and accept them to load the content.Manage Preferences