The Big Night In hosts Doireann Garrihy and Dermot Whelan have told RTÉ Entertainment that they are working on a hitlist of prank targets in the hope that the family fun is commissioned for a full series.
The show, which is on RTÉ One at 6:30pm on Monday, features "laugh-out-loud celebrity pranks, nail-biting studio games, audience surprises and a Christmas stocking full of other treats", with singer Brian Kennedy and The Sunday Game stalwart Michael Lyster among those lined up for the shenanigans.
With fingers crossed for future celebrity send-ups, Whelan told RTÉ Entertainment, "Where I work, in Marconi House [home of Today FM], is full of people I'd love to have a go at! [Laughs]
"But that's the beauty of Ireland... I suppose what makes it a little bit tricky is that, you know, Ireland isn't that big, so how many people can we get? I think that will be the challenge.
"I would love to see the show grow legs and continue. I think it's got a lot of potential and I think when people see it they're going to really want more.
"Yeah, we can spend Christmas and New Year thinking about who we really want to nail down! But I think the ones we got for the show are very entertaining."
"I think it's almost against the law in Ireland to have notions - or at least it should be!" laughed Garrihy. "If someone has notions you're just like, 'Ugh...', and if you can't laugh at yourself, that's associated with having notions.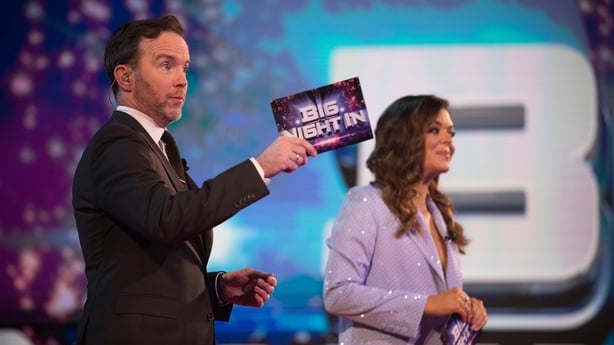 "Anyone we pranked, they were just so up for being involved. They were almost delighted to have been pranked! I think initially there was a bit of mortification, but then they were like, 'You actually chose to prank me?! Oh that's gas!'"
When asked if they would like to prank members of their own families, Garrihy replied: "The 'if I could get away with it' is a massive part of that - my mom would kill me! But, yeah, definitely - 100%! I'd love to. I think my sister Aoibheann would probably be the best, because Aoibheann is one of those pure ladies, and so she'd probably have the patience of a saint."
"I basically grew up pranking my mother," laughed Whelan. "She wouldn't even notice, I don't think.
"When she went down to the shops, I used to lie at the bottom of the stairs in a crumpled heap covered in ketchup, so that she would think that I had fallen down and done serious damage to myself. I used to put rubber rats in her pots and pans in the kitchen. I hid all kinds of rubber creatures around the house, just trying to terrorise her basically. She's still alive, which is an achievement for both of us!"
The Big Night In, 27 December, RTÉ One and RTÉ Player, 6:30pm