Aengus Mac Grianna told Friday's Late Late Show that when he was offered the chance to take part in Dancing with the Stars, he contacted longtime RTÉ colleague and 2017 DWTS contestant Teresa Mannion for some advice.
Mac Grianna was revealed as one of the first four Dancing with the Stars contestants on the Late Late, telling host Ryan Tubridy that the timing of the offer was perfect, as he had just finished his Masters in International Peace Studies in Trinity College Dublin.
"When I got the call, I phoned Teresa Mannion," the former RTÉ News anchor recounted. "I said, 'Am I mad to do this? What do you think?'"
"Is this a necessary journey - in life?" offered the host.
"Something close!" laughed Mac Grianna.
"She was saying, 'Go for it. You will just have the time of your life. It will just transform you physically. It will push you out there and you will just have such fun. And just go do it!'"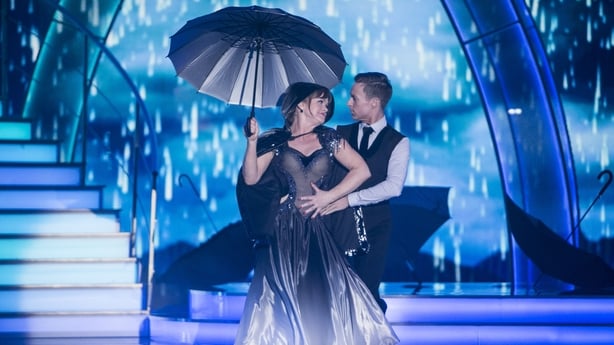 When it was put to him that Dancing with the Stars is both a serious competition and "the stuff of glitter nightmares", Mac Grianna replied: "Well, I've had a few glitter nightmares myself over the years, I suppose!"
"Obviously, because there will be lifts and things like that - I wasn't known for my strength in my upper body! - I've been doing weights," he explained. "Even in the last week, I sorted out a shirt and everything and I've been doing weights and I've been doing all sorts of things. This evening, I went to put on the shirt and it was as tight..."
"Well, now you're just boasting, Aengus!" boomed Tubridy.
"I'm supposed to lose weight, not get bigger!" Mac Grianna laughed.
"I went for a fitting for clothes and the woman said, 'Can you just step out of those shoes?' And I had to kind of say, 'I'm sorry, I can't bend down! I'm as stiff as a poker! I can't bend at all!'
"So the body is slowly adjusting. 'Push through, push through' - that's what I keep saying!"
Dancing with the Stars will be back on Sundays on RTÉ One from January, with the full line-up of contestants to be revealed in the coming days.