Friday night's Late Late Toy Show was one of the most watched programmes on a single channel on record in Ireland.
It drew an average audience of 1.56 million on the night, representing 81% of the available audience.
This is up on last year's average audience of 1.55 million, which had 79% audience share.
The average audience to tune into the show over the weekend, including catch-up shows, reached 1.8 million.
The Toy Show Appeal also reached the heights it set in its first year in 2020, raising €6.6m. €1.1m of that was donated by Revolut co-founder Vlad Yatsenko.
Following an outage on the app on Friday night, Mr Yatsenko tweeted in the early hours of Saturday morning that he had made a personal donation of €100,000 and would match donations made via the Revolut app to the appeal by midnight last night to a maximum of €1m.
Revolut users met the challenge and Mr Yatsenko proved true to his word.
In a statement today Mr Yatsenko said: "For me it was important that we deliver on our commitment to help collect donations for children. It would not have been right if a temporary technical issue, caused by unprecedented demand on Friday, had stood in the way of the good will of so many Revolut customers to help children in need."
In partnership with Community Foundation for Ireland, the money raised will support children and families across the island.
"It's not the first time that the generosity of Irish people has challenged technology... it was generous of the founder of Revolut to come out and do that match challenge and it was brilliant to see it," Denise Charlton, Chief Executive Officer of Community Foundation for Ireland, said.
However Ms Charlton stressed that the Foundation was "as grateful to the child who put their pocket money into the pot as we are to Revolut".
"(There were) hundreds of thousands of donations, from a fiver to a million, but it is the collective impact of that generosity that will affect children in Ireland for years to come," Ms Charlton said.
The Late Late Toy Show is also having a positive effect on the life and DJing career of one of the child performers from the night, Callum Kieran.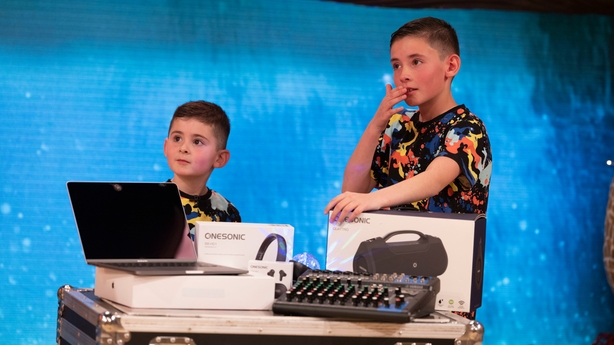 Known as DJ Callum, the 11-year-old performed two sets alongside his five-year-old brother, Hype Man Jackson, on Friday night.
He said that he has since been invited to perform sets on 2FM, FM104 and iRadio, and he's also being recognised on the street.
"I went to McDonalds... the day after the Toy Show and when I got out of the car, loads of people were looking at me, waving at me and saying I was brilliant on the Toy Show and all," DJ Callum told RTÉ News.
He has also spoken about becoming an internet sensation, following his awestruck reaction to fellow Toy Show performer Fergal's rendition of Ave Maria.
"I was just amazed. He sounded like an adult singing but he was actually just a kid," DJ Callum said.
"Everyone was just making memes about me and all, my dad showed me a few of them on his phone and they were very funny," he said.
His brother Jackson was really taken with the show's host, and how supportive he was of both he and his brother.
"I love Ryan Tubridy dancing to my music... and he got us all the presents for being good on the DJing and when Callum was crying he rubbed Callum's cheek," Hype Man Jackson said.