Ardal O'Hanlon has told the Brendan O'Connor Show on RTÉ Radio 1 that he is planning to write a memoir about his adventures filming the BBC One whodunit series Death in Paradise on the French Caribbean island of Guadeloupe.
O'Hanlon played DI Jack Mooney for four seasons and described the experience of making the hit show as "Midsummer Murders meets Survivor meets Love Island".
He told Brendan O'Connor that his time on Guadeloupe included hurricanes, giant centipedes, finding waterfalls, swimming with turtles, cast and crew meltdowns, "rum dreams" and rediscovering the silky football skills of his youth - but only because the locals weren't allowed to tackle the actors during matches.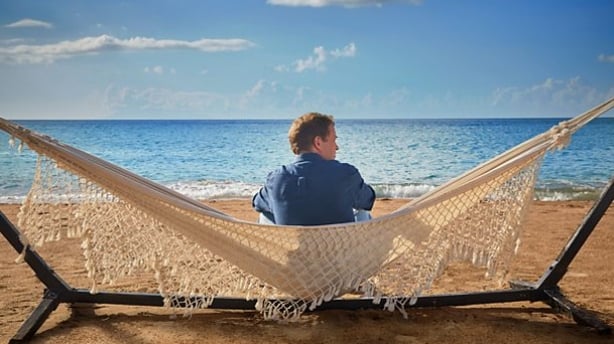 "I don't have a funny story about anything because none of this was funny!" he said.
"It was an amazing life-changing experience. Brilliant, yeah - but hard work. People don't realise it. People often ask me, 'Why did you leave such a plum job?', but it's just unsustainable. It's, like, 12 hours a day in excessive heat and humidity. Like, you're dying out there! It's a real challenge to keep it up year after year."
"It sounds ungrateful," he admitted. "I mean, it was joyful, but eventually you kind of think, you know, 'There must be easier jobs in cooler climates'."
"You gave up dressing up on a Caribbean island, prancing around, to come back and get up in front of people every night and be anxious about it!" lamented the host.
"That's right, yeah," replied the Father Ted favourite.
"We lived through three of the worst hurricanes on record out there," he continued. "Where you would have to hunker down for three or four days - and you did not know what was going to await you when you came out.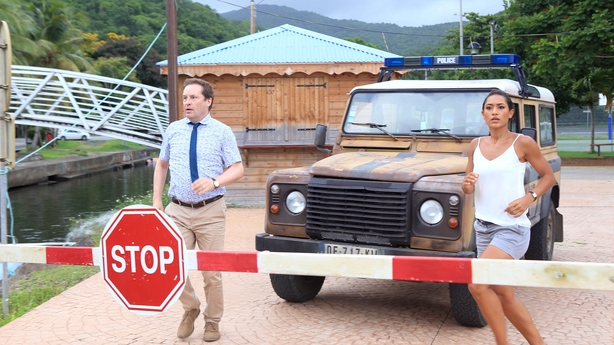 "You would literally pull the metal shutters down in your quarters and you wouldn't see anyone for two or three days. The electricity wouldn't work, the water stopped working. An amazing experience, in hindsight, but at the time it's kind of terrifying."
"You've got a predominantly British crew, maybe up to 80/90 people out there," he recounted. "Lots of guest actors who are very giddy off the leash for two weeks. Someone said it was like winning an Equity [actors' union] competition or something - getting your two weeks out there and pretending to be maybe a victim for a week so you just lie down on the ground for, you know, one or two scenes.
"It was kind of chaotic and you had a lot of meltdowns. It was really interesting to watch. I am going to do a memoir about this someday because it was extraordinary stuff.
"I remember directors trying to get on planes to go home halfway through their stint! You'd have actors having absolute meltdowns on set! The heat just got to people, the whole vibe. It's a fantastic part of the world but it's not for everyone. I think the only reason I was cast was because, you know, my very mild temperament!"
"And here, c'mere, presumably is there a fair amount of rum punch going on?" asked O'Connor.
"You have these crazy rum dreams!" said O'Hanlon. "You never sleep because you've got the whole cacophony of the frogs [gurgles] all night long for 12 hours non-stop. You've got dogs killing chickens and killing cats - wild dogs, wild chickens, wild cats.
"I remember doing a scene one day, being in a take - where were you on the night of whatever? - and the next thing out of the corner of my eye I see a dog savaging a hen. And that was just normal. And it was all night long.
"You've got the crazy rum dreams. You've got the air-con going full tilt. You've got the fans whirring. You've got the mosquitoes eating you alive. So anything after that is a doddle, to be honest!"
Back home, O'Hanlon is part of the line-up of the Galway Comedy Festival, which begins on Tuesday, 19 October and runs until Monday, 25 October across the city and online. The proceeds from the opening gala live stream will go to the mental health charity Let's Get Talking.
We'll be kicking off #GCF21 with this stacked line-up for our Opening Gala on Oct 19th...@ardalsfolly | @TheRealRichHall | @aideenmcqueen | @EmmaLouDoran | Your host @andrewismaxwell

Not many tickets left for this show: https://t.co/PzUHPJKrmI pic.twitter.com/mI9IuODApc

— Galway Comedy Festival (@galwaycomedy) September 29, 2021
"I'm just enjoying being back up there onstage, rather than sitting in a shed losing money on Bitcoin!" he joked. "I didn't realise I missed it as much as I did."
O'Hanlon has a novel due next May. His debut, The Talk of the Town, was published in 1998.
Listen to the interview in full here.
You can watch episodes of Death in Paradise on the RTÉ Player.