Actor Ryan Lincoln, who plays Kem in the RTÉ One crime-drama KIN, has said there are two projects he would love to star in: an epic war movie and a biopic of Irish music legend Phil Lynott.
The Ballymun actor has been receiving plaudits for his portrayal of KIN's "walking that tightrope" gang member and is at the centre of Sunday night's twist-filled episode.
Speaking at a press event during the week, Lincoln was saying nothing about Kem's fate but did reveal his own hopes for the future.
"I've been watching a lot of Band of Brothers and stuff recently so I'd love to work on some type of war movie on that type of scale," he enthused. "A Steven Spielberg-type war flick - that'd be great."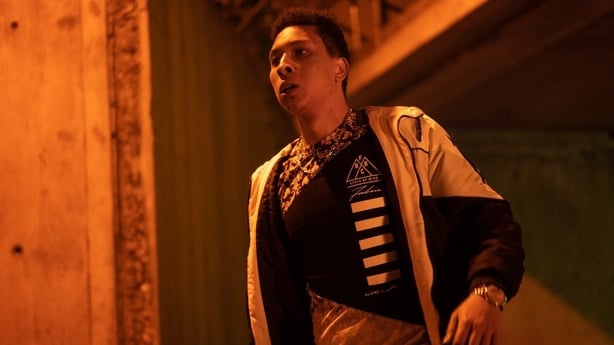 Lincoln continued that he would "absolutely love" if a biopic of Thin Lizzy frontman Phil Lynott became a reality for him.
"I would look to Phil as a great inspiration - especially being a Person of Colour growing up in Dublin back then," he said.
Lincoln, who previously starred in the Irish crime films Broken Law, Michael Inside and Cardboard Gangsters, added that KIN has given him more screen time to show his range.
"I'm getting to show the funnier side, the more angry side, the more manipulative side... his own kind of code. I get to just explore that a lot more and kind of see where that changes and where that goes. There's a lot of fun and there's a lot to learn and explore in that."
With a parallel rap career, Lincoln said he is planning to release new music next year.
When asked whether he had the voice to sing as well as act in a Phil Lynott film, he laughed: "I think I'm not terrible, but you might have a very different opinion!"
KIN, Sundays, RTÉ One, 9:30pm
Catch up on KIN on the RTÉ Player - 1.19 million streams and counting.