The Late Late Show paid a beautiful musical tribute to the late Dolores O'Riordan on Friday as her mother Eileen and Cranberries bandmate Fergal Lawler watched Emma Langford, Kellie Lewis, the Irish Chamber Orchestra, and the Line-Up Choir join forces to honour the iconic singer.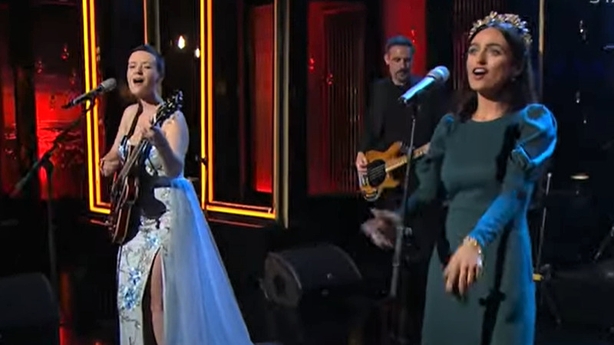 After the performance, which featured footage of Dolores, host Ryan Tubridy asked Eileen O'Riordan and Fergal Lawler about their feelings and memories ahead of what would have been the singer's 50th birthday on Monday.
"I talk to her and I pray to her all the time"

Eileen O'Riordan shares how she copes with the huge loss of her incredibly talented daughter, Dolores O'Riordan. #latelate pic.twitter.com/gRgk66si75

— The Late Late Show (@RTELateLateShow) September 3, 2021
"This is the first time I've watched, actually," said Eileen of the footage. "I find it hard enough to listen to the music. If I'm out with a group, I can, but on my own at home, it sets me back thinking. But it makes me very happy and very proud. She did a lot. She left a great legacy behind."
"It doesn't feel like she's gone," said Fergal. "You hear songs on the radio or memories... I smile because her memory is still being kept alive, which is nice, but there's sadness that she's not here anymore as well."
What an honour and an absolute privilege for our choir to be selected to perform with one of Ireland's greatest musicians, together with the @ICOrchestra ,@ELangfordMusic and Kellie Lewis. Dolores, your legacy lives on ❤️#latelate pic.twitter.com/fJDXGGcaf2

— The Line-Up Choir (@thelineupchoir) September 3, 2021