There's some great live music on RTÉ One, more from the Olympics, and Kenneth Branagh's enjoyable Shakespear movie
Pick of the Day
The Heart of Saturday Night, 9.50pm
We need your consent to load this YouTube contentWe use YouTube to manage extra content that can set cookies on your device and collect data about your activity. Please review their details and accept them to load the content.Manage Preferences
Imelda May, Tolü Makay, The Saw Doctors, Loah, Rhiannon Giddens and Francesco Turrisi, Crash Ensemble, as well as performances remembering Dolores O'Riordan from Irish Women In Harmony make up this week's line-up, presented by Una Healy and Loah from The Round Room at The Mansion House.
Don't Miss
The Rolling Stones: Rock and Roll Circus, Sky Arts/Now, 9.00pm
Here's some peak sixties tomfoolery as the house band of the hippy meltdown invite some mates around for a musical bash at a makeshift circus in December 1968. The Stones, resplendent in ringmaster clobber, are in their regal pomp as hosts and The Who give it maximum heaviosity, alongside fire dancers, Marianne Faithfull, Jethro Tull, John Lennon, and Yoko Ono, among many others. Great fun.
Today at the Olympics
Tokyo 2020, 9.00am, RTÉ2
Peter Collins presents live coverage of the day's action from Tokyo including Ireland v Great Britain in Hockey.
Tokyo 2020: Today at The Games, 7.00pm, RTÉ2
Darragh Maloney presents highlights from Tokyo 2020.
Tokyo 2020: Through The Night, 11.30pm, RTÉ2
Clare MacNamara presents live coverage of the overnight action from Tokyo including Eventing (team and individual); Golf with Rory McIlroy and Shane Lowry; Boxing with Kurt Walker in quarter-final action; and Michelle Finn and Eilish Flanagan in the Women's 3000m Steeplechase.
The Void, Virgin Media One, 8.00pm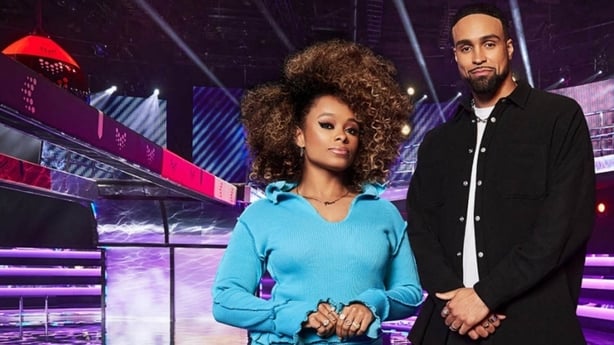 Ashley Banjo and Fleur East host the game show, with an opera singer, a Santa lookalike, and a man who can't swim, taking on a wide range of demanding mental and physical challenges to win a jackpot of £25,000 - all while navigating the terrifying prospect of falling into a huge tank holding 520,000 litres of water called the Void.
The Eagle Huntress, BBC Four, 10.50pm
Aisholpan is a 13-year-old girl from a remote Mongolian tribe, who dreams of becoming an eagle hunter - just like her father and her grandfather before him. The ancient tradition stretches back over 1,000 years, but Aisholpan's plans are almost dashed at the outset by the male-dominated eagle hunting community, who strongly disapprove of girls taking part, arguing they should stay at home to milk the cows and make the tea. Meanwhile, Aisholpan and her determined father - who passionately believes girls can do anything that boys can - set out to prove she can become Mongolia's first eagle huntress. Eagle Huntress premiered at Sundance Film Festival and was nominated for best documentary at the 2017 Baftas.
New to Stream
The Red Sea Diving Resort, Netflix
Chris Evans stars as an Israeli Mossad agent who runs a covert operation that helps Ethiopian-Jewish refugees escape to safe haven in Israel. Loosely based on the events of Operation Moses and Operation Joshua in 1984 and 1985, Mossad used a deserted holiday retreat in Sudan as a front to smuggle thousands of refugees. The undercover team carrying out this mission is led by the charismatic Ari Kidron (Evans) and the cast also includes Haley Bennett, Alessandro Nivola, Michiel Huisman, Chris Chalk, Greg Kinnear and Ben Kingsley.
Shadow In The Cloud, Amazon Prime
At the height of World War II, a female WWII pilot Captain Maude Garrett (Chloë Grace Moretz) joins the all-male crew of a B-17 bomber with a top-secret package. Caught off guard by the presence of a woman on a military flight, the crew tests Maude's every move. Just as her quick wit is winning them over, strange happenings and holes in her backstory incite paranoia surrounding her true mission.
Love Island: Unseen Bits, Virgin Media Two, 9.00pm
Iain Stirling narrates a round-up of everything that has been happening in the villa over the past week, with a selection of previously unaired moments. You lucky, lucky people!
Saturday Night at the Movies
All is True, BBC Two, 10.10pm
Belfast boy Kenneth Branagh goes full Bard in this poignant love letter to Will Shakespeare. He directs as well as stars as the playwright in a cast that also includes Judi Dench his long-suffering wife Anne Hathaway and Ian McKellen as an elegant Earl of Southampton.
It's a thoughtful and moving drama about Will's twilight years and there's more than a touch of the BBC's masterful adaptation of Hilary Mantel's Wolf Hall in this passion project from lifelong Shakespeare scholar Branagh in a false nose and Max Wall hairdo.
We need your consent to load this YouTube contentWe use YouTube to manage extra content that can set cookies on your device and collect data about your activity. Please review their details and accept them to load the content.Manage Preferences
We set our scene in 1613. Shakespeare's London theatre The Globe has burned to the ground following a rather horrific prop malfunction. He will never write another word of fiction again. When he sheepishly returns to his hometown of Stratford to rekindle his relationship with his neglected family and live out his twilight years as a prosperous retired literary giant, he will face up real life tragedy, a little comedy, and, in the end, love.
If 1998's thoroughly enjoyable and Oscar-winning Shakespeare in Love captured the man in the first bloom of genius, then Branagh's beautifully made and melancholic love letter is a fitting salute to the Bard as he slips off his mortal coil. Alan Corr
Family Flick
Harry Potter and The Goblet of Fire, RTÉ One, 6.35pm
We've reached film four in the never-ending Harry Potter franchise and we kick action off with the boy wizard (Daniel Radcliffe) troubled by a recurring dream involving the return to life of his arch nemesis, the all-powerful Lord Voldemort (Ralph Fiennes). Harry Potter and the Goblet of Fire sees young 'Arold battling to overcome the two biggest obstacles in his life - Voldemort and puberty, which are both as nasty as the other really.
Click here for TV listings