Dublin pop singer songwriter Pastiche has released her second single Heaven. We asked her the BIG questions . . .
The 22-year-old's love of performing started in stage school at the age of four when she developed a love of musical theatre and practiced singing, tap dancing, jazz, and modern contemporary dance.
We need your consent to load this Spotify contentWe use Spotify to manage extra content that can set cookies on your device and collect data about your activity. Please review their details and accept them to load the content.Manage Preferences
She later enrolled in BIMM, where she studied Vocal Performance, and speaking about the Irish pop scene, Pastiche says, "It always seemed to be imported. There are very few successful female true Irish pop artists. The scene just wasn't here - so we have created it! Radio stations are playing Dua Lipa - so why can't we have Irish pop instead? I want to help break that barrier." 
Tell us three things about yourself?
I have two cats (my children Pebbles and Charlie). I have two tattoos. One is a trumpet inspired by a trumpet drawn by Tony Bennett that Lady Gaga got tattooed on her arm. The other is a rose and stem purely because I think it's pretty. I also worked as a voice actor for a while! That was a pretty cool job.
How would you describe your music?
I grew up in what I call the golden age of kick-ass female pop music. The second coming of Britney and Madonna mixed with the explosion of Lady Gaga and Katy Perry. What a time to be a pre-teen! I still remember the first time I heard Just Dance on the radio, it changed it all for me. Since then I've been very influenced by pop music throughout the years and pop culture. I enjoy mixing the present-day pop sound with the electronic, theatrical, and glam rock aesthetic of the 80s and 90s.
Who are your musical inspirations?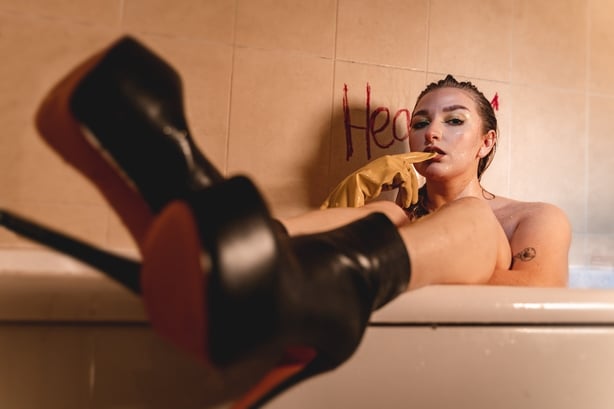 I've mentioned her twice already so it's not shocking to say Lady Gaga is it? Not only her sound, but then finding out she writes all of her music and is a multi-instrumentalist and producer. She really inspired me to write all my own music and in music college to indulge in different styles of singing. Because of this I found a love of singing jazz, rock, and musical theatre which I feel really inspires the music I'm making right now.
I'm also hugely inspired by Queen and Freddie Mercury. I remember my uncle loved Queen and would play their CD in the car constantly. I became obsessed with not only the music, but Freddie's voice and showmanship. He really inspires me to just let it all go really, while still keeping a mystery about himself.
How did you occupy yourself during the coronavirus lockdown?
I'm what you would call an introverted extrovert. I love attention but I LOVE being by myself, so I would be lying if I said staying in my house every day was extremely tough for me. First lockdown I was occupying myself by writing my thesis on Madonna. Since then, it's really given me the space to realise what I want as a person and as an artist. I'm lucky that I have gotten all this space to just create music. Don't get me wrong I miss seeing my friends and cannot wait to perform my music to an audience, but I'm for sure making the best out of this situation.
What's your favourite song right now?
This interview is starting to sound like an ad for Lady Gaga! BUT unless you were living under a rock you will know that she dropped Chromatica last year and I have been obsessed with the last track on the record Babylon since its release. It gives me modern day Vogue vibes. I can't wait till The George is open and we can all just dance to it.
Favourite lyric of all time?
Elton John, Bernie Taupin (Don't Let The Sun Go Down On Me). "Although I search myself, It's always someone else I see, I'd just allow a fragment of your life, to wander free, But losing everything, is like the sun going down on me". How poetic?
If you could only listen to one song for the rest of your life what would it be?
Somebody to Love - Queen, I could dance around my kitchen to that song for decades to come.
Where can people find your music/more information?
My debut single Chasing Down The Fame and my newest single Heaven are available on all streaming services now!
Follow me on Instagram @whoispastiche, Pastiche Music, on Facebook and on YouTube!