In honour of this year's Late Late Toy Show's Roald Dahl theme, we're taking a look at the classic Dahl books that became great films.
That the Late Late Toy Show would celebrate Roald Dahl was written in the stars, as Ryan Tubridy explained to listeners on his RTÉ Radio 1 show.
"I knocked on a door when I was about 15 in a dressing room in RTÉ and I was doing book reviews," he recounted. "The wonderful Eileen Heron - she's a producer now, but she was a young researcher - she said, 'Get in here. There's a guy you need to meet'.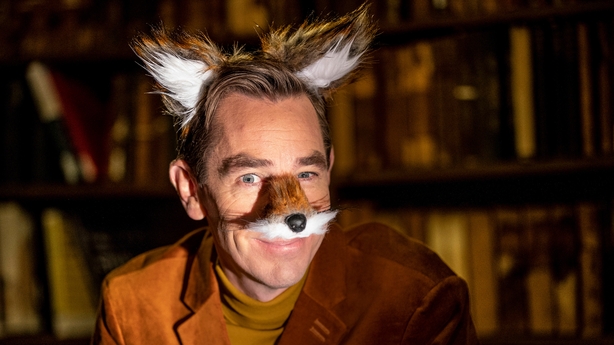 "I knocked on the door. The door opened. [In English voice] 'Hello?' I said, 'Mr Dahl, my name is Ryan and I'm one of your biggest fans. Oh yes? And would you like me to sign something for you? Yes please, Mr Dahl'.
"And I handed him my copy of The BFG, and he was a BFG to me at the time. He signed it, 'To Ryan, love, Roald Dahl, 1991'.
"And I will cherish that, and I will channel that when I bring the wonderful world of Roald Dahl to life with my friends on the Late Late Toy Show."
Matilda (1996)
Matilda is a movie of my childhood; an absolute classic that will always hold a dear place in my heart. The story of a young genius, underappreciated and mistreated by her family, Matilda bonds with her teacher Miss Honey over her love of books. She also develops powers that create a good serving of chaos around her.
The laughs are often, the heart is warmed, and there are lessons to be learned that stick with you for life.
The sight of a particularly chocolatey chocolate fudge cake will always make me think of Bruce Bogtrotter and the movie has forever helped me in spelling Mississippi – which I've found has come up more than you would expect over the years. Sinead Brennan.
The BFG (2016)
Reuniting Steven Spielberg with his Bridge of Spies Oscar winner Mark Rylance (interviewed below), this decades-in-the-works adaptation of Dahl's heroic hand-me-down is very sweet, a bit scary and a feast for the eyes. It was adapted for the screen by the late ET writer Melissa Mathison and makes for quite the comfort blanket – no matter your age.
Our hero is Sophie (Ruby Barnhill), the feistiest resident of a London orphanage, who breaks the three golden rules of "Never get out of bed, never go to the window, never look behind the curtain" at 3am and is kidnapped by 25-foot misfit The BFG (Rylance). So begins the adventure that will change both their lives.
For all the ante-upping use of live-action and CGI here, The BFG is a decidedly old-school treat. It feels very close in spirit (and 'oi, guv'nor' vision of London) as, say, Bedknobs and Broomsticks and Mary Poppins, and the chemistry of dreams and derring-do between Rylance and youngster Barnhill is mixed just right. Each brings out the best in the other and, hopefully, you. Harry Guerin
We need your consent to load this rte-player contentWe use rte-player to manage extra content that can set cookies on your device and collect data about your activity. Please review their details and accept them to load the content.Manage Preferences
Willy Wonka & the Chocolate Factory (1971)
I was a fat kid. A very fat kid. So much so, I was hospitalised due to my obesity.
So when I read Charlie and the Chocolate Factory as a slimmed-down nine-year-old, it had a certain resonance. It also scared the crap out of me.
It told the story of Charlie Bucket, an impoverished kid who was one of five competition winners to enter the mysterious (and dangerous) factory where the eccentric Willy Wonka concocted his confectionery.
When the film of the book - retitled Willy Wonka & the Chocolate Factory - appeared in 1971, I simply had to go see it. It was love at first sight.
Like pretty much everyone else, I was blown away by the performance of Gene Wilder, and charmed by those wonderful songs written by Leslie Bricusse and Anthony Newley.
But it took several liberties with the book, which was much darker and had more Charlie Bucket.
In 2005 Tim Burton revisited the tale for his version of Charlie and the Chocolate Factory. It was closer to the original source, but was ruined for me as Willy Wonka was reimagined as a creepy figure.
So, in essence, I'd recommend that you: a) read the book, b) enjoy Gene Wilder, and c) learn all the lyrics to Pure Imagination and The Candy Man.
All that won't change your life, but it'll certainly add to it. John Byrne
We need your consent to load this YouTube contentWe use YouTube to manage extra content that can set cookies on your device and collect data about your activity. Please review their details and accept them to load the content.Manage Preferences
The Witches (1990)
It's 30 years since the original film version of The Witches came to life on the big screen and it still holds a lasting impression. I was a little young to see it in the cinema, so we were treated to it from Xtra-Vision a couple of years later.
By this time, I had read the book and was mesmerized watching the characters I had hid from under my duvet from coming to life.
There they were, the witches, beaming into my living room in all their scary glory.
They had claws instead of fingernails which they hid by wearing gloves. Tick
They were bald which they hid by wearing wigs that give them rashes. Tick
They had square feet with no toes and had a purple tinge in their pupils. Tick
And they had a powerful sense of smell which they used to sniff out children. Tick, tick, tick!
Just like the book - Luke and his pal Bruno have no hope against the witches' magic potion and find themselves transformed into furry little mice as The Grand High Witch declares: "It must be exterminated!"
Too young to innocent to understand that life doesn't always offer happy endings, I was joyous when Luke had his spell reversed and became a boy again. I can see now why Roald Dahl was not pleased by this altercation.
Whatever your thoughts on the ending, The Witches is sublime on paper and screen. Suzanne Keane
The Late Late Toy Show, Friday, RTÉ One, RTÉ Player and with ISL on the RTÉ News channel, 9:35pm