Singer Dave McCabe and his band Stolen City stole the show with their Late Late debut on Friday night as he shared his story of being diagnosed with leukaemia and inspired viewers with his attitude.
The special needs assistant first told his story on the Ryan Tubridy Show on RTÉ Radio 1 during the summer, receiving an invite from the presenter to perform on the Late Late when it returned for the new season.
Having felt tired for a number of weeks at the start of the year, the Dubliner was diagnosed with leukaemia on March 6 after the results of blood tests came back in St James' Hospital.
"[I] Went to James' Hospital Friday morning, did my bloods and then me and the lads were gigging in a school in Clondalkin - we were doing a gig for Mental Health Week in this school," he recounted.
"My phone was constantly buzzing over and over again in my pocket. I was like, 'What's going on?' It was James's Hospital and they were like, 'You need to come in now'.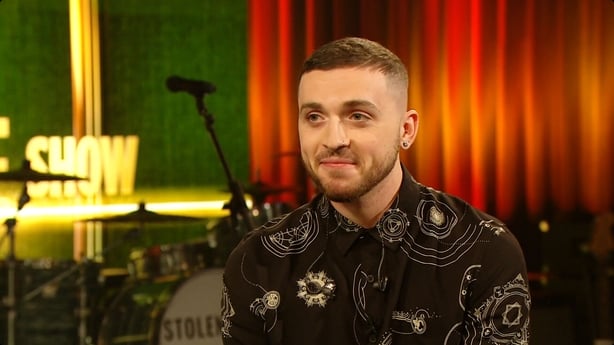 "The lads dropped me off at the hospital. We didn't think it was going to be what it was at all at all. And so we got into the hospital anyways, got into A&E. They're like, 'What's your name? David McCabe. Oh! Yeah! We have everything all set up for you'.
"[They] Took my weight and height and all. [I] Got brought into a room and this doctor, her name's Dr Catherine Flynn - I got her permission to say her name! - she called me and said, 'I'm not someone you want to see on a Friday evening. You have leukaemia'. This is what all this was. I was like, 'Ok, this is different'."
David said that while his parents beside him tried to take in the news, his attitude was: "Ok, this is after happening. We're just going to have to face it." He had a gig scheduled for the next day at the UCD Science Ball and asked could he go out and play the show.
"She was like, 'No'," he laughed.
Dave spent five weeks in hospital and was unable to receive visitors for most of that time due to the Covid-19 emergency.
"My Da came in to see me on... I think it was the Tuesday, was the last day my Da came in - just a quick visit. The nurses said, 'That's the last face you're going to see [for a while]'. And if you see my Da's face, it's not the last face you want to see! [Laughs] Not the last family face you want to see!
"Lucky enough, we had FaceTime and all that jazz and we had Skype. We were chatting away. I was talking to my girlfriend, talking to my Ma, talking to my Da and all on it. So it wasn't ideal, but it wasn't the worst."
"In terms of treatment, was it as intense as you'd expect?" asked the host.
"It was indeed," Dave replied. "So, on the sixth of March when I was first diagnosed, I got a scan on my brain to make sure - because the blood wasn't clotting in my body, that's what the bruises were - there was no bleed on my brain or anything. Then it was straight up on to chemo. Like that night. This is the lad who never took a Panadol or anything like that before if I had a headache or anything like that. Straight on to chemotherapy."
"Because if they hadn't got you right when they got you, it could have been..."
"Yes," answered Dave. "That's what the doctor said. She said, 'This is extremely serious here. We have a matter of hours to get this'. It was like from the Friday to the Wednesday was danger zone, was high risk. But then after the Wednesday it was still treatable - still very treatable - but, still, it was bad at the time."
Dave described his five weeks in hospital as "grand".
"As I said, Skype and all, chatted to the family. Kept to a routine, kept the head up and just kept on going."
Dave is still receiving treatment.
"I was in today," he smiled. "I was getting chemo this morning in James'... Chemo this morning, Late Late Show tonight! You wouldn't script it all! It's unreal."
"I can't get over it," he added. "I can't believe we're here... I said, 'If we ever get on the Late Late Show I'll give €20 to everyone in the audience, just so I can say, '€20 for everybody in the audience!' So thank God there's nobody here! Otherwise, I'd be broke!"
Watch the Late Late Show in full on the RTÉ Player.
Here are some of the tweets from Late Late viewers:
In tears watching this amazing guy dave. What a great brave guy he is. Chemo today, late late tonight! #latelate

— Clare Russell (@Lillywhiteclare) September 11, 2020
Dave is gas, great energy from him after his year so far.#latelate

— Emma Maskman ?? (@madaemz) September 11, 2020
#latelate Dave is a great example of having a positive mental attitude. Hr has a great personality. Stolen City aren't half bad either. Tight sound.

— Dónal de Paor (@ThePware) September 11, 2020
Wow! Super positivity from Dave of #StolenCity on the #LateLate Just what we need. @RTELateLateShow

— Marie McKenna (@MaudMonaghan) September 11, 2020
Love Dave's positivity! What a lovely lad! ???? #latelate #latelateshow @Stolen_City

— Finty (@finty89) September 11, 2020
Great performance, really enjoyed that ???? Well done lads & that was a great interview with Dave. Brilliant attitude, love his positivity & I wish him well with his treatment ?? #latelate

— Kirsty G (@Kirluvjed) September 11, 2020
Just want to say, the first gig I ever played @Stolen_City played after me, I was seriously nervous, but the lads could not have been sounder, absolute legends. As for Dave, performing after only being in chemo this morning?? Unreal. So happy to see them doing well! #LateLate

— killian (@killianodris) September 11, 2020