Dancing with the Stars professional Karen Byrne has told RTÉ Entertainment that she would love to do more episodes of Fair City - provided that she doesn't have to kill anyone in Carrigstown.
The Dubliner makes her cameo as Claire tonight, and is still buzzing from the praise she received for her performance from former Dancing with Stars contestant Ryan Andrews (Seán) and co-star Maclean Burke (Damien), who said they'd love to see her returning to the set.
"They kept saying that and I said, 'C'mere, you're actually just saying that - as soon as I leave now you'll say, 'Thank God we got rid of her!'" Byrne laughed.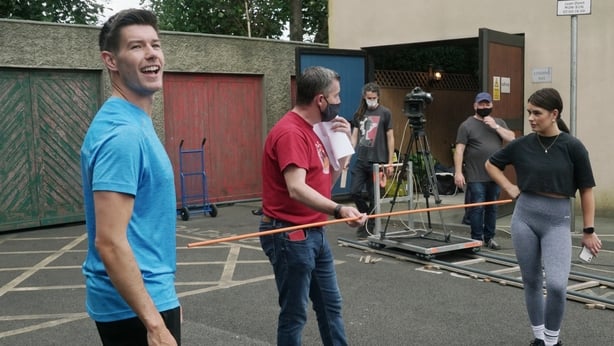 "I've never acted before, so it was totally out of my comfort zone. When the email came in and I saw 'Fair City' on it, I was like, 'Oh my God. Definitely. Yes!' Then afterwards I went to [boyfriend] Jake [Carter], 'I'm after saying yes to Fair City and I've never acted a day in my life! What the feck did I just say?! I'm after agreeing to something that's totally not me!'
"It was gas - when I got the script I was actually looking for 'Karen' on the script. Jake said, 'Karen, you're clearly not going to be you'. I said, 'Oh, am I not?'"
"When I got the lines and read over the script - it was great to set your mind on something different that you'd never done before," she continued.
"Then, when I got on set, I couldn't believe how nice everyone was to me - maybe it was because I was new! [Laughs] It was great fun. What's the worst that could happen? You just forget your lines and, sure, you just do it again! I remembered my lines; I won't go as far as saying I was anything special!
"There was absolutely no pressure put on me on their side, and the fact that I actually got to dance... I kept laughing! Me and Ryan Andrews danced the Jive. It was just so random! Where would you get it?! In the middle of Fair City dancing the Jive! I thought that was the funniest set-up ever.
"If they asked me to do the Jive again now I wouldn't say no. But it depends on the role - I'm not going to murder anyone!"
Fair City is on RTÉ One on Sundays, Wednesdays and Thursdays.
Click here for more on the soaps.