To celebrate the official release of the highly-anticipated The Croods 2 movie, director Joel Crawford and producer Mark Swift chatted exclusively to RTÉ Entertainment about working through a global pandemic, the movie's impressive new voice cast, and the new (kind of better) family in town.
The Croods 2: A New Age follows on from the hit 2013 adventure which followed Grug and his family as they embarked on a journey to search for a new place to live after their cave is destroyed.
Where are The Croods now?
"It's picking up where the first one left off," Crawford said. "They are living life on the road and it's hard out there but they are a tight family. They are searching for the perfect place to settle down and call home and they end up finding that in a walled paradise with food for miles, only to find out that it is already someone else's home.
"It belongs to a more evolved family called The Bettermans. We love to put the emphasis on the 'Better', he laughed.
"They are a wonderful family but they are quite different from The Croods. The Bettermans are all brain. They've actually figured out how to use ingenuity and live in an amazing tree house. They've mastered agriculture and have a paradise where they not only survive but they thrive.
"But in doing so there is a connection that they've actually lost with each other. It's a really sweet story of two very different families who come together.
"At first it leads to lots of conflict because of their different philosophies, but eventually they discover that they are better off together, and embracing the differences between them leads to the brightest future," he said.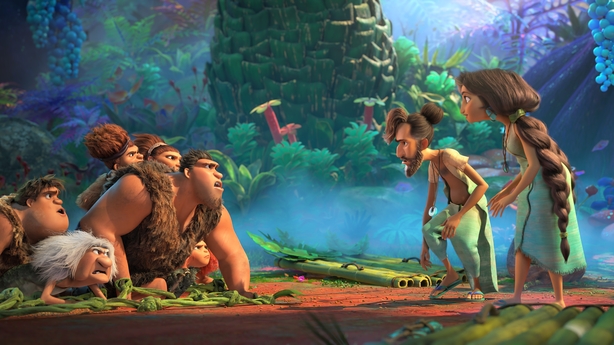 Are we all like the Bettermans?
Swift, who most recently produced Captain Underpants: The First Epic Movie, said the Covid-19 pandemic has made us "all the Bettermans right now".
"One of the lovely things about this movie is it's a multi-generational movie. It shows the importance of community and friends," he said.
"In the movie when the Croods come across the Bettermans family they've effectively done what we've done now.
"They put a big wall around themselves and they don't go out and they don't allow anyone in. I think the journey they have to go through in the movie is to realise that's not the best way to live."
"I miss seeing my family and friends and the greater community. I think everyone is longing to get those moments back. We're all the Bettermans right now."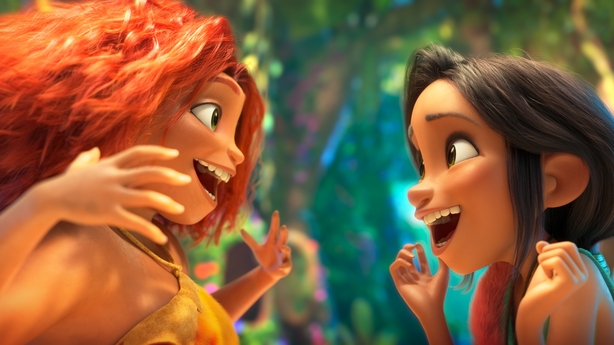 Lights, camera, action!
Crawford, who most recently served as head of story on Trolls, is set to make his feature directorial debut on Croods 2, which he says has been "really exciting and fun but crazy" in the current climate.
"It's been really exciting and fun but crazy. Overall, it's been a great experience. We were on schedule to finish this movie mid-summer," he explained.
"We had a great pace to us. When the pandemic hit, it was a bit of a hiccup and we were trying to figure out how we could do all of our jobs from home.
"Everybody has been so amazing at using creativity optimism and doing everything they could do to find a way to keep this thing moving. It's just been so impressive to see."
"We got right back on schedule and are now a couple of weeks away from completing lighting and the movie pretty much," he added.
"We're back on track and it's just made me appreciate the collaboration, talent and the people who are working on it because you really find out who people are when trials happen. I'm happy to report that we are almost done."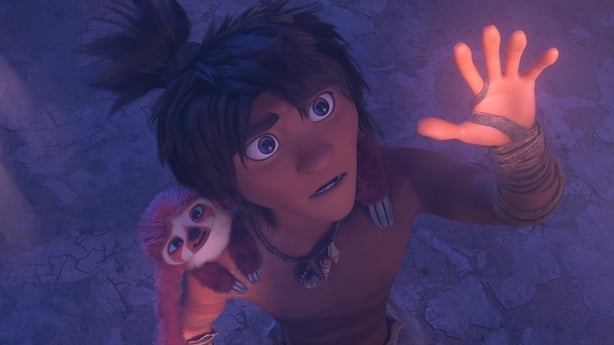 Who are the new voice stars?
Swift teased the new voice cast and hailed the movie's latest additions Peter Dinklage, Leslie Mann and Kelly Marie Tran as being "really, really good," while admitting how he still feels "super lucky" to have returning actors Emma Stone, Ryan Reynolds and Nicolas Cage onboard.
"We have an absurd voice cast. I think we got super lucky on the first film because when they cast this in 2009/2010 Emma Stone and Ryan Reynolds weren't the big stars they are now. So many people their careers have only advanced in the last ten years. Even Nicolas Cage is going through this amazing resurgence right now.
"It's really hard when you have that cast, and it's not just the big names, they are really, really good."
"Peter Dinklage and Leslie Mann are awesome actors and were both excited to come onboard. Both really contribute in the recording sessions as well, and that's when they take the material and make it better.
"Leslie, especially, she is really into improvising and adding to what you have and really digging into the character. Peter too, so we were really blessed to get them.
"Then we have Kelly Marie Tran as the daughter. We struggled to cast that role because the character she plays is like a home-schooled girl who doesn't go out and is kept with her family.. but Kelly nails it.
The Croods 2: A New Age hits cinemas nationwide on February 5, 2021.
We need your consent to load this YouTube contentWe use YouTube to manage extra content that can set cookies on your device and collect data about your activity. Please review their details and accept them to load the content.Manage Preferences