If there's a better film than St Frances this year we'll be doing well. It's a movie that would grace cinemas in even the brightest of summers, managing to move from sad to funny, spiky to tender with such ease that your investment in the characters is absolute.
And what characters.
The double act to treasure is a 34-year-old misfit and the six-year-old of the title that she's minding until school starts. But everyone has their moment here in a story all about the messiness of life.
Lugging around the compare-and-despair millstone, Bridget (Kelly O'Sullivan, who also wrote the script) reaches the crossroads in her life when she least expects it, arriving just as she takes up a new job as nanny to Frances (Ramona Edith Williams), the chancer who doesn't suffer fools gladly.
After a bumpy start, Bridget and Frances find their groove. The relationship gives Bridget the chance to make some sense of things - and help someone when they could do with a friend.
As a writer, O'Sullivan examines abortion, postnatal depression and more within the deceptively simple set-up, but together with first-time feature director Alex Thompson - her partner in real life - she ensures that Saint Frances never becomes stuck in the issues.
Throughout, there's the feeling that better times are just around the corner. There are lessons here for all of us and, just like in the world outside the cinema, the youngest deliver some of the most important.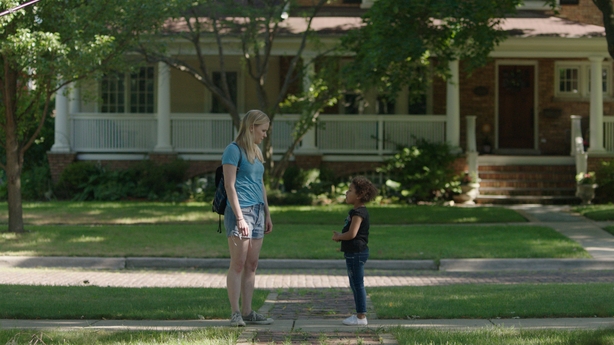 Below, Kelly O'Sullivan talks about bringing the story to the screen, striking gold with her young co-star and her Irish roots.
The reaction to St Frances has been a really bright spot amidst all the chaos of this year.
We didn't know how the film would be received, so it's just been incredible that people are liking it and that it's resonating.
I had doubts that anybody would care about the film.
There's nothing that really happens in this movie. There are no car explosions, there's no infidelity - there's nothing that juicy! There's nothing that when you think of the plot of a movie to instantly pull somebody in... When I was writing this movie I was like, 'There's not a lot happening. It's just these people interacting'. The response to the movie has really assuaged those fears that I had about thinking that people might not care about the mundane in and outs of people's lives.
When I thought of the story, I knew I wanted to have an interplay between being a nanny and having just made the active choice of not being a parent.
I knew that those two stories would kind of bounce off each other and intermingle in a way that could be really interesting. And then as I started thinking about the other characters, and thinking about what it's like to be in somebody else's home, then Maya and Annie - those two mothers in the film - they started to really spring to life for me in terms of what they would be going through at the time. They look like they have this perfect life, but internally they're going through these struggles that many new parents go through. And so then it just kind of took shape from there.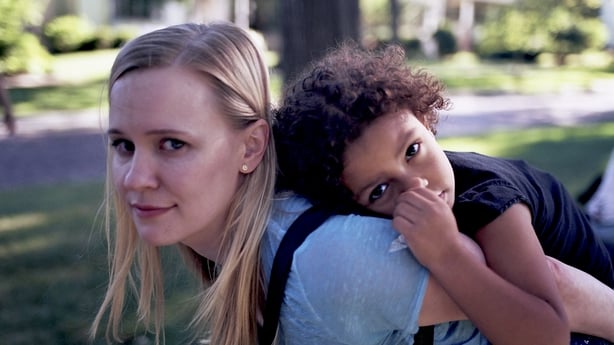 The way that people describe the character of Frances - I'm always so offended!
Everybody's fighting their own battle in life and we just don't know. People are like, 'Ugh, she's a real floundering layabout - the last person you'd want to be your nanny'. I don't think she's that. It says a lot about the people who are making those judgements, who look at a person like that and go, 'Wah, what a lazy bum'.
I had several dark nights of the soul making the film.
I was lying despondent on my bed, saying, 'Why are we making this? Nobody's going to care. It's not any good'. And then Alex [Thompson, partner and director] would have those moments and lucky we were there for each other. It's that thing with couples: when one person's panicking the other person summons the strength. Luckily, we had each other the whole time to say, 'Let's keep going, let's push forward'. I don't know a single artist who doesn't have those moments of thinking that what they're making is garbage.
As we were shooting I wasn't able to watch anything because I was in the movie.
I would come home at night and tell Alex, 'I don't think we got that scene'. And he would say, 'No, we got it. Trust me'. And so what he started doing at the end of every week - we shot for three weeks - he would edit together little mini trailers. He put it to Cat Stevens and very evocative, beautiful music and that really helped. All of a sudden I was seeing how the movie might shape up. They were just like little two to three-minute little sizzle reels, but it made all the difference. When you're in it, when you're acting, you don't know what it looks like. And then when you're moving on [to the next scene] you're like, 'Wait! We barely did that scene!'. I think it's important to have that outside eye to say, 'Trust me. We don't have time for this. We gotta go!'.
I made myself scarce for the edit.
We live in Chicago and Alex drove down to Kentucky to stay at his parents house for two weeks and he made the first rough cut of the film. Luckily, I wasn't involved in that at all! Then I would watch rough cuts and I would give notes. But I can't imagine the pain of sitting there! I'm in so much of the movie; when you watch your own face for a while - at least for me - it becomes impossible to sort of have any objective opinion! I think there really is something sort of out-of-body and surreal about watching yourself.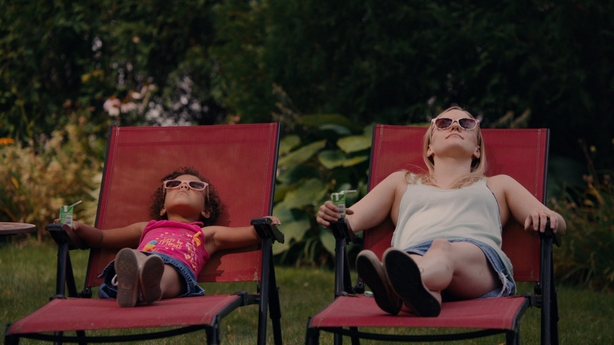 We got very lucky with my young co-star Ramona Edith Williams.
We worked with a casting agency called PR Casting and they brought in about 30 girls, most of whom were older than Ramona. Ramona came in and she was five [years of age] and the role is six. She was about to turn six, but the wisdom was that you don't cast somebody who's actually six; you cast somebody's who's eight to play six. But then she was so real and she was so naturalistic and she hadn't been coached. Every other kid was, like, playing a version of a six-year-old rather than just being themselves. We took a leap of faith and she turned out to be the best part of the movie.
She was so tiny that it felt irresponsible to cast her in a role that had 60 pages of dialogue.
I and several of the other producers were like, 'Can we do this? Can she memorise lines?' And then luckily she was more off-book [performing from memory] than anybody else. Every line she says is scripted. She's a pro and I don't really understand it! People ask me how she did it and I'm like, 'I have no idea!' - even though I was right there with her. I think she's able to do that thing that great actors do where there's not a difference between her before the director says, 'Action!', and then when he says, 'Action!' she's still just herself.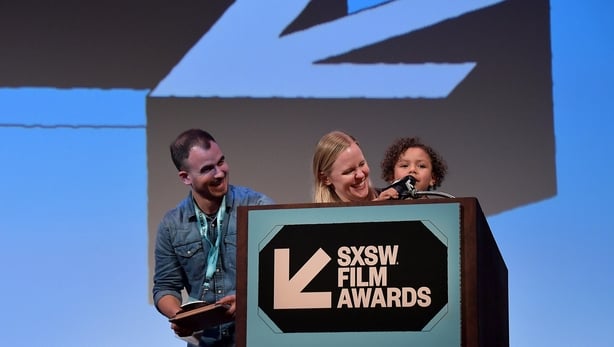 I think I've been most struck by the warmth that the movie has received.
My biggest fear was that it has [the issue of] abortion in it. I knew that there was a chance that there would be a lot of hate thrown at the film. And, you know, there's some of that online, but overall the reaction has been so welcoming. And so open. I was bracing for the worst and instead we got the best. And that's been incredible. People who I wouldn't have expected, people who say, 'I'm really religious and I don't share this belief, but I really liked these characters. And by the end I was really rooting for them'. This story is about human connection, and I think we tried really hard not to hit anybody over the head with our views. We just tried to show things as they are in the course of this summer. And I think that pays off.
I'm working on a family drama/coming-of-age movie.
It's about high schoolers. High school girls. It's sort of similar to St Frances in that it is both dramatic and comedic. I won't be in it; Alex and I would co-direct this one. Now it's sending the script out to people and it's trying to get people to produce and invest in the movie in a way that would give us more resources than we had last time. We don't really want to make anything for as little money as we did last time!
My great, great grandfather was from Glanmire, Co Cork.
I went to go visit there a couple of years ago. It felt so fortuitous. We pulled up and there was this country dog who ran up and greeted me and I was like, 'Oh my gosh! It's my relatives!'. I had this very lovely moment where I felt the spirit of my family welcoming me and I was at home. My full name is Kelly Colleen Mary Bridget O'Sullivan.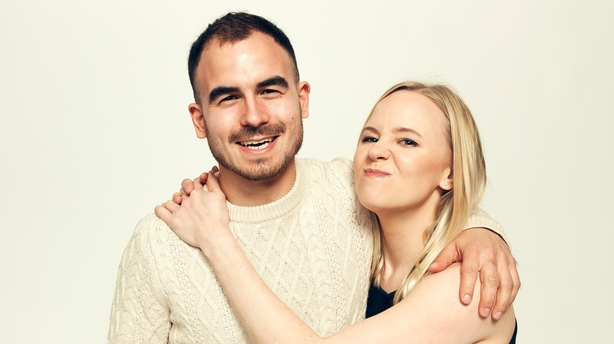 Normal People? Oh yeah, I binged that show so fast.
I read the book after seeing the show. I watched interviews with those two actors in their homes. I'm obsessed with that show! It's brilliant! It's so smart!
There was a part of me that was like, 'If it weren't for lockdown we would get to be in Ireland right now promoting the film'.
There'll have to be another time. The next one!
Saint Frances is in cinemas now.