As a soundtrack for better times, Massive Wagons' House of Noise takes some beating. Guitarist Adam Thistlethwaite tells Harry Guerin that anything goes - and everyone's invited to the party. 
Harry Guerin: House of Noise sounds so joyous. Was that the first word you put on the strategy whiteboard?
Adam Thistlethwaite: I don't think we ever used the word 'joyous', but we always put fun and energy front and centre. We have our serious moments, but even then we don't dwell in the negative and try to make light of it. Baz, our singer, injects a lot of dark humour into his lyrics, so even when the topic is heavy we don't take ourselves too seriously. I suppose our goal for this album, summed up, would be to capture our live energy.
What were the touchstone albums for House of Noise - the ones where you all said, 'We want that spirit on our record'?
I can't think of any albums specifically, but we toured with The Wildhearts last year and their vibe and songwriting is pure class. Anything goes for them, and we feel we have the freedom to do the same. We never turn an idea down because it's 'not us'. We turn plenty of ideas down because they are rubbish, but that's a different matter! Actually, one album I remember thinking I'd like to emulate during writing was Absolution by Muse. They get such raw power out of only a few instruments.
We need your consent to load this YouTube contentWe use YouTube to manage extra content that can set cookies on your device and collect data about your activity. Please review their details and accept them to load the content.Manage Preferences
What were the lessons learned from 2018's Full Nelson that you brought to the songwriting and recording?
The last three albums were recorded at Axis Studio, Doncaster, England with producer Matt Elliss. We've gone on record many times, stating how much Matt's experience and guidance got the best out of what was a very rough and ready band at the start, so the following isn't a dig at those albums at all. I personally felt Full Nelson was a bit too bombastic and lacked the dynamic range the songs could have benefited from. Change can be good from a creative angle and when we met [producers] Colin Richardson and Chris Clancy at a gig last year to discuss working with them, it seemed our visions aligned. They also wanted to capture the live energy which hadn't previously been channelled onto a studio album. This meant fewer tracks, less overdubbing and just generally treating our studio performances like a live show. Stevie Holl, our other guitarist, in the left speaker and myself in the right, as opposed to five layers of guitars each side.
Your producer Colin Richardson has got the best out of Machine Head, Napalm Death, Slipknot and many more. How did he push the five of you and what was the best piece of advice he gave you all?
I can't remember any specific advice, but I personally learned a lot just by watching him work. The biggest lesson I took away was having no rules when it comes to what you can and can't try when putting an album together. You feel the pressure lift off your shoulders and free yourself up to being super-creative. We'd make suggestions where in the past they would have remained just that - suggestions. But here it was met with, 'Yeah, lets try that!' It was a very good atmosphere to work in. Creating that environment plays into getting the best out of your performances.
Did Colin Richardson say it was a relief to work on happy, goodtime music for a change?
It's not really my place to say if it was a relief or not, but I got the impression he really enjoyed it from where I was sitting! Colin has such an incredible ear for tone; we were finding guitar sounds and he was saying things like, 'Needs more 5KHz'. Sure enough, that tweak brought the sound we were after each time. It was the same with Christopher Clancy, who co-produced with Colin. Chris' ability to direct vocal performances and write counter-melodies was incredible; his work really opened up a new side to us. The studio setup was great, too. It was residential, meaning we lived there for the four weeks of recording and had loads of laughs. We got on famously.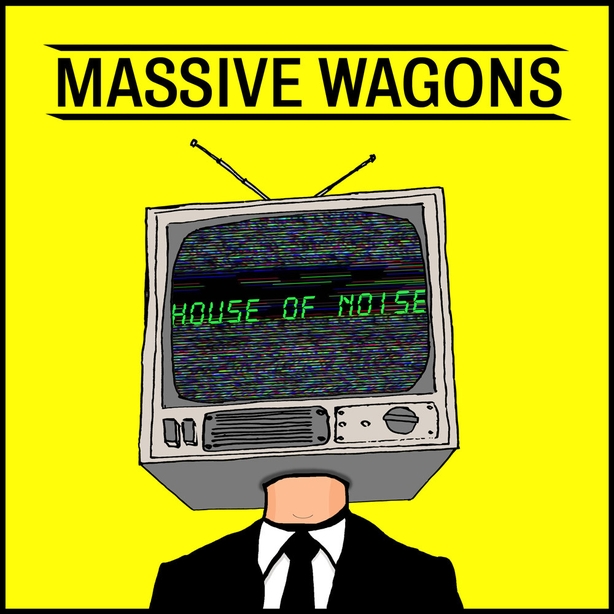 Is that guitar part in the title track your nod to Van Halen's Panama, arguably the ultimate party anthem?
It was purely unintentional, but we did pick up on the similarities when mixing! I love Van Halen so maybe it was a subliminal homage to, as you say, a great party anthem.  That song came together last-minute in the studio. Baz and I got the hook together and it was done with the lads in a couple of hours. We didn't stop to think about who we were ripping off!
Is the lyric, "Maybe it's the realisation we're in it together" giving you the chills in the light of all that has happened in recent months, and what have you learned about each other as a band during this time?
Again, this was purely unintentional and the timing of its release was uncanny. This was actually the first song we wrote for the album back in early 2019 and referencing how bonds are formed between bands on the road. 'Though it's all totally applicable to the current situation, it was chosen as the lead single back in February. So it all really is coincidental - we'd never want to intentionally capitalise on such hard times. As for learning about each other, I'm not sure! This is the longest we've gone without playing since we formed in 2009 so we, along with every other band, have been forced to embrace the live streaming and online content side of things. Some adapt to that better than others. Our bassist, Adam 'Bowz' Bouskill, had a baby in March and it's been rubbish to not be there for him and do the new baby thing.
We need your consent to load this YouTube contentWe use YouTube to manage extra content that can set cookies on your device and collect data about your activity. Please review their details and accept them to load the content.Manage Preferences
Your singer, Barry 'Baz' Mills, has said what kept the band going at the start was "naivety and enjoyment". What fuels the Wagons now?
I suppose much of the same! The business side of things has become a big part of it for me personally, and I get a kick out of maximising our success. We are fortunate to be in a position where we have the finances and time available to book great studios with world-class producers. As long as we are able we will keep this going. I believe our songwriting is better than ever, and I am our biggest critic so am not just saying that! We just have to keep the inspiration going. With such good new music being made all the time I am not short of inspiration.
What is the funniest, printable story about Massive Wagons on the road?
In the early days we used to sleep in tents in fields on the road to save money on hotels. One time at a festival we misplaced our tent canvas, which was too small for the five of us anyway, so we just set up the poles and slept under them. Literally just the frame poles with no material. Totally pointless, and it was raining. People thought we were mad and we thought we were hilarious. I'll let your readers decide which.
So when do you hope to be "bringing the big show back to town"? Given that the Irish Sea gets a mention on the album, will you be catching the ferry over here again?
We had a four-date tour of Ireland in July which was obviously cancelled. The last time we came over was 2016 so we were absolutely gutted to miss out on this one. Rest assured, as soon as we are able to we will be straight over. We love the people and fit in with the craic very well. It's the same in Scotland - we love it. There seems to be increasing demand so it just means the party will be bigger when we eventually do get over again!
House of Noise is out now on Earache Records