"I know that losing my husband has been the hardest thing I've faced," Fiona Whelan has told Sunday with Miriam, referring to the legendary American singer-songwriter John Prine, who died at the age of 73 in April.
"It's very much uncharted territory," the County Donegal woman said. "But I'm okay, I get up every day and I have breakfast. I go through the motions and somehow another day ends."
Prine, famous for songs like Angel of Mongomery and Hello in There, died on April 7, from complications relating to Covid-19 at a hospital in Nashville, Tennessee.
The iconic song-writer was idolised by Bob Dylan, Bruce Springsteen and Bonnie Raitt and he got his frist break through the good auspices of Kris Kritofferson. Many of his best-known songs have been covered through the decades by a host of artists, as varied as Bette Midler (Hello in There), Nanci Griffith (Speed of the Sound of Loneliness) Charlie Landsborough (Blue Umbrella), and many more.
Prine and Fiona were based in Nashville and they also had a home in south county Galway, near Kinvara.
Fiona, the daughter of an Ardara primary school headmaster, first heard Prine at Dublin's National Stadium when she was 17. She had been offered free tickets to see the musician in concert and was not 'overly-impressed,' finding the gig 'a little sleepy', with only three people on the stage.
But a certain song featuring the line "sweet songs never last too long" made an epiphanic impression and she wondered to herself: 'how does he know that?'
In 1988, she was working at Dublin's Windmill Lane studios when the studio was offering production assistance at the launch of the Point Depot - the future 3Arena - where Prine was performing over two nights for RTÉ's The Session TV series.
Fiona was introduced to the musician by the Dublin blues singer Mary Stokes at Blooms Hotel during an after-show party. They were "both people who hadn't had great success in relationships," she says. Thus the courtship began tentatively, but an ocean would have to be crossed to pursue its ultimate success.
In 1993, the determined Donegal woman arrived in Nashville to find "some way to become a family" with Prine, who would go on to formally adopt her son Jody from a previous relationship. The couple also had two children of their own.
Fiona also recalled the pain of her late husband's final days as the coronavirus took effect. "I actually had Covid-19, I had the illness in the previous weeks before John passed. That was one of the things that I'm grappling with right now.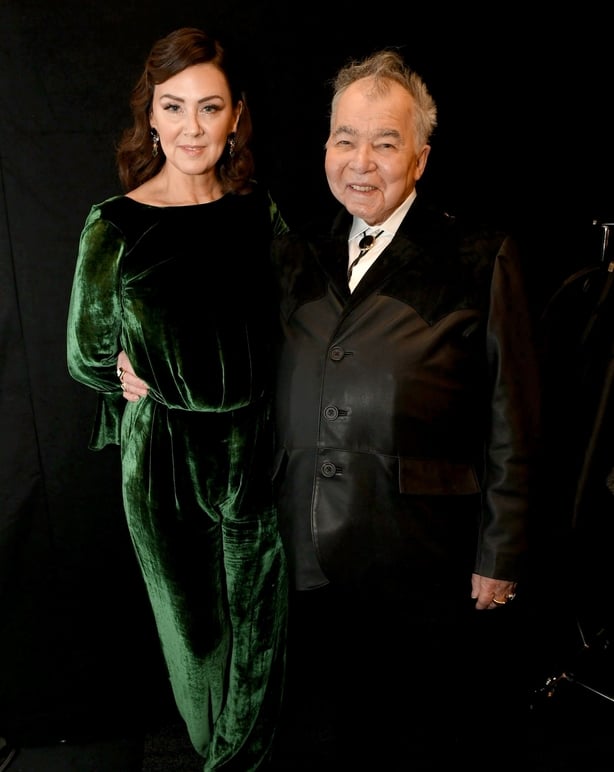 "And there are days when I realise that I've actually been run over by a train. I'm a very productive person in my usual life, I can be very busy, I can multi-task, I'm a perfectionist - I'm owning up to all of it. And I've noticed that in those times when I try to do that in the last few weeks, I just fall over."
She added that getting Covid-19 was no joke, "and it is not a pleasant illness by any means." She had to spend time in isolation and on the day on which she finished quarantine, she had to bring her husband, who was displaying symptoms, to hospital and leave him at the door of ER.
The couple didn't have the time together that she would have wished for, and the next time she saw him John was when he was under sedation in the hospital.
Fiona vividly recalled that Blooms Hotel meeting with the man who would be her future husband. "It really was love at first sight," she says.
Listen back to the full Sunday with Miriam interview here