Cathal Murray and his wife Siobhan are expecting their first child in August so there is a new air of anticipation in the household. One thing is not new, however, and that is the ongoing sound of music, as befits the presenter of Late Date.
"What's to be said?! These are unreal times we are living through. I got married just over three months ago. It feels like a lifetime ago now. Siobhán is a secondary school teacher so has been kept busy correcting assignments remotely.
"I never anticipated us having all this time together outside of school holidays - it's lovely though, despite the awful circumstances. We're expecting our first child in August so there's great excitement. Hopefully it will be born in a Covid-free world. Nonetheless, we'll have some interesting stories about 'the time Mum was pregnant with you,' that's for sure!
"Baby books have replaced the music biographies I normally read but one thing hasn't changed for me is music. I'm always listening to something and thinking about ideas for that night's programme.
"Late Date is a solitary gig so it doesn't feel any different going into RTÉ each night to present it - it's always quiet at that time. People are turning to music more in these tough times as a break from all the Covid content.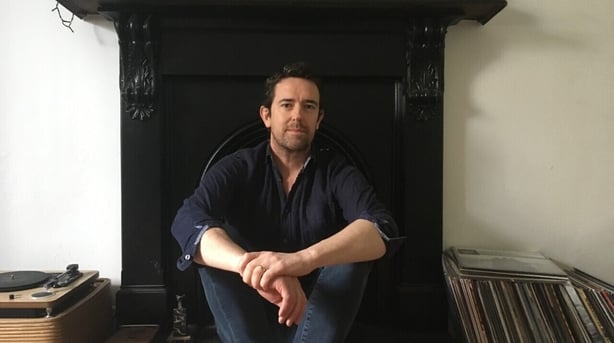 "I've noticed there are more people tuning in now who might not have before due to their new home situations, changing sleep patterns etc. I'm doing my best to provide escapism through music. It helps me as well. I'm not a big TV watcher, however I always watch Six One.
"My mum is cocooning at home in Athlone where I grew up - she's doing well. We talk on the phone regularly. Labbi Siffre has a gorgeous little song called Bless the Telephone - check it out.
"I had my first Zoom with a couple of pals recently, that was fun. The technology available is amazing. Can you imagine how much more difficult things would be if this had happened pre-mobile phones/internet? We are together apart but in touch.
"I'm lucky that I live near Dun Laoghaire, very close to the sea, so myself and Siobhán try to get a good walk in each day, within the two kilometre limit, of course.
"l used to love running on the East Pier but have stopped that for now and instead I exercise at home by jumping to conclusions (I nicked that gag from Brendan Balfe).
"Stay safe everyone."
Cathal Murray presents Late Date on RTÉ Radio 1 Sunday to Thursday nights from 11pm to 2am.