If you've exhausted your favourites and want action and history this weekend, you won't go wrong here.
1) Hell is for Heroes (1962)
Two years after The Magnificent Seven, and a year before The Great Escape, Steve McQueen and James Coburn were once again facing seemingly insurmountable odds - this time with Dirty Harry director Don Siegel along the Siegfried Line. Money was an issue, with McQueen reportedly none too happy because of the lack of it, but the black and white, the need to do more with less and the belligerence of McQueen's performance combine to make for a nerve-shredding 90 minutes. And as for the ending...



2) Cross of Iron (1977)
In arguably a career-best performance - him again - James Coburn plays Steiner, a burnt-out German corporal on the Eastern Front in 1943. Director Sam Peckinpah's 1977 masterpiece is a visceral and heart-rending depiction of men in combat - marvel that the closing battle sequence was completed in just a day.



3) The Big Red One (1980)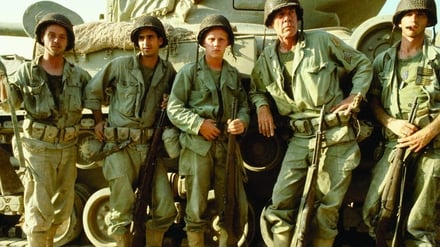 A treasure yet to receive the wider audience it deserves, and a huge influence on Spielberg's Saving Private A classic yet to receive the wider audience it deserves and a huge influence on Spielberg's Saving Private Ryan. The Big Red One sees Lee Marvin and director Samuel Fuller channelling their own wartime experiences for this story of a World War I veteran leading young troops in North Africa in 1942 and then on through Europe. In what he considered as his most personal film, Marvin looks like a man walking with ghosts throughout. Make sure you watch the 2004 restored version with an additional 47 minutes of footage.

4) 84C MoPic aka 84 Charlie MoPic (1989)
Found footage had its box office mega moment with 1999's Blair Witch Project, but some film fans had stumbled upon buried VHS treasure a decade earlier. This seldom-seen-but-much-admired Vietnam War mission embeds a cameraman (the '84C' of the title) with a long-range reconnaissance team. There's no spoiler in saying things go wrong. Shot in Southern California on a shoestring, 84C MoPic had a Vietnam veteran, Patrick Sheane Duncan, behind the lens. The writer-director's film crackles with a lived-through authenticity that deserves to be honoured by spreading the word after you've watched it.




5) Ice Cold in Alex (1958)
John Mills is the alcoholic captain driving a field ambulance with a motley crew through the desert in a bid to make it back to the safety of British lines in Alexandria, Egypt. Paranoia and personal demons combine in a film where you will smell the sweat, feel the heat and wonder whether things will end in tragedy. The magnetic Mills is supported by a brilliant cast of Harry Andrews, Sylvia Sims and Anthony Quayle. More than worth waiting for.

6) The Battle of Algiers (1966)
"Banned in France 1965. Screened by the Pentagon 2003," says the reissue trailer - and it still hasn't aged a day in 2020. Italian filmmaker Gillo Pontecorvo delivered a technical triumph and masterclass in suspense as guerrillas and French paratroopers fight street to street during the Algerian War. Nominated for three Oscars, The Battle of Algiers has become a touchstone film for generations - its newsreel style and set-piece nous pushing the medium into the future, while challenging other directors to do the same. Some ask.



7) Days of Glory (Indigènes) (2006)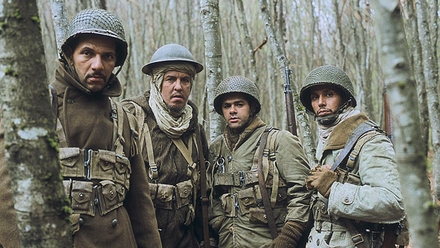 The experiences of North African soldiers fighting for the Free French Forces in World War II had not received the recognition they deserved - until this film. Not only was it nominated for an Oscar, it also contributed to the French authorities rethinking their stance on the pension rights for African veterans. The ending is one of the most powerful and poignant in recent cinema history.

8) The Hill (1965)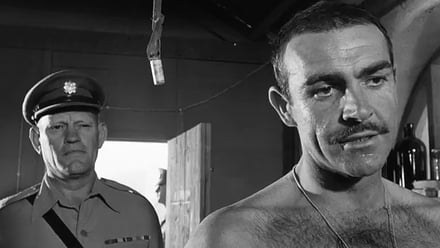 Sean Connery gave two of his best performances for director Sidney Lumet: in 1972's police drama The Offence, and in this searing depiction of the power struggles in a military stockade. Connery plays the disgraced soldier who discovers that the place runs like clockwork - in terms of brutality and turning a blind eye. The film is based on a 1965 play, and is just begging to be revived on stage. Tom Hardy and Paddy Considine, anyone?

9) Come and See (1985)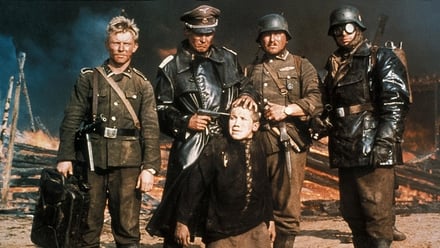 Of all the films listed here, this Russian epic is the least seen – time for you to do your bit. Set during the occupation of Byelorussian SSR, it's a harrowing yet hypnotic story, following a young boy as he experiences genocide and the madness of man. It has been described as perhaps the ultimate film about World War II; it is certainly among the most unforgettable.

10) G.I. Samurai aka Time Slip (1979)
If you're looking for something lighter, and bonkers, go East for this battle royale, which puts its own spin on reeling in the years. Modern-day Japanese soldiers somehow find themselves four centuries from home -and squaring up to samurai might. Genre great Sonny Chiba leads the charge in a movie that deserves a trough of popcorn, and if you're still hungry for more, there's also a 2005 remake called Samurai Commando: Mission 1549.